Fallen: The Flowers of Evil
You've seen a lot as a doctor, but after making a simple house call, you stumble into a supernatural investigation. A little girl is suffering a high fever after being attacked by a monster, and she's not the only one. The city is quarantined as mysterious flowers begin to sprout all over Blackburn. Who's behind this? How are all the clues connected? There's only one way to find out, in Fallen: The Flowers of Evil, a mysterious Hidden Object Puzzle Adventure game.
Play as a doctor and search for clues!
Use your wits to solve puzzles
Explore the town of Blackburn
Gather clues and question suspects
Game System Requirements:
OS:

10.8/10.7/10.6

CPU:

1.0 GHz (INTEL ONLY)

RAM:

1024 MB

Hard Drive:

389 MB
Game Manager System Requirements:
Browser:

Safari 4.0 or later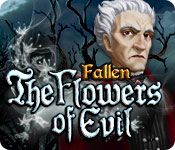 NEW299
The Big Fish Guarantee:
Quality tested and virus free.
No ads, no adware, no spyware.

Reviews at a Glance

Fallen: The Flowers of Evil
0
out of
5 (
0
Reviews
Review
)
Customer Reviews
Fallen: The Flowers of Evil
77
77
Cliche Game
This game is in the running for two annual awards: 1) The game with the most back-tracking, and 2) The game with the most cliche puzzles and tasks. 1. I can deal with back-tracking; in fact, in some cases, in can be fun and rewarding. However, there is so much of it in this game that it becomes hard to remember where you are to use an inventory item once you find it. Within the first hour of play, I can remember four locations that you need to return to over and over and over again because you find only one piece of the puzzle at a time. There is just way too much back-tracking in this game. 2. Within the first hour of play, I did not encounter one single original puzzle. Every puzzle you and I have ever solved in previous games is repeated here, not just once, but many times. The developers merely copied puzzles from other games. Let me give you just some examples: upholstered furniture that needs to be cut to get something inside, drawer or door without a handle (multiple times), statue that holds an item you need but won't release it until you give it something (2 times so far), an animal that has something you need but won't give it up until you feed it (3 times so far), dark places that you can't explore until you place a light source (2 times so far), something rusty that needs oil, locks without keys (many times), an item you need but can't take until you find another piece such as a hammer without its head or handle, thread without a needle, half a pruner, etc. (many times), a spider web that needs to be swept away, a pile of leaves that needs a rake, something stuck in a crack but you can't take without a tool (several times so far), a plant that needs water that instantly grows and blooms once you water it, something to be dug up, slider puzzles (which I detest), blah, blah, blah, blah, blah. This game doesn't have an ounce of originality. I, for one, am not supporting these kind of games with a purchase. A lot of you are going to like this game because of the graphics, but I buy games for the adventure, the challenge, and the discovery. This game has none of that.
January 2, 2013
Has anyone seen the storyline? It went missing after the intro.
TITLE?Fallen: The Flowers of Evil VERSION?Standard Edition (demo) DEVELOPER?Taba Games GENRE?Hidden Object Puzzle Adventure (supernatural) STORYLINE?You play a physician who is treating a young woman who claims to have been bitten by a red-eyed monster. Only the flower she holds keeps her from excruciating pain. Meanwhile, the City of Blackburn is under quarantine and it's up to you to figure out what's going on. OVERVIEW?There is a LOT to do in this game and a LOT to keep track of. Almost too much. The storyline started out fairly well, but came to a screeching halt for the rest of the demo, that is to say, it didn't advance at all. No more bitten patients. No more flowers. No more red-eyed monsters lurking in the shadows. Yawn. GAMEPLAY?Standard point 'n' click adventure sprinkled with HO scenes and puzzles. Nothing at all innovative or original, I'm sorry to say. HO scenes are repeated (and with the items you already found magically back in place). Puzzles are all too familiar; none break new ground. INTERFACE?Journal: There is one, but I didn't even open it. Map: No idea. This game would be helped by a jump map, because there's a LOT of backtracking. Hints: In HO scenes, the hint points to an object on the list. In adventure mode, the hint guides you to where you can do something. Specials: None. Strategy Guide: N/A. TECHNICAL?Where to start? This game did NOT like my trackpad at all. Often, I had to click multiple times to get it to recognize the click. It wouldn't recognize my tap setting at all; I actually had to click. There were numerous bad translations in the HO scenes. "Knife" on the list was actually a cleaver. "Needle" on the list was a hatpin. GRAPHICS?Hand-drawn in very monotone pastels, which made the HO scenes difficult, as they were junkpiles. CUTSCENES?Cartoonish stills; no animation. Strange, because there was action animation during the game (key into lock, and such). MUSIC?I didn't even notice it. SOUND?Again, I didn't notice it. VOICEOVER?Not badly done, but not brilliant. SUMMARY?The major fault of this game is that the devs didn't do a great job integrating the storyline into the game. I felt like I was running around Blackburn finding items here and using them there for no real reason, as I didn't seem to be getting anywhere new or finding out anything new. There was no impetus to keep going?no glimpses of red-eyed creatures or bizarre flowers. No new victims or strange events. The storyline seemed to just drop off right after the intro. And, thus, so did my interest.
March 19, 2013
Boring
I was pretty happy during demo-and I read other reviews. So, I decided to buy it. I can't even finish this game-the further I get into it, the slower it seems to move along. It's so unbelievably boring! I dread playing it at all now.
January 9, 2013
Nothing To Get Excited Over
Well, I had high hopes for this game after seeing the reviews, but I played the trial and I ws REALLY disappointed! Good Parts: Graphics. They were animated well, and everything was clear. Journal is included. Good voice-overs. OK Parts: Storyline. It was the same old thing, some girl gets attacked and you need to find out what happened. If you're going to use the same storyline, at least make it better! Bad Parts: Hint took forever to recharge. Some things took longer than necessary. For example, when I was unscrewing the wrenches in the fountain, you had to click on all 4 bolts. I could go on and on with these examples. HOS are WAY too easy. DIdn't take me long at all to complete. The objects were really easy to spot, and I didn't even have to look at the list, I just had to click around randomly and I would find an object. When I found a puzzle, they were WAY too hard. This game got great reviews, but it's not so great at all. Skip this and find something else.
January 5, 2013
Can't recommend
I found this game quite boring, the game just didn't have enough to entice me further, I only played 30mins of demo, but that's all I could cope with. I normally play the whole hour because the game may pick up...but I just couldn't do it with this. The game is fine, but the storyline just didn't cut it for me.
March 19, 2013
Didn't like it
I thought the graphics were poor. Several items in the HOS were not labelled correctly; needle was actually a hat pin, hook was a block and tackle, etc. Way too much running around; as bad a Phantom of the Opera. Story didn't move much in the hour I played. No redeeming qualities and a no buy for me.
January 2, 2013
Possible Glitch...and i was almost done.
This one had a hard time keeping my attention for very long. Usually if the game is good I'll play till I finish. Been working on this one for 3-4 days. Then I hit a glitch towards the end with drill only took out 3 out of the 4 rivets then took the drill out of my inventory. Checked each room with the hint button and it says Nothing left to do here. So I'm thinking I may have to start over....when I have nothing better to do.
January 15, 2013
Quit out of frustration
There's a lot to do in this game, but the animations were too slow and the back-and-forth was just maddening.
January 5, 2013
Played better . . .
Sounded good when I read it, but once I started playing - well. . . . not so much. The story was uninteresting and when you found items it didn't just give it to you (too many clicks).
February 16, 2013
Could have been so much more
This was a huge disappointment, especially after playing "The Lake House". The storyline was okay, but wasn't executed well. The VO's were absolutely dreadful and quite honestly, it was waaaaay to short of a game - even for a non-Collector's Edition.
January 17, 2013
The Apple logo is a trademark of Apple Computer, Inc.
The Windows logo is a trademark of Microsoft, Inc.