A Wizard's Curse
The Wizard has embarked upon a dark and anguished path of misery and destruction, ruining lives as he rages through the countryside. Your skills as an Alchemist will certainly be invaluable, but there are other reasons the Sorcerer's Council has sent you to find and stop the Wizard. As your quest unfolds, you find evidence of his madness and must be creative in your efforts to trace his steps and confront him. Will you succeed? Will you be able to save those he has sacrificed? Will you survive? Can you dispel A Wizard's Curse?
Travel through an exquisitely drawn world
Explore intricate Hidden Object scenes
Solve cleverly designed puzzles
Game System Requirements:
OS:

Windows XP/Windows Vista/Windows 7/Windows 8

CPU:

1.6 GHz

RAM:

512 MB

DirectX:

9.0

Hard Drive:

194 MB
Game Manager System Requirements:
Browser:

Internet Explorer 7 or later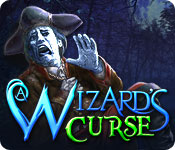 NEW299
The Big Fish Guarantee:
Quality tested and virus free.
No ads, no adware, no spyware.

Reviews at a Glance

A Wizard's Curse
0
out of
5 (
0
Reviews
Review
)
Customer Reviews
Too short, not sweet
Well, first of all, I won't be buying this, primarily because I finished the entire game within the 1 hour trial. If I had taken my time with it and bought it, I would be extremely angry at this point, because I would have bought it and then finished the game a minute later. That is absolutely inexcusable in a game like this. I wouldn't even recommend this to a complete beginner because there is just not enough game play. You feel like you're just getting into to it, and then it's over, and quite abruptly too. It's half a game and the ending is a let down. If the developers are angling for a sequel they would have done better to give us a full game for the first one. I will not even give a potential sequel the time of day, quite honestly. It's a terrible shame really, because it had a lot of potential. The graphics were nice, the scenery was interesting, the music was nice. The hidden object scenes were easy for me, but I'm quite experienced. Objects were clear but well placed (ie. no terribly grainy graphics, and not too obvious). I like them, they were good. There weren't enough HO scenes actually. I didn't mind going back to each HO scene a couple of times (I like that, it encourages you to go back and explore previously covered areas of the game so you never think you've got an area completely covered), but then, I expected there to be far more content and therefore far more HO scenes. The opening scene/story telling was a bit strange. The opening story seemed like it started in the middle of a story. It was too hasty. Each transition scene was very boring. That one figure from the back in the mist as the text came up. Terrible writing, bad story telling. Too much naked exposition without crafting an interesting story around the facts you need to get across. Get better writers. You had a really interesting idea for the story, plenty of potential tension and interest, wasted. Somebody else mentioned this and it did annoy me too... You need a few spell/instructions to complete parts of the game. But some of these spells seemed to appear from nowhere. It's annoying when you as the player know exactly what that collection of objects in your inventory should be doing, but because the character doesn't know it yet, you can't progess. And when it's not a matter of picking up a scroll with a recipe on it, but just seeming to look at someone's hand and get divine inspiration... That was bad. A map function would have been nice, but not necessary, certainly for the amount of content that's currently there. I didn't have any confusion as to where I needed to go without one so that could come down to others' personal taste. Also, the diary/journal was a bit basic. It's a good to have a record of the story covered thus far as well as a list of tasks/list of clues. There were very few puzzles and they were too easy. Also, there were no instructions for the puzzles, and while I like figuring out for myself how to do things, a basic idea of what I'm supposed to be doing would be nice. The hints were good and it's nice to have a hint charge that isn't used up when asking for directions! There are a two levels of difficulty, which I expected for this game, but I always prefer three levels. I generally do things on hard mode, but for a trial I let to see what it's like on medium level. Ultimately, I wouldn't recommend this because it's way, way, waaaaay too short, and that's a real pity, because it could have been great.
March 16, 2013
A Very Short Review For A Very Short Game
I used a free game coupon in order to "purchase" this game. I'm glad that I did. The game had a lot of potential; decent music, excellent graphics, an adequate storyline, challenging HOS, ok puzzles... but the game was over in a flash. I mean this game is really, REALLY short. This game COULD have been worthwhile... but it certainly isn't.
March 16, 2013
Waste of $
Started out OK but after the Demo/ 60 min.free play I purchased it and was it was over in 20 min. so if you have tried the demo, You were almost at the end of the game.
March 16, 2013
A WIZARDS CURSE
NEVER WROTE A REVIEW BEFORE BUT NEEDED TO TELL EVERYONE A TOTAL WASTE OF MONEY SHOULD HAVE KNOWN WHEN IT TOOK A SECOND TO DOWNLOAD
March 16, 2013
Way Too Short and It's Continued
First, I take issue with Big Fish's description of this game. There are NO "intricate hidden object scenes" -- they are straight seek and find; no interactive play. And there are only a few poorly designed puzzles to solve. Misleading game descriptions are not fair to us gamers. Okay, now for my quick review: PROs: * Graphics are excellent and the gentleman playing the lead character has a wonderful voice. * Music and ambient sounds fit perfectly. * The Hint button recharges quickly in Casual Mode and will point you in the right direction without having to re-charge. Since there is no map, this feature comes in handy. * Storyline is quite good up until the ending. CONs: * The game is ridiculously short. After playing the hour demo, I purchased the game and played for only 25 minutes more. * The ending is abrupt because the game is to be continued. Not only was I shorted game play -- I was denied a decent ending. I'm not sure who will buy the sequel considering we all know the first game was only 1.5 hours long. I wouldn't recommend buying this game. Play it for an hour and be satisfied knowing there is no ending to it.
March 17, 2013
A Wizard's Curse
I really liked this game. I gave it a 2 star rating because I was done in 2 hours. And I wasn't at my computer the whole time. But I loved playing it. Way too short though.
March 16, 2013
A Wizard's Curse
The other reviewer was correct when you buy the game there is about 15 min. left until the game is over. Games were really, really easy. Big Fish games is going downhill. I haven't purchased a game in weeks as the trials I play are redundant..
March 16, 2013
Huge disappointment
This is a really nice game, great graphics, silhoutte HOs, interesting storyline, BUT....this game is a huge disappointment because of its short length. It is as if the devs 'hurried' to the finish line because they didn't have enough material to create a game with any serious length. I had read the other reviews, but I am a slow gamer so I thought I couldn't possibly have gone very far in the demo. I was wrong! Once purchased, this game lasts, MAXIMUM, a half hour past the purchase time. I was stunned. I really do not think this game deserves even a 6.99 price. It would barely deserve the DD price. Shame on you BFG for even allowing this one to make it to the TGT list without checking it out for length. My personal advice to anyone...if you are looking for something to quickly play on your lunch hour or between loads of clothes, this is your game. Otherwise, I would not recommend this game until the devs add some more time and gameplay. Ridiculously short! I am disappointed, in both the devs, and BFG for releasing this one, because it just seems 'unfinished'.
March 17, 2013
Very Disappointing; Too Short
For a new game, this one doesn't come close to competing with even the older HO games. The story starts and stops abruptly, without giving you a chance to relate to the characters. The storyline itself is curt, with minimal information. There are too many HOS and very few puzzles. If you're a beginner, you might enjoy this game, but I wouldn't spend money on it. I've come to expect more from BFG, as I've been a member since 2006, & have always been satisfied with the games I've played.
March 17, 2013
A Wizards Curse
I feel bad I have to give this game a bad review but I downloaded and played the demo of the game before purchasing only to find when I actually downloaded the full game I'd almost completed it during the trial version, so I wasn't impressed at having spent the money, However the game did have great potential top be a great game, just fell short of the mark. wouldn't recommend buying this.
April 10, 2013