Gardens Inc.: From Rakes to Riches
Jill had been so excited to reunite with her grandparents, and now this. Close to tears, they tell her that they have to give up their lovely family home and its large overgrown garden. Their debts too large, they face selling their property to the greedy real estate tycoon, Cliff Gold. If Jill doesn't act now, bulldozers will move in. Still, all is not lost. The largest gardening competition with a big cash prize is fast approaching. This is her chance to save her grandparents in Gardens Inc.: From Rakes to Riches!
50 tricky time management levels
Colorful graphics and great soundtrack
Collect all the trophies
Game System Requirements:
OS:

Windows XP/Windows Vista/Windows 7/Windows 8

CPU:

1.4 GHz

RAM:

512 MB

DirectX:

9.0

Hard Drive:

333 MB
Game Manager System Requirements:
Browser:

Internet Explorer 7 or later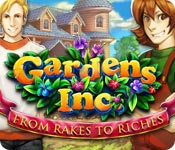 NEW299
The Big Fish Guarantee:
Quality tested and virus free.
No ads, no adware, no spyware.

Reviews at a Glance

Gardens Inc.: From Rakes to Riches
0
out of
5 (
0
Reviews
Review
)
Customer Reviews
Gardens Inc.: From Rakes to Riches
90
90
WOW....this is the BEST game I've played in a long time!
....and I don't normally even like time management games. But this game is fun, challenging, interesting and every other good thing you can say about it. I play it a bit every day since I've had it. It can get more challenging when I end up buying too much wood or tools when I need bricks....so you have to "manage", which is what the game is.....time management, but this one is more that "time"....you have to also manage what you buy. But, LOVE, LOVE this game!! The one thing I don't understand is that when I upgrade something in the Villa, the looks of it doesn't change....what gives there? I have "Gardenscapes" and when you upgrade something there, you can see the changes. Am I doing something wrong here?
July 9, 2013
Great Game
I wasn't sure what to expect when I tried this game, but it turned out I became highly addicted to it lol! Very fun, some levels very challenging and had to retry them several times to get gold. I was sad when I completed it! Great little game!!!!
June 21, 2013
Awesome!
I have played this game everyday since I purchased it. It is very challenging to try and totally repair the villa. I would ask the developers to give us a way to earn extra money with little mini games since it is very difficult to finish each level with maximum time remaining. Otherwise, I absolutely love this game. Please develop a Gardens 2, maybe with levels of difficulty and other levels of choice.
May 21, 2013
One you'll play over and over
A great game that gets sort of addicting. This is what I call a "pathway" game. You follow paths to supplies and buildings that allow you to progress through your goals; establishing or renovating gardens. You earn money, job by job, to save and fix up your grandparents house as you work towards winning a gardening contest. You're able to queue up actions or cancel them, one by one, with a right click. Awards are given out for accomplishments, though they don't tally were you are. For example, you get one for upgrading 1000 buildings. You never know if you're at 583 or 992. Also, you'd have to play levels multiple times to get other rewards. The music is great, difficulty levels vary, getting more difficult as you progress. Also, you vary the difficulty: play efficiently and wisely to get gold, or slow your pace, do what you'd like to do and forget about ranks. There's also a bonus goal in each level that you're only given a hint to, fun to figure out and it lets you know, with a red or green color, whether you've attained the bonus before you finish the level. Overall, a very fun game. I believe it to be one that everyone should have. Sort of a staple that you can go back to, and you'll want to. Oh, one bit of advice. Don't build the ghost hunter shack until you absolutely have to. You'll understand why. ;-)
March 18, 2013
Cute Little Gardening/Builder
Time Management Game. Gameplay is dash around gathering tools & resources needed to Build & Plant in order to complete each chapter. Beautiful Artwork..Music muted after a short time (starts LOUD)... Storyline is You arrive just in time to save the day :) Gets progressively more challenging as more tasks are added to larger area per chapter. The faster you finish, the more cash you earn to restore your Villa.....
March 18, 2013
Trophies Galore !!
This was a very fast-paced and potentially addictive game that really requires you to pay attention and be goal orientated. There is an entire page of trophies, some of which gave me a giggle. Nevermore : Chase Away a Raven to Unlock (yea I'm an Edgar Allan Poe fan) and Who You Gonna Call? : Chase Away Your First Ghost to Unlock. I found that it was very challenging to get gold time. I barely made it before the time ran out on the first go round with most levels. This is a game that will require you to play and replay to try out different strategies.
March 18, 2013
Fast paced and enjoyable
Along the lines of My Kingdom for The Princess in where you have to gather materials and clear the path. You plant patches of garden and try to beat the clock. Further into the game the levels get pretty difficult as there is a good deal to accomplish before the clock runs down. I normally never settle for anything less than gold but I let some slip to silver just to get past them. The graphics are bright and colorful and the music is non-obtrusive if not a little repetitive. There is no VO but cut-scenes with written dialogue. The story line is pretty typical but cute none the less. I used a freebie credit on this one and I'm not disappointed at all. My clicking hand was getting a little tired but it was fun.
March 19, 2013
Fun TM game
Similar to the Roads of Rome and My Kingdom games, where you have specific tasks to do that require a bit of strategy to get a gold rating. You also fix up your villa with money you earn in levels, similar to Resue Team. I love that this game allows you to queue tasks. There are a few things that I don't like though: - no option to disable custom cursor, which makes the game drag slightly (on my computer) - no way to strategize before the timer starts, because you can't mouse over buildings to see what they are until you start the level - no way to mouse over buildings to see how much they produce (only the name of the building), which makes planning difficult - I found the graphics to be very busy, making it hard to spot items that need to be done/collected/fixed/etc. Overall, it was a fun TM game that I will probably buy. More good TM games please, Big Fish!!
March 19, 2013
I liked it
Good time management game, I've actually played it several times which I rarely do. I would've given it 5 stars if not for the ghosts. Good god the ghosts drove me nuts and almost made me stop playing. Some levels I spent almost all my time fighting ghosts. No sooner did I get back into the game then more would appear. They do NOT add to the game. Other than that minor pet peeve, this is a cute game with some unique twists! A keeper!
June 23, 2013
More Explanation, Please
Cute game and finally, no blood and gore!! But, there isn't enough instruction on how to get more $$ or what function the altars perform or how to use them.
March 23, 2013