Gardens Inc.: From Rakes to Riches
Jill had been so excited to reunite with her grandparents, and now this. Close to tears, they tell her that they have to give up their lovely family home and its large overgrown garden. Their debts too large, they face selling their property to the greedy real estate tycoon, Cliff Gold. If Jill doesn't act now, bulldozers will move in. Still, all is not lost. The largest gardening competition with a big cash prize is fast approaching. This is her chance to save her grandparents in Gardens Inc.: From Rakes to Riches!
50 tricky time management levels
Colorful graphics and great soundtrack
Collect all the trophies
Game System Requirements:
OS:

Windows XP/Windows Vista/Windows 7/Windows 8

CPU:

1.4 GHz

RAM:

512 MB

DirectX:

9.0

Hard Drive:

333 MB
Game Manager System Requirements:
Browser:

Internet Explorer 7 or later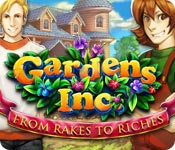 NEW299
The Big Fish Guarantee:
Quality tested and virus free.
No ads, no adware, no spyware.

Reviews at a Glance

Gardens Inc.: From Rakes to Riches
0
out of
5 (
0
Reviews
Review
)
Customer Reviews
Gardens Inc.: From Rakes to Riches
78
78
Fun TM game
Similar to the Roads of Rome and My Kingdom games, where you have specific tasks to do that require a bit of strategy to get a gold rating. You also fix up your villa with money you earn in levels, similar to Resue Team. I love that this game allows you to queue tasks. There are a few things that I don't like though: - no option to disable custom cursor, which makes the game drag slightly (on my computer) - no way to strategize before the timer starts, because you can't mouse over buildings to see what they are until you start the level - no way to mouse over buildings to see how much they produce (only the name of the building), which makes planning difficult - I found the graphics to be very busy, making it hard to spot items that need to be done/collected/fixed/etc. Overall, it was a fun TM game that I will probably buy. More good TM games please, Big Fish!!
March 19, 2013
More Explanation, Please
Cute game and finally, no blood and gore!! But, there isn't enough instruction on how to get more $$ or what function the altars perform or how to use them.
March 23, 2013
I liked it
Good time management game, I've actually played it several times which I rarely do. I would've given it 5 stars if not for the ghosts. Good god the ghosts drove me nuts and almost made me stop playing. Some levels I spent almost all my time fighting ghosts. No sooner did I get back into the game then more would appear. They do NOT add to the game. Other than that minor pet peeve, this is a cute game with some unique twists! A keeper!
June 23, 2013
Sunnydale Gardens (no vampires!)
Review based upon completion of the game with all levels in Gold time, a fully renovated villa and 39 of 44 Gold trophies. This game is brought to you by the Torque Game Builder tool that also was used for the Kate series in which you have to build a car empire. Apparently this is a standard tool for TM games. But the developers of this game made a lot more out of it, with more diverse graphics, different tasks all the time, and a game that has you think, but when you are capable to grasp the basis of strategy you will always know how to improve. I blew some levels the first time, but always got Gold on the second try. The Story? The local unlikable tycoon wants to evict your grandparents and flatten the family villa, and will succeed unless you win the town's gardening contest. The Good: + diverse tasks + great graphics for a TM game + lots of achievements, some are tough + chaining actions... + ...and facilitations that make sense (run faster, build faster etc.) + there's a little twist in the story... The Neutral: o ...but not all of it makes sense (right before the contest the story called the villa fully fixed when it was not) o to get some achievements you will have to replay a lot of levels The Bad: - some clues for the bonus ribbon (flower patterns) are VERY obscure Bottom Line: While chaining is available you still will have to click a lot of things, so if that is not your cup of tea then sadly you will be lost. If you manage to complete the My Kingdom for the Princess games you will also manage this one. So, if you are into gardening and TM / Strategy games by all means, play this one!
May 8, 2013
Hardest game of this type I've played.
Despite my hatred of Time Management, I love this type with the running around. I usually mess around with the game's scripts to allow for infinite time to play in sandbox mode, but I couldn't figure out how to do it here. This game is severely more challenging for me than other games of this type, with the overly tight time restrictions & the amount of micromanagement piled on at each level. While I'm too much of a laid-back person to enjoy being challenged, I know that's exactly what someone out there is looking for. I enjoyed it regardless.
March 26, 2013
Another Solid Pathway Game
Another solid "pathway" game - follows along the lines of MKfortheP - clear rocks and debris, build sawmills, etc. In addition to other tasks (i.e. collect 50 units of wood), each level requires you to plant flower beds in a specific arrangement (i.e create a striped pattern, etc.). The gardening aspect is a cute little twist, though i wish this aspect was more relevant - Gardens Inc. isn't really a "farming" game. Overall, this is a good game, but not without some tedium - similar to other games, ghosts and other menacing creatures come out of the woodwork randomly causing your workers to return to homebase and not resume work until the creature is gone. Personally, I find this more annoying than challenging. Reminds me of the menacing pirate that would randomly appear in Island Tribe 2.
March 23, 2013
Fast pace and fun time management game
The demo was a blast, cant wait to buy. similar game to kingdom chronicles, and not as fun, but well worth the time. The story line is a different twist from many of the time management games i've played.
March 20, 2013
Redo chapters
I really enjoy this game but would like the option to go back and redo levels. Other games I have played have this option. When I get frustrated I have to start over and dont like that.
March 30, 2013
I Recommend
Finally a TM game of excellent quality!!! Come on BF more, more, more!!! I loved the gardening plot! Okay here's an idea for developers, their used to be a super Nintendo game called Theme Park this should give you some ideas!
March 26, 2013
Good but twitchy
The game was fine but a bit intrusive during the tutorial. Premise was fun and game was certainly playable. Game got twitchy when I hit F1 by accident and it never recovered. It made the game hard to deal with since it had to be force quit to get it to stop flashing.
March 18, 2013