Gardens Inc.: From Rakes to Riches
Jill had been so excited to reunite with her grandparents, and now this. Close to tears, they tell her that they have to give up their lovely family home and its large overgrown garden. Their debts too large, they face selling their property to the greedy real estate tycoon, Cliff Gold. If Jill doesn't act now, bulldozers will move in. Still, all is not lost. The largest gardening competition with a big cash prize is fast approaching. This is her chance to save her grandparents in Gardens Inc.: From Rakes to Riches!
50 tricky time management levels
Colorful graphics and great soundtrack
Collect all the trophies
Game System Requirements:
OS:

Windows XP/Windows Vista/Windows 7/Windows 8

CPU:

1.4 GHz

RAM:

512 MB

DirectX:

9.0

Hard Drive:

333 MB
Game Manager System Requirements:
Browser:

Internet Explorer 7 or later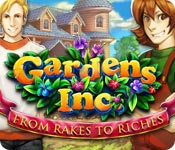 NEW299
The Big Fish Guarantee:
Quality tested and virus free.
No ads, no adware, no spyware.

Reviews at a Glance

Gardens Inc.: From Rakes to Riches
0
out of
5 (
0
Reviews
Review
)
Customer Reviews
Gardens Inc.: From Rakes to Riches
90
90
Keeps you on your toes
Pros: Pretty fast moving once you get into it - no relaxed mode and you have to beat the clock planting flowers, repairing bridges and getting rid of the ghosts and robbers. I definitely enjoyed it after having to start over boocoo times until I got onto it. Cons: That's one ugly female.
December 7, 2013
Garden Fix it Game
I like the general idea of the game, and the play is really good. The only thing I have against it is that it seems to be impossible to make the amounts of money needed to repair the villa. You don't get enough from each game to fix even one thing, and there isn't enough parts to get the money for everything. It's very aggravating. Like working for minimum wage and trying to buy a house and a car, etc.
August 18, 2013
Good game to play on a rainy day
This game was a lot of fun to play. I like challenging TM Games and this one was ok. Not too easy, but not really hard either. You can use money earned in the game to upgrade the farm house and the kids loved it! One thing that could would have made the game a little more fun, is if the player could have upgrade options to choose from. Other than that, it reminds me a lot of Roads to Rome. Good game to play on a rainy day.
June 24, 2013
If you like My Kingdom for a Princess you will like this too!
Lots of levels of play and the ability to replay levels to improve your score. I especially like the challenge presented on each level with a clue that you have to interpret. Good fun and replay too!
April 6, 2013
I like it.
Its fun. I like most TM games so this one is in my top twenty.
March 31, 2013
Don't waste your money
The demo was the best part of this game. I purchased it a continued to play, Throwing ghosts and thieves into the mix was annoying, as well as making it impossible to make good time. There are MUCH BETTER TM games to play than this.
April 1, 2013
A Couple of Problematic Game Mechanics
I love Time Management games, and I quite like the road runners. This is a challenging game with an interesting storyline. However, one game mechanic has you (unavoidably) trading time for goods; for me, this made the game feel stressful rather than engaging. Some of the levels do not give you enough time to achieve a gold score without being exactly perfect AND having good luck; when that's combined with having to trade time for goods, it takes a lot of the fun out of striving for the gold score. When the "money" mechanic is introduced, it's not very well-explained. (The "money" and "seed" symbols look a lot alike in the trading booths when you're just glancing, which isn't great.) Finally, there are too many ghosts, sometimes nailing you down for as long as two solid minutes, even using boosts. I enjoyed the game and would try more games from the same publisher, but it is not in the top tier of time management games for me. The difficulty of the game needs better balancing, especially for the unusual "time for goods" mechanic.
March 22, 2013
Poor technical execution but could have been REALLY fun
I really enjoyed this game even with the aggravation of not being able to have control of the cursor starting aroud level 29. I am not a TMer and didn't cry if I didn't get gold . On the last 10 levels due to severe problems with the cursor I struggled to finish my levels at all - one level I played for over 30 minutes. My cursor would just disappear at times and I had to wait for it to show itself again! Still, I will not ask for a refund (even though this game was aggravating ...and my BP got a little high at times) because I finally played the whole game. Since the problem of the floating, uncontrollable cursor isn't demonstrated until later levels, the demo is not a fair representation of how the whole game will play on anyone's specific computer. I wouldn't recommend this game to anyone unless the dev at least gives the option of using the system cursor instead of the game cursor....it might help a little.
March 21, 2013
Nice, not addictive
I'm a big fan of building games. Sending out workers, collecting food and wood, building farms, towns, ships or such is absolutely my thing and when I like a game I play it over and over again. I must have spent thousands of hours with games like "Kingdom Chronicles", "Northern Tale", and "Royal Envoy 2". But for some reason, this game didn't reach me. I don't know whether it's - the super-annoying "Right away" the workers yell everytime you send them to a job, - the (to me as a European) foreign and unfamiliar asian garden with pagodas, cherrytrees, and gazebos with asian rooftops that I couldn't identify with, - the fact that every task needs so much time to finish. Upgrading a building feels like a minute or something (yes, I tend to be impatient sometimes), - or the fact that it becomes very inconvenient to collect material in higher levels. Instead of collecting tools and boards from shacks, you need to exchange them in trading posts (e.g. give tools to get boards) and then exchange the exchanged material (boards) AND another material (e.g. seeds) in another trading post to get a third material (stones). That's too laborious for me. Overall, the game was alright, I guess. Very colorful and clear graphics, just not my cup of tea. I bought it, but uninstalled it before reaching the end.
March 27, 2013
A disappointment
Sadly, I was disappointed - I was hoping for a gardening game, but this is just another of these running-around-picking-up-stuff games. I really didn't feel a connection to gardening. Lately, all the time management games are either this type or the ones where you build and sell houses, purchase plots etc. I just really wish for a good gardening or restaurant/cafe/shop game... For those players who like games of this variety (My Kingdom for the Princess, I think, was one of the first on BFG), I guess this is quite good. The side quests that you have to figure out yourself are a nice idea.
March 19, 2013