Scrabble
The fantastically fun crossword game is now specially designed for your PC or Mac. Build words using letter tiles and enjoy quick, easy-to-learn controls and fantastic features. Play solo, compete with the computer, or challenge up to three friends in a Hot Seat challenge. Choose from a variety of game styles. Adjust the difficulty level when you play the computer. Track your best words and top scores, and chart your progress to become the best Scrabble player you can be.
Enjoy SCRABBLE fun on your PC or Mac
View your stats, top scores and more
Learn to play quickly with helpful tips
Game System Requirements:
OS:

Windows XP/Windows Vista/Windows 7/Windows 8

CPU:

1.4 GHz

RAM:

2048 MB

DirectX:

9.0

Hard Drive:

38 MB
Game Manager System Requirements:
Browser:

Internet Explorer 7 or later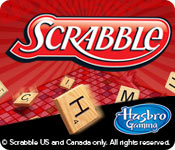 NEW299
The Big Fish Guarantee:
Quality tested and virus free.
No ads, no adware, no spyware.

Reviews at a Glance

Scrabble
0
out of
5 (
0
Reviews
Review
)
Customer Reviews
FUN Classic --New Favorite
YAY Scrabble at BFG at Last!! Easy . Hard. Normal. Levels of Challenge Player ~vs~ Puter, or Solo Classic and 4 or 5 other Games Hints/Help available Music a bit boring.. Full screen or Windowed.. Storyline is : U Spell Words :) Bought after only a couple games into the Demo
March 20, 2013
Not offical Scrabble dictionary
I downloaded the trial (which in this instance I would highly recommend doing), as I may have bought it had it not been for several things. The game only offers standard or duplicate version of the game, now whilst the duplicate version is good for a while it is flawed in that the dictionary that this version uses is not the official scrabble dictionary in that I couldn't use words such as 'qua' or even 'qat' thus ending with a very 'expensive' letter at the end of the game (not one for exchanging tiles), this was a major flaw for me as it meant that I was not able to make high scoring words when it mattered. Another flaw was that there wasn't any different variants of the game apart from 'duplicate'. I had a PC scrabble game years ago and they made it fun by in-cooperating other variants of scrabble in the game thus making it fun and keeping interest. With the advent of smartphones etc I have one for my tablet (that was much cheaper then this version), and whilst all it offers is standard and duplicate for on the move gameplay then this isn't so bad. I think Hasbro have 'missed a trick' here and could have made this so much better as it is I feel this is only for people who don't want the expense of purchasing the 'real-life' board version and don't want the frustration of losing tiles. Just be aware though words that you think should be accepted may not be and there is no possibality of entering them in, thus it is not a 'full' a game as it could have been. Not for me, there are plenty of word-variants on the web (for free), and also I feel that word-games are best as multi-players thus you can 'pit your wits', even if you are 'billy no mates' in real life the wonderful thing about the web is that you can download plenty of free word apps and play on-line for a better more rounded (IMHO) experience (also the dictionaries are better). Not for me.
March 20, 2013
Why no names?
I love Scrabble, but was disappointed with this game for two main reasons: It doesn't allow players to enter their names (don't know why it bothers me so much to be labeled "Player 1" but it does) and the music is awful. Minor complaint is that it lets you get away with submitting bogus words. Should be a penalty like in real Scrabble. A dictionary would be nice. I know it's against the real Scrabble rules, but it's a good educational tool. I might buy someday, but not at full price.
March 20, 2013
Good game
This version of scrabble is exactly like the boardgame. I like it that it is not spiced up or pimped, but just plain scrabble. I played medium difficulty and that was challenging enough for me, I lost from the computer. You can play relaxed, no time-pressure (nobody irritated becasue you think too long, lol) When you have no one to play the boardgame with, this is an excellent replacement.
March 20, 2013
For Scrabble lovers.
Straight ahead scrabble game Does not play in full or wide screen. In full screen fills outside perimeter with black. I enjoyed the light jazz refrain playing in background but may get repetitive for some. Options: Play solo or up to 4 players. Classic game plays until all tiles are used. Other options- Play to 75 or 150 points Play 8 or 12 rounds *"Best word" will make the highest scoring word for you if desired. *Scrabble teacher is available in solo mode and compares best word with word you have chosen. * Dictionary available for use allowing you to look up words while showing you all available 2 letter words. Nothing fancy but clean graphics that are easy to read. I enjoy scrabble and this played smoothly. Its a buy for me to keep on my desktop.
March 20, 2013
What language are they using?
Played for 14 minutes. When Li, Quai and Wive was used by the CPU that was the end for me. I thought in Scabble you could not use foreign words and Wive is not a word at all, at least according to the Oxford Dictionary. It is obviously using a different language to English, could be American English? Nothing against that but having been educated in England I spell the way I was taught. Could be good for people who spell like the developers.
March 20, 2013
NOT AS FUN AS PLAYING WITH FRIENDS!
The game itself has the classic as well as timed modes of play. I played one game of classic against the computer and won, and it was to boring to play again. But if you love scrabble or just want some practice before challenging your friends you will like this game. I probably won't purchase this game but I do feel it's a game well done for what it is, so to scrabble lovers I recommend this.
March 20, 2013
I love Scrabble!
Based on the trial 3 levels choice of a 'real game' (against the computer) or you can play alone plays just like the board game Scrabble, the board game, is a favourite of mine and something I have played since childhood, so I was thrilled to see this on my screen this morning. I played the free trial, just one game at the middle level, against the computer, and decided to use a free coupon to purchase the game. I know this is a game I will come back to again and again! Thank you BFG!
March 20, 2013
Are you kidding me?
I played one game against the CPU, and here are two of the words the CPU was allowed to play: "ED", which as far as I know is a proper name; and (get this now) "SH". I kid you not, "SH" is apparently a word. I guess it's the sound you make when you're shushing someone, but that doesn't make it a legitimate word. I like it better in the following sentence: "I'm definitely going to buy this game - SH! As if!"
March 20, 2013
SCRABLE BE' DABBLED
It was quite fun for a word game. Of course computer knows words we wouldn't, for it is the dictionary. I like it better playing solo. Their are different levels, and it is quite nicer than using a board with tiles. Only thing is, if I get this it will be with a credit or the 2.99 special. Have fun all you word geeks, this is for you.
March 20, 2013
The Apple logo is a trademark of Apple Computer, Inc.