Scrabble
The fantastically fun crossword game is now specially designed for your PC or Mac. Build words using letter tiles and enjoy quick, easy-to-learn controls and fantastic features. Play solo, compete with the computer, or challenge up to three friends in a Hot Seat challenge. Choose from a variety of game styles. Adjust the difficulty level when you play the computer. Track your best words and top scores, and chart your progress to become the best SCRABBLE player you can be.
Enjoy SCRABBLE fun on your PC or Mac
View your stats, top scores and more
Learn to play quickly with helpful tips
Game System Requirements:
OS:

Windows XP/Windows Vista/Windows 7/Windows 8

CPU:

1.4 GHz

RAM:

2048 MB

DirectX:

9.0

Hard Drive:

38 MB
Game Manager System Requirements:
Browser:

Internet Explorer 7 or later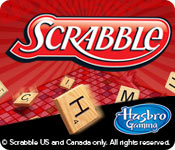 NEW299
The Big Fish Guarantee:
Quality tested and virus free.
No ads, no adware, no spyware.

Reviews at a Glance

Scrabble
0
out of
5 (
0
Reviews
Review
)
Customer Reviews
Good game
This version of scrabble is exactly like the boardgame. I like it that it is not spiced up or pimped, but just plain scrabble. I played medium difficulty and that was challenging enough for me, I lost from the computer. You can play relaxed, no time-pressure (nobody irritated becasue you think too long, lol) When you have no one to play the boardgame with, this is an excellent replacement.
March 20, 2013
NOT AS FUN AS PLAYING WITH FRIENDS!
The game itself has the classic as well as timed modes of play. I played one game of classic against the computer and won, and it was to boring to play again. But if you love scrabble or just want some practice before challenging your friends you will like this game. I probably won't purchase this game but I do feel it's a game well done for what it is, so to scrabble lovers I recommend this.
March 20, 2013
SCRABLE BE' DABBLED
It was quite fun for a word game. Of course computer knows words we wouldn't, for it is the dictionary. I like it better playing solo. Their are different levels, and it is quite nicer than using a board with tiles. Only thing is, if I get this it will be with a credit or the 2.99 special. Have fun all you word geeks, this is for you.
March 20, 2013
Scrabble's Back Baby!
I was looking everywhere for my PC version of Scrabble and then I noticed that Big Fish has a brand new version. I immediately downloaded it. About the Game You can play against the computer, all by yourself in Solo mode or in a hot seat mode with up to three others. You VS CPU I've only tried Normal and Hard difficulty levels. On Normal, I'm able to consistently beat the computer, but CPU kicks my butt on Hard difficulty. There is a "Best Play" button where the game will find and place the best possible play for you, up to four times per game. Solo This is the practice mode, where you play with yourself until all the tiles are gone or you quit. There is a teacher button that will rate your last play by whether it's smiling or not. If you click on the button, it will compare your play with the best possible play. Hot Seat I've only tried it once. It's easy to set up and can accommodate up to four players. There is also a built in dictionary with a list of acceptable two letter words. The dictionary only tells you if the word is valid and does not provide a definition. The Good Sharp graphics, straight forward interface. Computer opponent should provide a good challenge for all players. The Bad Placing letters with the mouse is exactly what you'd expect. Unfortunately, placing letters with the keyboard is poor. There is a purple cursor you can move around, but you cannot simply place the cursor, adjust its orientation (down or across), and start typing. Instead, you must move the cursor to the desired tile before placing each letter. This definitely could use some improvement. Also, the dictionary should provide definitions from Websters Scrabble Dictionary. Another suggestion would be to come up with a "workshop" mode to help in learning important skills with Scrabble, such as placing the high scoring letters J, Q, X and Z. Summary This is a very well executed version of Scrabble that could use a few improvements to make it perfect. I'm so glad to have it on my computer! -Lawrence.
June 15, 2013
scrabble yea!
Have wanted this game on pc for years. Was worth the wait. Bought after playing 3 games. Good work BFG
March 20, 2013
word mole, candy crush saga, text twrill
i like to play scrabble cause it enhances my ability to create words and it also a brain challenge
January 8, 2014
Not as bad as people are saying!
Yes, ED and SH are words! If you've played Scrabble, you know that! Yes, it does accept QAT! All in all, this is pretty good. No, you can't add your name. Not a huge deal to me. I just want to play. The graphics are good! The music is ok. Jazzy...keeps me going! I'm a Scrabble buff, so I can easily say this is pretty darn good! I like it!!!
April 6, 2013
Computer Let Me Win?
I like this game, though felt that computer played "down" to my level, as I won all but one game set at medium difficulty against said computer in the 50 minute trial. #I'm not that smart.# But, that's OK. The dictionary is broad, but not all inclusive. Some esoteric words are not included. Unlike another reviewer, I enjoyed playing without the chat and player attitudes of the "other" multi-player Scrabble-like game. The gameboard looks good, but the music is drab #perhaps not to be a distraction#. As usual, try before you buy.
March 20, 2013
It's wonderful..but a little different!
I love this game! I love Scrabble and this game is just about perfect. I say "just about" because is has a couple of little things that are different....for example - when you play with the CPU "player", it uses proper nouns. It entered the word "Japan" on more than one occassion and allowed me the use of the word, "Roman", so there are some liberties not afforded in the table game you play at home. I got a laugh when the computer played the word "enuf"...the phonetically-correct spelling of the word "enough"...unless there is another meaning for "enuf", but I just don't care about things like that. Heck - I can use the goofy words, too..lol..and it's too much fun to worry about little things like that. The imbedded dictionary is wonderful to have and it lists all of those tricky two-letter words I can never remember. The dictionary shows the letters in your tray and can tell you if the word you want to make is valid or not. You can play solo or against the computer and I enjoy playing the computer on the "normal" setting. It seems, for the most part, like I'm playing another person. It's not too "smart" for me - you know what I mean...it seems just right for my level of ability in Scrabble. I also enjoy learning the new words..like "qurse" that the CPU uses. I don't know what it means, because I didn't look it up, but I always like learning new "q" words. I think the game is great - it's bright and colorful, very easy to navigate, easy to see the letters, and you have several options for play - and different skill levels, as well. I just don't see a darn thing wrong with it..except, perhaps, the proper noun thing..that's why the game didn't get five stars on my overall rating. The gameplay is great...try it for yourself...I think you'll like it if you can just enjoy the oddities..lol. It's fune!
March 21, 2013
Decent game.
If you are not a die hard Scrabble fiend and you just want a reasonably fun, challenging word game to play, this is it. I like playing against the computer, even though it wins every time (evil machine). The dictionary is helpful; it might not be the official dictionary, but who can tell except for total Scrabble mavens? The music is annoying so I turned it off using the inaptly-named "Sound" control. I used a free game code to purchase, and I don't feel cheated one bit.
March 21, 2013
The Apple logo is a trademark of Apple Computer, Inc.