Scrabble
The fantastically fun crossword game is now specially designed for your PC or Mac. Build words using letter tiles and enjoy quick, easy-to-learn controls and fantastic features. Play solo, compete with the computer, or challenge up to three friends in a Hot Seat challenge. Choose from a variety of game styles. Adjust the difficulty level when you play the computer. Track your best words and top scores, and chart your progress to become the best SCRABBLE player you can be.
Enjoy SCRABBLE fun on your PC or Mac
View your stats, top scores and more
Learn to play quickly with helpful tips
Game System Requirements:
OS:

10.8/10.7

CPU:

1.4 GHz (INTEL ONLY)

RAM:

2048 MB

Hard Drive:

33 MB
Game Manager System Requirements:
Browser:

Safari 4.0 or later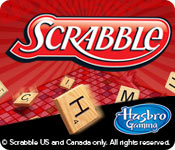 NEW299
The Big Fish Guarantee:
Quality tested and virus free.
No ads, no adware, no spyware.

Reviews at a Glance

Scrabble
0
out of
5 (
0
Reviews
Review
)
Customer Reviews
Decent game.
If you are not a die hard Scrabble fiend and you just want a reasonably fun, challenging word game to play, this is it. I like playing against the computer, even though it wins every time (evil machine). The dictionary is helpful; it might not be the official dictionary, but who can tell except for total Scrabble mavens? The music is annoying so I turned it off using the inaptly-named "Sound" control. I used a free game code to purchase, and I don't feel cheated one bit.
March 21, 2013
fun games
i really like a scrabble game cause i learn who to write and read some other word and i'm also enjoy scrabble that way i want to download the game please help to get it
April 30, 2014
Why no names?
I love Scrabble, but was disappointed with this game for two main reasons: It doesn't allow players to enter their names (don't know why it bothers me so much to be labeled "Player 1" but it does) and the music is awful. Minor complaint is that it lets you get away with submitting bogus words. Should be a penalty like in real Scrabble. A dictionary would be nice. I know it's against the real Scrabble rules, but it's a good educational tool. I might buy someday, but not at full price.
March 20, 2013
US English
This is scrabble as you would expect it, but I found it a bit frustrating as a Brit. I was entering words I know full well are in the the dictionary, but they weren't accepted. I kind of expected that, but still a bit annoying.
March 24, 2013
There Must be a Better Scrabble for Mac
This version of Scrabble has many limitations. There are no options for a timed game, there are no special features, limited graphics, and it does not even allow the player to submit a name (it is listed as "player 1" vs. "cpu"). Also, as others have mentioned, it does not have the scrabble dictionary, it does not allow the player to see the remaining tiles (like other versions of the game), and the computer has submitted words that were not found in Webster's or an online dictionary. The scoring is also unreliable, as it does not correctly add the scores under ?Triple Word? or ?Double Word?. I suggest that you save your money for a better version.
June 26, 2013
Not For Stupid People
This game was a little hard for me (even on the easy level), I guess I'm not a Scrabble type of person. If you are good at Scrabble then you might enjoy this game. I've actually have never played Scrabble before (So at first I was excited to try it) but the whole experience was difficult which at first was challenging but then it wasn't fun. Play this one if you are good at the board game.
March 21, 2013
Normal vs Hard
Since upgrading my mac to OS X 10.9, the Scrabble I'd been using for many years, no longer worked so I tried the Big Fish Scrabble. I am disappointed. The Normal is too easy and the Hard, well, impossible. The odds seem seriously against me when I am consistently thrown bad board of letters. I understand the computer has a much broader vocabulary at the Hard level. Why isn't there an Intermediate level for those of us with normal vocabularies? Also, my previous game made it slicker to place tiles on the board and had a drop down Dictionary where you could see variations of your word. Sigh. I miss my old game.
September 21, 2014
not for me
This game is not for me.. I like to play Scrabble on my phone, with my youngster. So I'm really disappointed TRY before buy
March 20, 2013
Not offical Scrabble dictionary
I downloaded the trial (which in this instance I would highly recommend doing), as I may have bought it had it not been for several things. The game only offers standard or duplicate version of the game, now whilst the duplicate version is good for a while it is flawed in that the dictionary that this version uses is not the official scrabble dictionary in that I couldn't use words such as 'qua' or even 'qat' thus ending with a very 'expensive' letter at the end of the game (not one for exchanging tiles), this was a major flaw for me as it meant that I was not able to make high scoring words when it mattered. Another flaw was that there wasn't any different variants of the game apart from 'duplicate'. I had a PC scrabble game years ago and they made it fun by in-cooperating other variants of scrabble in the game thus making it fun and keeping interest. With the advent of smartphones etc I have one for my tablet (that was much cheaper then this version), and whilst all it offers is standard and duplicate for on the move gameplay then this isn't so bad. I think Hasbro have 'missed a trick' here and could have made this so much better as it is I feel this is only for people who don't want the expense of purchasing the 'real-life' board version and don't want the frustration of losing tiles. Just be aware though words that you think should be accepted may not be and there is no possibality of entering them in, thus it is not a 'full' a game as it could have been. Not for me, there are plenty of word-variants on the web (for free), and also I feel that word-games are best as multi-players thus you can 'pit your wits', even if you are 'billy no mates' in real life the wonderful thing about the web is that you can download plenty of free word apps and play on-line for a better more rounded (IMHO) experience (also the dictionaries are better). Not for me.
March 20, 2013
Why so few players for Scrabble
I have been looking forward to Scrabble on Big Fish for a very long time, and finally only a very limited edition. I expected so much more, since big fish has always been a trendsetter for games of all kinds. What I don't care for is that not "all of big fish" can play each other, unlike a certain popular scrabble game on the internet - of which I will not mention to avoid advertising for them, that has thousands of people that can play each other at any time. Instead, of getting to play with thousands on the internet connected through big fish, a limited choice of three is the maximum choice, along with a computer to play. The music and graphics are not up to todays standards, but I consider these things minor issues in comparison. Not having all of big fish able to play each other is really disappointing. Why Big Fish cannot set it up for anyone on big fish to play each other that wants to is not understood. Scrabble could be the most popular game on the Internet through Big Fish with that one additional important feature. It is nice that scrabble is now a choice (its a beginning), but after all this time of waiting, I hopped for so much more. So get with I big fish. It is so unlike your past record for being in the forefront of everything. John
March 20, 2013
The Apple logo is a trademark of Apple Computer, Inc.
The Windows logo is a trademark of Microsoft, Inc.