Heroes of Hellas
In Heroes of Hellas, you`ll travel through Ancient Greece to find the thief who stole the scepter of Zeus. This relaxing matching game challenges you to click and drag across objects on the game board to create chains of three or more identical items. Draw from the powers of 7 heroes and use special bonuses. Explore the history behind nine classic mythologies. Easy to learn and challenging to master, Heroes of Hellas offers an unforgettable adventure through a magical time.
Unique heroes to utilize.
Stunning desktop wallpapers.
Explore captivating myths.
Game System Requirements:
OS:

Windows 2000/XP/Vista/7/8

CPU:

600 Mhz

RAM:

128 MB

DirectX:

8.0

Hard Drive:

44 MB
Game Manager System Requirements:
Browser:

Internet Explorer 7 or later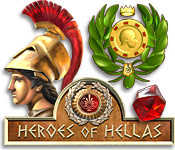 NEW299
The Big Fish Guarantee:
Quality tested and virus free.
No ads, no adware, no spyware.

Reviews at a Glance

Heroes of Hellas
0
out of
5 (
0
Reviews
Review
)
Customer Reviews
As Good As The Others
I, like some others, played 2 and 3 first, so was reluctant to get number one. Then I decided to use a game credit on it, and I was not disappointed. Whilst it is slightly different in some respects (perhaps simpler in some ways), this does not diminish the enjoyment of the game. Level of challenge to make it interesting, but not too difficult. I usually don't like timers, but I did not have a problem with this one. I also loved the storylines of the Heroes, particularly thrilled with the very last one! I recommend this game as much as the others.
June 18, 2012
fantastic game can not stop playing it.!!!!!!!!!!!
Only one thing wrong, not enough time in some of matches, and once you have finished the game you should be able to go back and choose a level to play again.
August 19, 2012
Really Enjoyable Game
In addition to a very pleasant and relaxing game you will learn about some of the heroes of Greek mythology, like Icarus, who wanted to fly. Very colorful, good sound and, not challenging, but very entertaining game. Good for playing over and over again .... never tires.
March 8, 2012
Heroes of Hellas 1 not fun played after Heroes Of Hellas 2 &3
Heroes 2 and 3 are FUN.. so I purchased Heroes 1... redundant every level, no chance to plan moves, lightenings are so random they are powerless and useless, takes too long to get enough of a color of stones to get the helpers, same-o same-o every level - played each level over and over and over using diferent schemes each time .. still takes forever. Unlike the other two, there is no player skill involved; just patience and pure luck.. Graphics? I forgot there were graphics. Recommend starting with Heroes Of Hellas 2 and 3 .. THEY have it all!
April 23, 2012
Finally, a challenge!
...and it is! I started on the Normal setting and by the mid-levels I was always coming *right* down to the wire on the timer. I have other Match 3s that I enjoy more leisurely, but this one definitely tests your brain-hand-eye coordination. :-) As an added bonus, the game doesn't condescend to you with poorly acted character dialogue, but states the premise quickly in text and moves on. The Mythological theme, for those of us into these things makes a great backdrop, and it's obvious the designer had some affection for, and knowledge of, the topic. It's great that somehow a great game didn't get lost in that zeal, but the mix was just right. One could *easily* enjoy the game without such interest. I hope the sequels are as balanced and as challenging.
January 6, 2012
Fun 3 matchs game
I loved this game. It's funny to see all the rocks falling.
November 17, 2011
Good game for young and old
I liked this game the best of the 3 Hero's of Hellas. Loved the trailing match instead of the drop and slide. I wish they made more like this. Educational, earn $$, build a city, lots of bombs, shooters, etc. My grandson just turned 5 and he loves it. Easy level is just right for him but he will soon need the normal level.
November 12, 2011
PLAYED in TIMED mode and BEAT IT
To be honest (after having played the other 2 sequels), I don't recall if this game has an UNtimed mode or not but I decided to purchase this game (despite having many timed M3 games only half played because I couldn't beat the clock) and I was able to completely finish the game. There were some levels that I had to replay several times while accomplishing the feat with only a second or 2 left on the clock but for whatever reason, I actually enjoyed the challenge of this game and didn't mind too much in having to replay levels. I believe it was because of the fact that the timer does not act like a flood -- draining within seconds -- but acts like a slow leak -- draining just enough to keep you on your toes.
February 19, 2012
Heroes of Randomness - A Guy's review
*review based on completing the full game in normal mode* I'm starting to warm up to Match 3 games after playing Azkend and Ancient Quest of Saqqarah and a couple more. Seeing my wife love this "Heroes of Hellas" series, I thought I'd give it a go. Well, it is almost good. It plays similar to Azkend in the way you play the boards. You can from long chains with elements connected to each other. I like that. I love to see how long chains I can be able to make. And there are power-ups. But here the games fall really short compared to the other similar games I've played. The power-ups don't feel like power ups. You can't select which to use where, it is all pre-selected for you. And most of them are making totally random changes to the board. You spend a quantity of time to select enough elements to use one, and then it might not be helpful at all. I can't start to explain the frustration I had with this. What bad game design, well, IMO. I do not care much for things that acts totally on random, because that is basically like playing the lottery. Things should be solvable, and, in this case, power-ups should be beneficial. That being said, I did to some degree enjoy the game, and did manage to finish it. It has other things included in it that ups the grade. I liked the mosaic puzzles in between the levels. Along the way you collect coins, which you can use to build your own palace step by step, even with some freedom of choices. Even though it was rather basic I found that I kinda enjoyed that part. There are also achievements to collect, and I always like that. If it wasn't for the bad randomness that would have made me replay the game to collect the rest. The graphics are perfectly ok for a game like this, and considering the age of it. It stretches for widescreen, but I had no problem with it. The music is not intrusive, but it serves best when it is set (very) low. There are three different difficulty levels to choose from. Easy, Normal, Hard. I only played on normal, so I can't elaborate on the differences. Again, it is the randomness of it all that somewhat kills it, and I don't see that changing between the difficulty levels. It is probably just the time limit and maybe the amount of elements needed collecting to use power-ups that change. The game is ok as a time filler, and has a little extra that might make it more enjoyable for some. I think the safest bet is to try it out before buying it if you are insecure about it. I have both its sequels, and hope that they play better than this first one. Look for a daily deal on this one. TJ
November 17, 2012
Tough to complete ...
This is a good game, but the timer is a bit "mean" - many levels have to be replayed several times before you get them in the allotted time. The graphics are OK, but not great. Of the three Heroes games this is by far the most challenging and therefore value for money. 2 and 3 are pretty easy and can be finished easily in one ot two sittings.
December 11, 2011