Hallowed Legends: Ship of Bones
Exclusive
You've just crash-landed near the village of Erlenbourg, where a ghostly figure has been stealing souls. Follow the trail of the mysterious woman in white and discover the secret behind her terrible task! Once you find the Book of Fire, you'll have fun matching its relics to the game world, in a special added feature of Hallowed Legends: Ship of Bones.
Uncover a secret!
Great Hidden Object scenes!
For a more in depth experience, check out the Collector's Edition
Game System Requirements:
OS:

Windows XP/Windows Vista/Windows 7/Windows 8

CPU:

2.5 GHz

RAM:

1024 MB

DirectX:

9.0

Hard Drive:

922 MB
Game Manager System Requirements:
Browser:

Internet Explorer 7 or later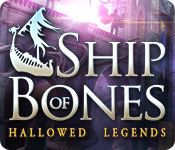 Catch of the Week
$ 2.99 USD for a limited time!
The Big Fish Guarantee:
Quality tested and virus free.
No ads, no adware, no spyware.

Reviews at a Glance

Hallowed Legends: Ship of Bones
0
out of
5 (
0
Reviews
Review
)
Customer Reviews
Hallowed Legends: Ship of Bones
39
39
gettting smaller?
yes and no recommendation...almost bought by the reviews then said better play,so glad i did it was a bit of a challenge ,the scenes were mushed together with things and had to study where to click for info in sparkles.will not be buying.seems like a cool story but found it a bit hard on the eyes for this granny. not like other games,suggest you play the demo if your older like me.would have loved to have added it to my collections,but i shouldn't have to squint.
March 22, 2013
Elephants do forget!
Elephant seems to have forgotten how to make the excellent games they have become known for lately. I did buy this because it was an Elephant game and I kind of enjoyed it in the end but it's not up to their usual standard. SO much running around, thank goodness for the map but having to use the map so much always makes me kind of lose the plot and makes me less immersed in a game. The puzzles were pretty easy and I prefer a challenge. A game worth trying of course but one you have to make your own mind up about before spending your hard earned cash!
March 24, 2013
bored within 15 mns of play
After having been a member of Big Fish for a few years, having bought a lot of games and left a few comments, i am finding now that the fact I have become spoiled, like many, and expect more than this has to offer among others, makes me a tougher judge of a trial game than I should be and in this case, i was bored practically immediately and quit the trial after 10 minutes. Had this been the first game I ever played I may have continued but my interest was not peaked from the start. The graphics were fine, the animation good at the beginning, but the story made little sense and triggered so little curiosity as far as finding out the outcome of the game that i was happy to press on exit and go to something more stimulating. That is the problem for me today: Lots of games are so similar (with only a slightly different scenery and slightly different story and characters) with: 1) too many HOS with often the same things to look for from one to the other, as for example, a couple of butterflies, screws and nails, and that immortal "shuttlecock" that refuses to die! I will never forget that name now, as I have seen it in so many games... I used to call it a "Birdie" but now the true appelation has been pounded permanently in my head thru repetition! 2) too many types of puzzles that repeat themselves from game to game like working on the fuses. 3) too many identical tasks like removing the rust from a lock or getting something out of the drain with a fishing pole or a long object, or thorns having to be trimmed in order to grab the object beneath, which may be my FAVORITE among the repetitive ones (which have gotten old) since I like yard work and the clipping amuses me!! I am tired of all those scenarios that have been repeated so often and would hope that the game makers could use their imagination to come up with new stuff, and I was happy the other day to have to put a coin in a slot machine as that was a bit of a change from the rest! I am not complaining about this game in particular although it did not excite me one bit, as this game, like many, is predictable, slow moving, with a uninspiring and uninspired plot which left me cold (I want to be enticed into solving the plot and saving who has to be saved! And I was not!). But I repeat, I am spoiled today, I have played so many of these games that I tend to expect the bells and whistles that I have not encountered yet. I am definitively picky, if I am willing to take a good bit of my time to play and finish a game, i want to be challenged, entertained, amazed, amused, enchanted, curious till the end, I want new stuff, not the same old same old and the graphics must be beautiful as well as the colors, and an ending not too disappointing (as they often are when the developers have ran out of speed!)! 1) Today, I cannot play a game with foggy and super dark scenes like I could at one time (which is not the case here by the way, the scenes are very clear) 2) when subjected to poor graphics, my interest cannot be sustained anymore by the plot alone, I NEED CRISP: as some developers have improved their details so amazingly that I practically feel I am in there fighting dragons or ghosts...and since then, I expect the backgrounds to be superb and they are good here by the way, but the plot lacks! 3) I am sick and tired of HOS unless they have an interesting twist! 3) Sick and tired of pouring acid on rusted items, among others, as I see it in too many games and it has lost its novelty for me! So I may be hard on this game because I expect so much, but I did not even have the desire to buy it on sale for $2.99 because it just did not have enough to offer me and I prefer replaying an exciting game that I previously bought than this one, for the first time. There was no desire to go further, the plot did not have me intrigued at all, there was no spark to it and i must agree with a lot of gamers that the plot cannot be strung out and stretched with too many HOS and puzzles that act like commercials on TV by making one lose interest in a plot that is constantly chopped up and delayed by too many interruptions. I like the new approach that some have by making you find the hidden objects as you walk thru the scenes, like a lost key or something that you find under a mat while walking along, as that is closer to real life and real life, in the case of a game I find, adds belief and plausibility to the plot and allows one to identify better with it, like these "Final Cuts" games which are quite realistic as opposed to these new games with fairy tales overtones which, I assume, would repel adults somewhat especially men, and would be more appropriate for children over all. I do play them with my grand daughter and we enjoy them together but if I did not have her to amuse, I would not buy them. I like to play detective and feel like I truly am for a spell, and for that, I need the plot, the graphics, the progress to be original and coherent and plausible in most cases, in order to play the part I am expected to play with conviction! That said, Big fish make a brilliant effort in coming up with a new game everyday and each cannot be expected to be perfect as a result. I try to only purchase the best ones today since I am hard to please nowadays. Thanks Big fish for creating a great and user friendly company!
March 22, 2014
Just OK
The hos' were hard to see at times and I found that the "directions" for most puzzles were not clear and had to skip some. The quality of the sound and pictures was nice.
July 28, 2013
This Game Can't SERIOUSLY be by Elephant, Can It?
While waiting for new titles from Elephant, I decided that I would try this one. This was nowhere near the standard we?re used to, and I was very disappointed. To be honest, the opening was one of the worst I?ve seen, especially the first part. I mean, it was a guy opening a book- WOW! SO EXCITING! Some of the characters are just ridiculous- a talking magpie with glasses (with a science degree too!). From then on, the story isn?t interesting at all. Rubbing salt in to the wounds, the demo is a laughable 25 minutes, which doesn?t give us any time to actually get in to the story. I?d tell you what happens in the demo, but there?s nothing to tell. The graphics, however, are what is to be expected of Elephant. They are wonderfully clear, very realistic and the artwork was beautifully done. The character design is great too. It?s sad to think that the graphics were better than the story. The HOS were good. They were standard of Elephant Games. They were fairly easy and included interactive objects. Not much of a challenge there. I can?t fault Elephant on this though, as this is pretty much what you?d expect from all games. I only encountered one puzzle during my demo and to my surprise; I was able to solve it. Granted that it did take some time, but nonetheless, I persevered. Congrats to the developers on that one. FEATURES - Diary to keep track of events - Taskbar of some sorts. Showed you what your next task was. - There is an interactive map that saves a lot of time that would?ve otherwise been spent back tracking. - 3 modes to play- I played Casual. - Hint and skip recharge fast on Casual mode, and the hint is very helpful outside the HOS. - At the end of the demo, you acquired a ?Book of Fire.? The title is pretty self-explanatory, with its main use to melt ice to get to the next scene. - The talking raven also acted as a carrier. As stated before, this character did get annoying very quickly. So, overall, this game barely scrapes in with a two star rating. I absolutely hated this story, and I can say that with no bias, as I am an Elephant fan. Sorry Elephant, this game hasn?t won me.
June 20, 2013
safe your money
I safe my money, I find this game boring. I feel sorry for the devel. of this game
March 24, 2013
??? What ??? Brain Strain!
It may just be me being really stupid, but I found this game so difficult, I didn't even get through the trial. I was at a total loss as to where to go, or what I was supposed to achieve. I am so glad I decided to play the trial, before throwing my money away on this ball of confusion. I play game to relax, not to give me a headache, which is what I got, trying to figure this one out.
September 7, 2013
You have puzzles with no clues
Wish I hadn't bought this game. I have finished extremely hard games but this is ridiculous.
March 1, 2014
This is one of the Worst Demos I have Played...Certainly don't want the game
I guess the Review title says it all....I played the standard version demo, and didn't even want to spend ANY MONEY on that....there was nothing FUN in this game...it has you jumping all over the place, so who can even figure out what the point of the story was....I won' t play this game even if it was free!!!! The Demo told me that...Good luck for you folks that liked it....Not ME
March 22, 2013
The Apple logo is a trademark of Apple Computer, Inc.