Vampire Legends: The True Story of Kisilova Collector's Edition
Exclusive
Who or what is killing the townspeople of Kisilova? You and your partner are sent on an improbable journey by the Imperial Court in Vienna to investigate a mysterious series of strange deaths in a distant town in a far-off region of the Empire on the banks of the Danube River. The murders occurred under strange circumstances and people are fleeing the town in panic. There is a sense of urgency to solving the mystery, as townspeople are dying and it is up to you to find the culprit and stop the murders. In the end you will discover that things are not as they seem; you must put an end to the tragedy that has struck the unfortunate town of Kisilova. Do you have what it takes to end one of the earliest and most well-documented cases of vampire hysteria? Find out, in Vampire Legends: The True Story of Kisilova!

This is a special Collector's Edition release full of exclusive extras you won't find in the standard version. As a bonus, Collector's Edition purchases count toward three stamps on your Monthly Game Club Punch Card!

The Collector's Edition includes:
Bonus chapter - continue the story
Interview with vampire experts
Documentary on the modern day Kisilova
Music
Wallpapers
Game System Requirements:
OS:

10.8/10.7/10.6

CPU:

1.4 GHz (INTEL ONLY)

RAM:

1024 MB

Hard Drive:

708 MB
Game Manager System Requirements:
Browser:

Safari 4.0 or later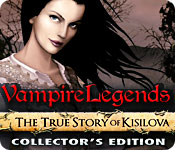 The Big Fish Guarantee:
Quality tested and virus free.
No ads, no adware, no spyware.

Reviews at a Glance

Vampire Legends: The True Story of Kisilova Collector's Edition
0
out of
5 (
0
Reviews
Review
)
Customer Reviews
Vampire Legends: The True Story of Kisilova Collector's Edition
79
79
Awesome Storyline!
If this was the standard edition, I would have given it 5 stars. It has a complete and satisfactory ending and the game itself is quite good along with the story. However, as a CE, this game doesn't have all the frills and collectibles and extras that other games do hence the 4 stars. I would have liked a bit harder of a challenge both in the game itself and the puzzles BUT the story line makes this game one of the best I've played all year. This is an UNIQUE, BASED ON TRUE EVENTS game. Its not your run of the mill vampire story. No love angle, just facts. And its done extremely well. I loved playing it. Usually I play in 1 hour increments but once I started this game, literally I couldn't stop. It took 5 hours give or take. The bonus chapter is put in the future. Its about one of the men on your first trek having nightmares about unfinished business so he goes there to check it out. YOU get to CHOOSE the ending. I did like that angle. The voiceovers are very well done. There is no live acting BUT Id take GREAT voices over terrible live acting any day. Also, the music score was great, never got overly annoying and made the game sort of spooky. Some games are so unique and great, they don't need all the collectibles, achievements etc to be extraordinary. This game is wonderful and I wish more developers would think outside the box like this and make engaging games that aren't just the same old story. Also, there are interviews about the folklore and truth in Vampirism according to locals and people who study it. It was very interesting and a great addition to the Collector's Edition. I have never heard of this developer before but I can only hope they come out with more of their original well done games in the future. Kudos to a new and unique story line! Not the same cliche vampire things we usually see. KUDOS! Oh & you only play each hidden object scene once which is great because you don't get sick of the scenery AND it doesn't make you go back and forth just to make it longer!
July 3, 2013
I just thougt it got old
Seems pretty good but after playing for awhile I got bored. Maybe it is the music, puts me to sleep. The HOS are quite easy and the puzzles are not hard. Does have a good flow to the game. Lots of narrative. Hint button works but is not needed much. Lots of areas to explore.
May 9, 2013
Meh... I'm Surprised they consider this a CE..What's with that?
I would have been all over this game if it were a SE. I can't understand why they put it out as a CE game. It's pretty, and it's great idea but I just don't see the level of gameplay to qualify it as a CE. The graphics are alright but it really puts me in mind of a much older game, not a snazzy new CE. There was NO (zero, zip, nada# challenge in the mini-games #at least in the demo which only lasted about 45 minutes) That would have been okay for a laid back Easter Sunday, but not as a CE. Don't get me wrong, I LOVE the storyline. I would love to finish this game, but I am fairly sure I can wait till it is a SE and get it with a free code. It's definitely worth playing, but not as a CE IMHO.. Looking forward to it being an SE game.
April 1, 2013
Started interesting, did not keep it up
Beginning of the game was quite promising, that is why I decided to 'risk it' and buy the collector's edition. Unfortunately, the authors did not manage to keep the game interesting till the end, some things seem 'cut out' and game ends in an unsatisfying, cliche manner. Same goes for the bonus chapter. Graphics is very nice, however, voices could be improved. Game is not very challenging even on advanced mode, one of those "gather everything you see around, sooner or later you will use it".
April 3, 2013
Nice game, but not worth a CE purchase
As others have said, the voiceovers and music are all good. The graphics might even be above par. My biggest complaint was WAY too many hidden object scenes, nothing really thought provoking in how to go about playing the game, nothing unusual at all. The bonus content has some nice glowing flower (?) things but doesn't feel like it's worth the extra spend. Would have been very happy with this one as a standard edition, as it is, I feel a little ripped off.
April 2, 2013
just ok
not the greatest hog or puzzle game ive played. characters are poor quality not alot of puzzles, nothing really challenging. dont waste your money on CE wait for SE, poor ending too
April 2, 2013
Has the potential to be good, but not there yete
I like the overall concept of the game. However, the graphics need work. I like the challenge of finding objects but when the coloring and shapes make it difficult to find, even after using the "hint", I have a problem with it. The biggest turn off was the stopper in the game. I didn't even get through the full hour because the game stopped saying you needed to buy if you wanted to continue.
March 31, 2013
Vampire games
Well, I normally play these kind of games during Halloween but during the coarse of the year if I see something that I like I will try it out before purchase the game. This game is good if it was a SE but as a CE, no. I don't care about the screensaver nor the wallpaper. The music and the art is excellent and if the story came from a real life, I am impress but it's not scary for me. Like I said before, I normally play these game during Halloween because just like reading a book once you know the ending there is no purpose of redoing it. i guess I'm tried of supernatural games. But if I was in the mood for this then this game will be awesome. For now, I will wait for the SE to come out.
April 4, 2013
Does not live up to a CE
Found the graphics very basic, and the general pass of game slow. Story line was a good idea, wish they had done a better job producing game. Found myself bored after 15mins of playtime, not worth purchasing
April 1, 2013
Kitty's Thoughts: Not Bad, but Too Bold!
Hello, I played this game for just an hour. However, this game focused on a great idea, but it just didn't pull through as expected. I did a bit of research about the true story this game was based on, and I was surprised. However, surprised of the accuracy to the real story in Siberia, this game is only based on the true story in 1770's. I better first start with the story line. You start out as a detective, and someone form the higher ups noticed some cases of attacks and deaths in a town called Kisilova. So, you were set out and test your detective skills to discover the culprit who was causing all these deaths and killings in the town. However, on your way to the town, a mysterious man in a black coat tries to stop you in anyway possible: blocking paths, kidnapping, stealing something important to your case, the whole shebang. So, you have to uncover the case with little knowledge. Sounds exciting huh? Unfortunately, the execution of the story is not well played due to a lack of other features I will mention if you continue reading. The good thing this game has for itself was the challenge of the puzzles. There's an even amount of difficulty to enjoy for both children and tweens. However, the target audience seems to be more of teenager and adults . So, most people may find the puzzles a bit too easy. Judging only by the hour, I hope the puzzle difficulty goes up as you investigate. The factor that really dragged the story down while listening to all the talking from the people around you is the music. The music in the intro was superb, and I was hoping to hear more engaging sound track beyond the intro screen. Unfortunately, it seemed to die out just by the first hour of gameplay. In the hidden object scenes, it's like total silence. However, to much silence causes the game to be a bit boring. Especially, when you're trying to find things in the area. I don't mind some dark scary mystery music while I am investigating the town. Think if a mystery movie was completely silent. You'll probably be bored by the thirty minutes watching it. However, the visuals was decent and fit the time period of the game. It's like I am going through a painting made in the american patriotic period, so I say that's a good note. Finally, The fun factor, and probably the lowest on the list. There's too much talking and not enough play. I even believer there should be some areas where it should be an option to talk to them more than forcibly hear what they had to say. Most of the stuff they say is not even important or helpful to solving the case or getting to the next area. They need to balance the talking and the game play more. Too much talking drains the fun I always say. Along with the silence, I felt less intrigued to keep going. In some cases, I find myself bored, but that could be my fault because I got lost at some point. Overall, I was hoping for more in this game. For example, the detective partner could be a more interactive partner than just giving hints, and I wish there was more of mysteriousness in the guy who tried to stop you. He kinda seem to obviously evil, and with all the hard work.... the story could be too predictable because of that. I also encountered bugs while playing the game. However, this is not the worst game, but it not the greatest game either. I believe they went too bold to make it a collector first. They should of started out with an original standard game. If they make another series and it's good and improved from this one, I believe a collector edition could be plausible. However, this game deserves the 3. It's too buggy and dull to be a 4 or a 5, however it's not soo bad that it deserves a 1 or a 2. Well,
April 3, 2013
The Apple logo is a trademark of Apple Computer, Inc.
The Windows logo is a trademark of Microsoft, Inc.