Enchantia: Wrath of the Phoenix Queen
Exclusive
Travel the magical world of Enchantia as you go on your quest to stop the Phoenix Queen. Meet the different races and creatures of this fantasy world and discover the story behind the Phoenix Queen, as you seek out your destiny and learn about your mysterious heritage. With more than 20 exciting characters, an epic fantasy adventure awaits you!
Game System Requirements:
OS:

Windows XP/Windows Vista/Windows 7/Windows 8

CPU:

1.0 GHz

RAM:

1024 MB

DirectX:

9.0

Hard Drive:

1253 MB
Game Manager System Requirements:
Browser:

Internet Explorer 7 or later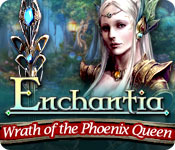 NEW299
The Big Fish Guarantee:
Quality tested and virus free.
No ads, no adware, no spyware.

Reviews at a Glance

Enchantia: Wrath of the Phoenix Queen
0
out of
5 (
0
Reviews
Review
)
Customer Reviews
Enchantia: Wrath of the Phoenix Queen
56
56
Kitty's Thoughts: Great Game with Flaws in it's Wings
I brought this game during the 4.99 deal, and I had to say, "It was worth the money." However, it would be different if I paid the original price. After buying the game, and beating it in less than a day. I had to say, the visual aspect of the game was top notch, if you overlook the character's smooth-like but still choppy movements. The Hidden Object scenes and the Puzzles in the game were very appealing. On top of that, putting together the story they handed out to you was pretty interesting. Furthermore, the music is breathtaking. The score in this game is very lovely no matter where you go in the game. Most scores fit the mood of the area. So far, I told you about the good aspects. However, let's try to look at the flaws of the game. Through this game is strikingly compelling, there are gonna be some things you'll notice that might jerk you out of the game. For example, you might receive or find an item that you might not use til like you get to the other section story of the game. Even then, it would be a while til you need it (Oh you can't organize your inventory, so things you need might get mixed with the things you don't need). Another flaw is the talking. There would be some scenes where the talking goes too fast ,and you might miss something really important. Good luck if you miss something because, you can't go back. Another bad part that if you leave the game for weeks/months and come back, the game will not remind you what you need to do. At that point, you're highly dependent on the hint button. If you're playing on a higher difficulty, you might be doing some time wasting searching for a while to get where you need to go. Furthermore, if you read anyone reviews and said that the puzzles are hard, you are sadly fooled. I played this game hoping for "Drawn Quality Puzzles (Original Puzzles that challenge the mind that's not common in other Hidden Object Games)". However, most puzzles are just light brain scratches. You'll probably never use the hint button on any puzzle you run into. In the end, there is an equality between the good and the bad. Regardless, that I gave it 3 stars, I would still recommend this game because the story is catchy, and the art is compelling. It's a pretty fun game to play regardless of the flaws. I'll probably play it again as well. I felt like this game could be so much better verses the hype everyone gave this game. So that's my thoughts. Kitty Out!
March 25, 2013
Mixed Bag and a bit of a swizz
I found this game a really mixed bag, but it was how it ended that really caused me to ding the star rating. The Good: -The art work and graphics are awesome, just so very beautiful -The story-line (what there was of it) was pretty decent -The HOS scenes are lovely, I much prefer these ones where you collect items to make a whole other item rather than random objects The Bad -The SE game is *extremely* short. This will only take about 3 hours to complete for the average gamer. -The ending was abrupt, like the story had been cut short. It's really obvious that the SE game is just a cut-down version of the CE. That is rather unfair on those people who buy the SE. It would be better and more fair to make the SE a decent-length game and the CE the same game with some awesome extras and really different bonus chapters rather than miss-sell the SE as a part-game, which is what this really was. For that reason I have not recommended this. If your budget is limited and you can't always afford to buy the CE games, then don't but this one if you want an SE of decent length!
April 20, 2013
Wish I hadn't purchased...
I have enjoyed other offerings from Blue Tea Games but this game left me feeling... disappointed. The art work seemed grainy and the bright colours everywhere were a bit garish. The gameplay was tedious and also it was such a short game. I disliked the fact that there were 12 areas of gameplay showing but only 5 could be played. Yes I know, it's the SE not the CE but I felt cheated somehow. I'd rather not have known about the other places. I wish I had trialled first before buying it. :(
May 3, 2013
Morally Challenging Story
This was a lovely game with beautiful graphics, mystical scenery and objects, great mesmerizing music. Fun game play seeking out the fragments of objects and moving between the various kingdoms to find the things needed to reach the seeker's goal. The problem with the game is in the story and the hopeless choices that the player has to make. AdriannaIP stated it very well. I spent a lot of time in the game searching for a way not to chose extermination of one tribe over another. (I think that's the only reason the game took me 3 1/2 hours - short game.) Believe me, I hated the choice I had to make to advance the game. I saw many reviews talking about what a great game this is for children. I don't know if the CE might have had more options, but the SE is NOT for children. The choices require an adult sensibility and an understanding that this is only a game, not real life. Some story elements might give some children nightmares. That being said the story itself had all the elements of the hero's tale and fantastic fantasy. I'm not making a recommendation. Playing the demo will not help make a decision whether to buy - the hard choices happen late in the game.
August 13, 2013
My Face Hurts
This game has brilliant visuals, creative, bright and beautiful to behold. But...the hidden object games were so busy my face hurts : ) Nothing new. It?s been awhile since the collectible had come out and so by now you expect something new with the hidden object games. If I?m honest, the hidden object part of the games are not my favorite part unless there is something creative (different) about them. Make me think! Kudos to the beautiful art!! The voice over was a little annoying and you didn?t have the option to silence the voice, but keep the environmental sound up. That?s always a nice option if the voice is distracting.
March 23, 2013
okay game
It started off good but jumping between worlds got old really quick! Great visuals. I will try to give this game another shot but i really have to be in the mood for it. I guess I was expecting so much more from this game. I just can't put my finger on why i was so disappointed with it
March 28, 2013
Did... Did I Just Play A Blue Tea Game?
I found this game to be quite boring to begin with, but it did get slightly better as the game progressed. Once again, Blue Tea has not floored me with a game, and I was very disappointed, considering the file size for the trial was 542MB. The story was fairly uninteresting for me. It?s a typical good versus evil battle with some medieval and magical twists. The story interested me a couple of times, but overall, it didn?t intrigue me. I played 35 minutes of the trial before I got bored and quit. Blue Tea?s HOS returned in this game. These HOS are so unique, and there are a lot of objects to find in each scene, so a Hidden Object lover will have no trouble. Unlike a few games these days, there is only one type of HOS. The puzzles were relatively simple and had easy to follow instructions and simple controls. A player should have no issue here, although I skipped all the puzzles because I couldn?t be bothered doing them. If you run in to any difficulty, the skip button is quick to recharge. The gameplay is rather simple and straightforward, with the hint providing excellent help if you need it, telling you where to go and what to do. This would be a great game for beginners, as I did not get stuck once. One thing I must mention that annoyed me was the tutorial. It was the worst I?ve seen in a game. The tutorial has a VOICE-OVER! The voice-over for the tutorial was extremely annoying, dull and slow. I had read the text ages before the voice finished? Never again will I take the tutorial for this game! The graphics, as always, were outstanding. A lot of detail was put in to artwork and character design, with everything being extremely clear. Character voice-overs were standard, with nothing outstanding, but they weren?t terrible either. FEATURES - 3 modes of play, the usual Casual, Advanced and Hard. I played Casual. - Hint and Skip- they recharge quickly on casual, and the hint is extremely useful outside HOS. - There is a compass that acts as a map that allows you to travel all over Enchantia. However, I did not find a map that allowed you to travel between different parts of the locations (e.g. to one area of the forest) - There is no Diary, which is odd for games of this genre lately. I found this game to be rather disappointing, and in all honesty, I believe it is not worth the 1GB download. For a game that large, the game has to be outstanding, and it just wasn?t. I can?t recommend this game.
July 10, 2013
Tedious
While beautiful to look at, this FOG was tedious. Lots of running back and forth. And while a map was provided, it was on a larger scale that the site to site play and didn't help to move around. Not a buy for me.
March 23, 2013
I really wanted to love this, but....meh
I think the graphics are amazing in this game, but I didn't really like it that much. The main issue I had was everything you collect looks the same, so you really don't know where to put things! I have played HO games for years and love the high difficulty level, but this was not what I expected. The scenes are stunning, and I have to say that again. However, this is not a buy. I also didn't like the stop sound if you tried to click something and nothing was there.
March 23, 2013
Very pretty, not great gameplay.
Although this game is great to look at, it is rather tedious to play. Unless you sit down and play this all at once, you forget what you were supposed to be doing and it can be difficult to figure out what your supposed to do. There is a lot of backtracking and the map is not helpful.
May 5, 2013
The Apple logo is a trademark of Apple Computer, Inc.