Ballad of Solar
In a land of enchantment, torn by evil, a hero arrives to save the day! His name is Solar, and he brings courage, bravery, and skill with a sword. No orc can stop him, no troll can trip him up, and no goblin can gobble him for dinner! Guide Solar and his band of helpers as they set out to rescue the fair Lumina and stop the dark sorcerer Grogan from achieving eternal life. As you go, you'll put your time and resource management skills to work rebuilding towns, completing quests for friends you make along the way, and stopping the enemy from striking. Told with a laugh and a wink, Ballad of Solar is a colorful, challenging and utterly unforgettable adventure for all ages!
30 challenging levels
A cast of charming characters
Two game modes
Game System Requirements:
OS:

Windows XP/Windows Vista/Windows 7/Windows 8

CPU:

1.6 GHz

RAM:

512 MB

DirectX:

9.0

Hard Drive:

270 MB
Game Manager System Requirements:
Browser:

Internet Explorer 7 or later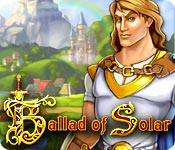 NEW299
The Big Fish Guarantee:
Quality tested and virus free.
No ads, no adware, no spyware.

Reviews at a Glance

Ballad of Solar
0
out of
5 (
0
Reviews
Review
)
Customer Reviews
Overall Great Game!
Loved the characters, the story line, the graphics, etc. I brought this last night and then sat up till 4 am playing it and did not want to quit even then! Soon as I woke up back to playing. I don't even mind going back and replaying the levels I didn't get gold on to get gold. I'm sure this will be a game played repeatedly in this house. For those that enjoy time management but hate the click frenzy...perfect game. :)
April 22, 2013
NICE!
I have played a lot of TM games like Roads of Rome, Kingdom Chronicles, Royal Envoy, Sweet Kingdom and so on. In the end I got a bit tired of them so I bought this game. And now I?m hooked - again! This is fun and a little different from my other TM games. For me the storyline is irrelevant, I usually don?t pay much attention to it, the same goes with the music, which usually disturbs my concentration to the game itself so i always turn it off. Other sound effects I liked though. Overall I enjoyed playing it and now I will start all over again!
June 20, 2013
Good thinking game.
You know those adventure games where you have to backtrack a lot, and get things that you do not know what to do, and cannot find the things you need? Well, this is a bird's eye view. You can see what you need, and what obstacles are in the way. You have to get your resources, yes, and clear obstacles, try to get people to cooperate, and come up with a strategy. It is timed, but if you miss the deadline, all it means is that you do not get a star. The characters and dialogue are fun, and the idea is, with a flavor of that episode of MASH where everyone was trading favors. You need dynamite to blow up something. Someone will give you dynamite if you give him fish. You need to clear up the way to the fishing hole, and you may need gold for it, so you have to mine gold first. Then you need a fishing pole, but there is someone in front of it who wants you to bring something else before he lets you through... And that something else, you have to fill a hole, and you need a shovel, and... In an adventure game all that backtracking would drive you insane. But here? Here you can see how it all works out, and you have to decide what to do next (hint, upgrade the mill so you have plenty of food, and it may pay to upgrade the sawmill and the quarry so you have plenty of material) The best part:"? After you are done, you can replay sections of it and enjoy solving them. Plenty of replay in it. And the characters are cartoonish and fun. Doesn't take itself seriously and that is good, since it is a game.
June 7, 2013
Great Game for relaxing play!
It is a pretty basic TM/Resource gathering game...but really appealed to me! It is not an "easy" game, but is not overly difficult either..graphics are above average, but not exceptional, music/sounds I turn off...storyline is good, though clumsily told, but overall a really enjoyable game!
April 24, 2013
Almost perfect!
This is probably the best "complete package" time management game. Music & sound are great, story is corny, which I'm sure was on purpose as it adds the comedy factor. Gameplay is great for a TM game. Visuals and animations are top notch compared to other TM games. Highly recommendable!!!!
July 5, 2013
I can't play this game enough!
I don't usually play timed games but I downloaded the free trial and enjoyed it so much I bought it immediately! Since then I have played it repeatedly! I recommend this as a fun, challenging time, and I'm waiting for hopefully Ballad of Solar II!!!
June 15, 2013
So much fun!!
I love TM-Games and this one is so funny! Can't stop playing. How the persons speak, especially when they speak a spell, it sounds very funny!
June 2, 2013
New twist on TM games
Finally - a TM game that is more than just gathering and building. Shoot - I'd give it 4 stars just for that. But the developers obviously took some time on this game. The graphics are fresh, the storyline is decent, the text is grammatically correct and so far I have run into no spelling errors. Picky? Maybe, but if you want my money then you should at least spend enough time making sure you've spelled things correctly and your sentences actually make some sense. This is also a great game to introduce kids to RPG's and TM's at the same time. The villains - for the most part - are dispatched in a non violent manner. Most of the "quests" require solutions other than bashing something with a sword, and the gameplay is simple enough for even a younger kid to figure out. To win all the stars will require some thought and strategy, especially on the challenge difficulty. It's funny without cracking worn out jokes or walking the line of being offensive to one group or another. The audio is well done - not obtrusive. The voices are also well done, no guttural shouts, dialog is clear and understandable (except for spells and that's ok). It's not super challenging, but it does take effort to get the best time. All in all a well polished game and a nice entry into the TM arena, an area too long dominated by the same old same old Frenzy or Dash genres. I look forward to more games from this devel team.
May 29, 2013
Loved this game.
A great game, to play and relax with. I liked that you could also play without the timer. Fun, Fun, Fun.
January 17, 2014
Lots o' fun
Really fun game. Just finished it and going to start it right back up again. It is a little different that the usual viking thing. Very colorful too. I like how there are two parts to the scenes.
December 19, 2013
The Apple logo is a trademark of Apple Computer, Inc.