Ballad of Solar
In a land of enchantment, torn by evil, a hero arrives to save the day! His name is Solar, and he brings courage, bravery, and skill with a sword. No orc can stop him, no troll can trip him up, and no goblin can gobble him for dinner! Guide Solar and his band of helpers as they set out to rescue the fair Lumina and stop the dark sorcerer Grogan from achieving eternal life. As you go, you'll put your time and resource management skills to work rebuilding towns, completing quests for friends you make along the way, and stopping the enemy from striking. Told with a laugh and a wink, Ballad of Solar is a colorful, challenging and utterly unforgettable adventure for all ages!
30 challenging levels
A cast of charming characters
Two game modes
Game System Requirements:
OS:

Windows XP/Windows Vista/Windows 7/Windows 8

CPU:

1.6 GHz

RAM:

512 MB

DirectX:

9.0

Hard Drive:

270 MB
Game Manager System Requirements:
Browser:

Internet Explorer 7 or later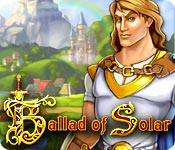 NEW299
The Big Fish Guarantee:
Quality tested and virus free.
No ads, no adware, no spyware.

Reviews at a Glance

Ballad of Solar
0
out of
5 (
0
Reviews
Review
)
Customer Reviews
Review of Completed Game...
I really really enjoyed this game. I had planned on giving it 5 stars in fact until it ended on level 30! I have never played a builder game this short so even though I absolutely loved it, I felt like I got a little short changed. The concept of this game is to build different things in order to save your princess but it has different game mechanics than other games. I really liked how each level was either 2 or 3 parts earning a star for each and 1 or 2 of those parts was always timed and one was untimed on adventure mode. There is a hardcore mode where they are all timed but I didn't play that one. Anyways, the untimed levels really gave you time to think and figure out what to do in the timed ones. And he would pack up their tent each time and walk into the next level and usually it would be almost like the other room you just did but with a twist. I really liked this aspect of some timed and some not. This also has voiceovers and nice graphics. The story line is the same ol save the princess but you do have to do a lot of new things to get there.. Make potions, blow things up, talk to people and get helpers. I always felt like all the levels were quite doable although there were a few I had to do over. That was my pet peeve though because if you didn't do the timed ones in time, you got to move on BUT when doing them again, you had to do all the untimed parts as well. It would have been nice just to do the timed however it did make the game longer. IF this game had about 20 more levels. An even 50 or at least some more places to go and things to do, it would have been 5 stars for me. However, I felt like I came to an abrupt halt and I yearned for more. I didn't feel done and thats too bad because I really enjoyed myself. 4 stars for the uniqueness and the fun I had but have to take a star off for length. I loved that you had a lot of help along the way. You have a giant named Yord who reminds me of my dummy brown lab. Its just the way I picture him talking haha and there is a wizard and men who help along the way. Very interactive and while they are talking, you can do the tasks which is nice. I do recommend this however because a game as fun as this one, cannot be passed up. Just use a punch card coupon or wait for the daily deal!
November 24, 2013
Fun TM game!
This was a fun TM game--not terribly challenging but not mindless either. Thoroughly enjoyed it!
May 30, 2013
Really enjoyed it
This game is so much fun! It has a ton of levels so it's worth buying. I played for hours straight because I had to finish it. :)
May 19, 2013
Fun TM game, but could be better!
This is a really fun, new spin on TM games. One thing that I don't like is that every level has 2 or 3 parts to it, so if you mess up the last section of the level, you have to start all the way back at the beginning. I don't really understand why they are grouped like this either. It doesn't allow you to carry over time and/or resources into the next section of the level, which would make more sense. I also wish the game was longer, as I finished it in less than a day of casual playing.
April 21, 2013
An okay game...
This is an okay, though nowhere near great, game. If you enjoyed Outta this Kingdom (which I will admit I didn't), then you're likely to enjoy this game. They have similar gameplay, though they're not entirely identical. This one isn't really quite like the other clear the roads games (Roads of Rome, My Kingdom for the Princess, etc). The graphics for this game are pretty nice for a time management game, though the animation is a bit stiff feeling at times. I didn't have any major issues with the sound or music, there was nothing particularly remarkable about either of them. There is an awful lot of pausing of the game for story with this game, something that could end up being annoying for some. I don't generally expect this much pausing in a time management game to listen to/watch story, so I found it a bit annoying. You can't skip storyline bits entirely either, you can only click your way through each part of the conversation to try and move it along a bit faster. There isn't a whole lot of strategy involved with this game, which is my biggest complaint with it. There's basically one strategy for each level if you're wanting to do it in timed mode and earn a gold star, and it's all about how fast you can do that strategy. Obviously, if you play in non-timed mode you can do other strategies, but then you lose a bit of challenge and I prefer to play these sorts of games in a timed mode. My other biggest annoyance is that this game has chapters broken up into sub-levels, so for example chapter 2 is broken up into 2.1, 2.2, etc. And if you restart a level, it actually starts you back at the beginning of the level. Don't initially get a gold star on 2.2 and want to try again? Well, you'll have to start all over at 2.1 to even try and do so. Ultimately, if those issues don't bug you and you tend to play time management games in a relaxed mode anyway, this game will probably be quite enjoyable for you. If you prefer a timed mode, really want to get gold on each level, and are more into the way games like My Kingdom for the Princess work as opposed to Outta this Kingdom, then this likely isn't the game for you. Ultimately, try the trial before you buy - this is one I won't be buying for myself, but I can see how others might want to go for it.
April 14, 2013
So so game
It is very similar to Outta this Kingdom in terms of levels being divided into sublevels with its own timers. One notable difference is that with Ballad of Solar, if you hit restart, you restart from the beginning of the level and not the section that you are currently working on. I did find one thing to be exceptionally annoying about the game. I LOATHED the voice actors in this one. So much so that I put my computer on mute halfway into the game. Challenge wise, the levels were quite easy to get gold on. Didn't have to replay too many levels. I recommend the game ....with the sound off.
March 28, 2013
ok
the game it self was ok i played half the free trial in normal (non timer) and half on hard (timer) when on timer is quite hard to get gold star but when you play non timer its more relaxing and more fun. the graphic are quite good, same with sound quality its not a very challenging game. story line is quite good
March 27, 2013
Fun TM game
I always play TM games on the hardest setting & manage to do an okay job, but with this one- I could not get gold easily (if at all!) The graphics & music are great. I am a huge fan of gathering items to complete a goal, but I felt like it was a little too much in this game. In the later levels, I was sitting around waiting to harvest items or waiting for buildings to produce enough for the goal. I think this has the potential to be a great game with some minor tweaks! Overall I enjoyed this game & would recommend it to TM/Strategy fans!
March 27, 2013
Not sure what all the fuss is about!
I read the reviews here and thought this game was worth purchasing. Oh dear! I've just been through the whole game this morning. Very dull indeed!!
October 5, 2013
Too much tutorial
This was a no-buy for me, because I don't like having my hand held during an entire game. Not only that, but the forced tutorial made me have to do events in a certain order. I must say that the graphics are superior to any other TM game I've played, and the story line is great. The tool concept is great, and each level was different and intriguing. If you don't mind an extended tutorial, this could be for you. If they change the game in the sequel, I will buy it. Right now, no way.
May 30, 2013
The Apple logo is a trademark of Apple Computer, Inc.