Brink of Consciousness: The Lonely Hearts Murders Collector's Edition
Exclusive
How far will you go to save your only daughter's life? Is there a limit? Help Owen Wright rescue his daughter from the clutches of the Lonely Hearts Killer, the mysterious figure who kidnaps and murders people who have suffered a love gone wrong. Unravel the intrigue, put a stop to the whirlwind of crime that has paralyzed this late 19th century British city. Olivia must live! The killer must be brought to justice! Only you can do it!

This is a special Collector's Edition release full of exclusive extras you won't find in the standard version. As a bonus, Collector's Edition purchases count toward three stamps on your Monthly Game Club Punch Card!

The Collector's Edition includes:
A bonus chapter with a surprising plot.
An integrated strategy guide
Downloadable soundtrack, concept art and wallpapers
An interview with the developers
Game System Requirements:
OS:

10.8/10.7/10.6

CPU:

2.0 GHz (INTEL ONLY)

RAM:

1024 MB

Hard Drive:

1147 MB
Game Manager System Requirements:
Browser:

Safari 4.0 or later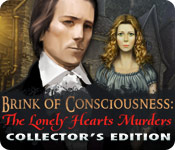 The Big Fish Guarantee:
Quality tested and virus free.
No ads, no adware, no spyware.

Reviews at a Glance

Brink of Consciousness: The Lonely Hearts Murders Collector's Edition
0
out of
5 (
0
Reviews
Review
)
Customer Reviews
Brink of Consciousness: The Lonely Hearts Murders Collector's Edition
149
149
Not Up to Par
I found the game to be tedious with too much dialog (can be skipped, but thought I'd follow other reviews and let it play). The storyline itself was obvious but nothing explained finding "something" in the park. Guess I missed what the relevancy was to the story. I wondered why certain items were hidden where they were. Most didn't make sense and there was a lot of backtracking to get them. Maybe that ties in later? The map made finding those items too easy. The music was good for the feel of the game, subdued and kind of mysterious. Voice overs were okay and I was especially happy the devs didn't try to lip sync to the characters. Some of the accents did not seem appropriate to the person speaking. I found the puzzles too easy and some items in the HOS were very difficult to see either because the scene was dark or the item was very small. Overall, not a disastrous game, but not one I'd enjoy enough to purchase.
November 18, 2012
Beautiful Game But No Challenge
Such a gorgeous looking game. Beautiful graphics & gentle type of game. Searching for a serial killer. Bit different to the usual abandoned cities, asylums & mansions. But OMG is the challenge poor. You only ever carry 3 or 4 items around at a time. Locked door? Don't worry the key will be in the next couple of scenes. This could have been a really great game but lack of challenge knocks it right down.
November 28, 2012
Want every bad HOG cliche in one game? Look no further....
Let me start by saying upfront that I get that these games are escapism and fantasy. But there comes a point where games just become silly. So it is with this game. The story line was fine as far as it goes (although these are some VERY long cut scenes for what is an otherwise boilerplate HO game mystery story--the quality of the plot does not justify the length of these cut scenes). Trust me you won't really care who the killer is or feel any connection to the other characters. They are cardboard cutouts from British minor nobility set in manors and such. You've been here more often than the Duke of Marlborough if you play these games regularly. The problem with the game is that it brings every single cliche in the genre to a new level of absurdity. --You do all the work for the detective even though you are together most of the time. He stands there asking you to figure out how to open every locked door while he stands there. All HOG cops are lazy so you can solve the puzzles. This one takes it to a new level. --Where you find some of the inventory objects you are hilarious. Who locks doorknobs in mailboxes? Why has someone built a statue that when you put in its missing eye, it cracks a stone revealing a handle within. And if it weren't for the sparkling in front of the statue, why would it ever occur to a sane human being to put the eye into a statue in the hopes that it would crush a stone and reveal a handle? --Can no one in these games hold onto a key? You go looking for tons of keys in this game--even more than normal. Not one of them is in the possession of the person who owns the locked door or item. Instead they are hidden in random walls, in sewers and hidden in other places that have no connection to the lock to be opened. No locked door lacks for a lost key that is waiting to be found (except for the one to two locks a game that can be broken off or picked). Nevermind that some these doors have no apparent reason for opening other than the game needs you to open another door. If this real world is anything like this, I am wasting money having deadbolts installed in my house. --Random puzzle-type locks that are just a hoot. First, the puzzles are not very hard. And maybe the people who use puzzle locks to secure their doors and chests in these games do so because they keep losing their keys, but a puzzle lock that I can solve in 30 seconds is not much of a lock--a regular door lock has to be less costly than some custom-made elaborate puzzle lock and, given that I am going to find the key you are inevitably going to lose (see above), just as ineffective. --The random puzzle locks in these games all have quality control problems. They are all missing pieces. Now fortunately the missing piece is in some sewer waiting for me to come up with a magnet or something--but the lack of quality that allows for the parts to fall off and travel far from the puzzle lock really needs to be addressed. --And an HOG would not be complete if there were not at least one instance of removing rust by pouring oil on it. Where does this happen in real life? This is something that only happens in the Big Fish world--this is in EVERY one of these games The whole game is like this--you run around looking for things and inevitably the thing is in an utterly implausible location. And while this is common in this genre, this game takes this to a new height of absurdity. No one who worked on this game put any thought into making these puzzles and object placements make any sense within the context of plausibility. They just create a random location for the key or the puzzle piece and eventually you will pick up the random gear (because we all pick up gears when we see them) or whatever that will later suddenly reveal the key in a place it makes no sense for a key to be--lost or not. If you put ALL of this aside, the game is standard HOG fare. But for all the time, money and effort that the developer invested in this game's generally--polished production values--long cut scenes, lots of dialogue, professional voice talent--it would have been far more satisfying if they invested ther sizable budget it in a script with an original angle, puzzles that are satisfying rather than placed for the sake of making a puzzle, and integrated the puzzles a little more logically into the game. Bottom line--the game is OK. It is just every HOG cliche rolled into one.
March 31, 2013
not nearly as good as dorian grey
i don't know what is going on in the realm of ho casual games, but i have been very disappointed in the quality of games released of late (the latest mcf is another case in point) in fact, i felt i had to give this game 3 *'s after i gave shadow lake 3 (after completion i felt it really deserved 1.5). anyway, like mcf this game has waaayyy too much talking. not nearly enough puzzles and feels repetitive. lots of walking back and forth... to make matters worse it also seems to have been released with a glitch in the bonus chapter. i fished the key out of the tree but it never made it to inventory. so, can't finish the bonus chapter (i can't figure out how to hack the code on this one the way i did to finish the bonus chapter in mcf). at least i only paid half price.
November 25, 2012
It's a good game but....
Superb graphics, music in keeping with atmosphere and storyline is about a serial killer. Animated people that are quite well done, and so far gameplay seems fairly linear. Downside is the dreadful sterotypical English voices, which are really grating as no one in England speaks like that. Not even the Queen :-) There are three Game play modes, but the advanced level has sparkles as in the casual mode which I can't stand. So, had to play hardcore mode, and in this mode there is a puzzle skip but no hints, map or black bar tips. I gave it 3* because of the two dislikes mentioned.
November 18, 2012
Talk, Talk, Talk
Way too much dialog. This would be a very good game if some if not almost all of the dialog was removed.
November 18, 2012
The detective doesn't work
I loved The Dorian Gray Syndrome and was hoping for great things. However, I found the detective to be unnecessary and frustrating. I knew that it was highly unlikely that the sort of games engine that was used for Dorian Gray would be able to give the computer player any sort of artificial intelligence but this computer player just told you what to do and was generally unappreciative of the progress you made whilst apparently doing nothing but move to another location and wait impatiently for you to find him. Surely the story could have been written so that the detective divided tasks with you at each stage and then when you met up again reported to you the new facts that he had managed to find out and looked at your notebook to see your new discoveries? That way it would have felt much more like a team without stretching the capabilities of the games engine any further. The area that this affected was the fun factor - I was so continually annoyed by the detective (and his ridiculous upper class accent) that it seriously marred my enjoyment. Apart from that the story, graphics and level of challenge were all good. But it wasn't a patch on Dorian Gray.
January 25, 2013
Good but not great -- not as good as Dorian Gray Syndrome
I was excited to play this game since I really enjoyed the previous game in the series (Dorian Gray Syndrome). Unfortunately this one is not as good. It is a prequel, but doesn't really expand upon the story from the first game. The puzzles and hidden object scenes are too easy for my taste. Pros: - Reasonably good story - Good voice acting for most characters - Nice graphics Cons: - Sparkles that you cannot disable - Repetitive music - Terrible voice acting by your avatar (Owen) - Very simple puzzles Overall it is simple game with a decent story. There are better HOGs out there.
January 4, 2014
So Much Good, So Much Bad
First, I played the demo and enjoyed it so much I purchased the full version. What excited me about the demo continued to as I played on: I have NEVER seen a game with better artwork and better voice overs. It is exceptional and nothing can take away from that. Having said that, I'll mention a line from the script: the main character said "another locked door, another key to find." Well, if that ain't the truth. The whole game seemed to revolve around finding a lost key in order to open a door. Too much of that. Fun Factor: Because of the above, the game went from being fun to being very repetitive and it lost the fun factor for me. Visual/Sound Quality: Again, I think it's the best I've ever seen. Nothing compares to it. Congratulations to the artists. I do not regret buying this game because I so enjoyed the artistry. If the visual and sound quality had been less I'd have stopped playing the game. Level of Challenge: There was a mixed bag. While the puzzles were as easy as they could possibly have been the HOS were much more difficult. One complaint about the HOG: I thought the items were SO SMALL that it wasn't a challenge to identify so much as it was to see the item. Also, this is one case where I though the visuals suffered: they seemed monochromatic. Storyline: The storyline was superb and the game supported the story line. Because of the overall visual superiority of this game, I'll recommend it.
May 7, 2013
Too wordy
Fairly challenging game, but I have purchased both Brink of Consciousness games and become so frustrated because the dialog goes on and on while I want to get on with the game. In my opinion, you don't need all that detail to play. The game is an extremely large download and that space should go to game play, not endless dialog. Do not recommend.
February 5, 2013
The Apple logo is a trademark of Apple Computer, Inc.
The Windows logo is a trademark of Microsoft, Inc.