Whispered Secrets: The Story of Tideville
Exclusive
Uncover the mysterious past of a sleepy seaside village in Whispered Secrets: The Story of Tideville! You and your son, Tim, recently moved to the small town of Tideville to make a fresh start. One peaceful autumn evening, you arrive home just in time to see Tim vanish into thin air! Armed with only your wits and a cryptic clue about a scientist, you set out to find your son. But you soon learn that Tim was not the first resident of Tideville to disappear... In fact, people have been going missing for years. But who is behind it all? And what do they want? Unravel the town's dark secret in this stunning Hidden Object game!
Perplexing puzzles
Intriguing story
For a more in depth experience, check out the Collector's Edition
Game System Requirements:
OS:

10.8/10.7/10.6/10.5

CPU:

1.0 GHz (INTEL ONLY)

RAM:

1024 MB

Hard Drive:

656 MB
Game Manager System Requirements:
Browser:

Safari 4.0 or later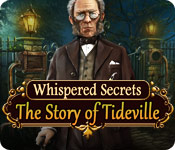 NEW299
The Big Fish Guarantee:
Quality tested and virus free.
No ads, no adware, no spyware.

Reviews at a Glance

Whispered Secrets: The Story of Tideville
0
out of
5 (
0
Reviews
Review
)
Customer Reviews
Whispered Secrets: The Story of Tideville
48
48
fun hidden object game
saya sangat menyukai game secrets the story of tideville
November 28, 2012
Tim is terrified in Tideville...
I enjoyed this game from beginning until conclusion. It reminds me a lot of ERS games. When the adventure ends, there is mention of saving Tim; THIS WAS ONLY THE BEGINNING! I am now searching for the follow up game from this developer, if there is one?
September 2, 2013
Very Nice Game. Note: SE and CE are practically the same.
I played the CE and now SE. I repeat here the review of the CE, since the only difference is the Bonus chapter (and, of course, the integrated SG. But, as it is not a challenging game, SG is not essential). After being widowed, Clarice and her son Tim move to a small village, but Tim disappears in front of her eyes. Clarice, with the help of Tim's friend, Rudy, will try to solve the mystery and find her son. Good story, nice graphics, great VO, nice and interesting ambiance. Characters very compelling, as Rudy - the cute boy. To save Tim, you have to collect 15 blue crystals. (Very easy to find, because Tim is almost always around them). Sure! Has "monsters"! Mechanical monsters! But don?t worry! Soon you build a machine to fight it. Despite them, the story is nice, with lot of very well done locations and provides good entertainment. Lots of interactive HOS, but the scenes repeat themselves. You can play Match 3 instead. Few mini games and they are very easy. Two play modes, it has a journal and tasks. No map. It's worth playing the free trial. Is a nice game, and although not challenging, it is enjoyable.
November 3, 2012
I was suprised!
I overlooked this game when it first came out, and I shouldn't have, it was a fun and relaxing game. Little Timmy starts to vanish (literally dissapating) right in front of his mother as he's telling her that a scientist is kidnapping him and pleads for her to find the crystals.So Mrs. Barton goes on a quest throughout the town to find these crystals and also the items that the townsfolk are missing. The hint system recharges quickly and will point to the direction and also the item that may be needed in that area. The HO's weren't too hard but in my opinion there could be more. The puzzles were easy to resolve and most of the puzzles solutions are kept in your journal. This game is worth buying.
January 28, 2013
nice little game
reminded me of ERS games which i like, so that was in it's favour, the music was lovely, so different didn't distract me from the game, voice over of female wasn't very convincing, but got past that. Easy HOS same with the puzzles, Story line was ok, played so many games were husband, son, daughter, or whoever, has been spirited away, but at least it didn't start with a car crash!! spent a pleasant few hours playing and i will be playing it again. Overall it is a nice game.
March 10, 2013
Review of Completed Game...
This game is really fun and I did have a good time playing it. It is very good value for the money as its a very long game. When it first starts you collect crystals pretty quickly so I assumed with only 15 to find throughout the game, it would go by fast but I was very wrong. The game had many, many locations, lots of puzzles and a fair amount of hidden object scenes that you each play twice and at least one item is interactive. The voiceovers in this game are very well done except for that of the mothers! Whenever she is talking about her son tim being missing, her voice is so neutral, no worry or excitement. I think I would be frantic if this happened to my son lol But the reasons for this not being a 5 star game are many and even though I rated it a 4, I think a 3.5 would be more on par. There is no way to lock the inventory so it bobs up and down (a real pet peeve of mine). There are lots and lots and lots of locations but there is no map not even to look at to see where you are. I think I could have lived without a jump map but there are times I wish I had a map of the town as it was much bigger as I thought. Usually once you are done in certain areas, you do not need to go back but I found near the end and in the last couple locations you did have to go back for hidden object scenes and a map would have been a nice touch. I wonder if there was one in the collector's edition or not... Although I did enjoy this game, I also felt like I couldn't wait for this game to end. I know that is a weird thing to say but in some parts, it kind of dragged on. And then there is the ending. Since this game is so long, I assumed there would be a proper ending. All along you see your son and the scientist who kidnapped him in little xray videos and the boy steers you in the right direction and the scientist tells you that you will never get through or destroy his plan. (usual talk) BUT even though you do resolve one part of the game, you are left hanging with another huge part. The scientist is never revealed nor his evil plans or what he even took your child for. The ending makes it very clear that it ends in the bonus chapter. For me that is unacceptable! Had I known this, I don't know that I would have been so keen to buy their latest game as I hate developers who do this. I remember this game didn't have many bells and whistles in the collectors edition, prompting me to buy the standard and I shouldn't get punished for doing so. After such a long game, to not have a resolution on one of the major parts of the game, really irked me. Despite the abrupt ending and my other pet peeves, I did enjoy this game. Near the end, there were a lot more puzzles and I liked that. I played on a hard mode and had hints in hidden object scenes but not in the main game and I really enjoyed that. its been awhile since I played that way and since there is no map, I would have to wander around until I stumbled across what to do and it was usually a hidden object scenes since there were no sparkles (thank you devs) and it made the game just a tad harder which I enjoy. I recommend this game because its fun but if you are a person who is really into storylines like me, you might be kind of disappointed with the abrupt ending. If someone has the collector's edition of this, I would love to know what the bonus chapter was about. Private message me :)
December 10, 2013
Fun HOG
The game was fun to play and not very hard. The hidden object scenes were clear but you visited each one several times. On the expert level, there's no hint only a task list. The puzzles were adequate and the overall graphics were good. The game was easy to follow as you try to find your son who's been kidnapped by a mad scientist. Enjoy!
June 4, 2013
Good game.
This game had a good storyline, and graphics. I liked it....There wasn't much else to say about this game. Hard to find anything really great about it, but on the plus side, also hard to find anything really bad to say. Its a great game for beginners, and those with a free game code to spend, or a credit. Happy gaming!
June 3, 2013
Good-looking Game.
Really nice graphics, inspired mechanical animals, fun puzzles, lots of interesting HOs and a solid story made this game worth my time and money.
January 1, 2013
SO much to do for a Standard Edition!!!
I just finished this game, and I'm amazed at how much there was to do in a Standard Edition offering! Most gamers assume that there is going to be a loss of some kind when a Collector's Edition is downgraded to a Standard Edition. I don't think much of that has happened to this game. Granted - there is no integrated Strategy Guide, but you don't need one. If you get stuck and don't know where to go or what to do, just click on the hint button. It will show you exactly where you need to go. It isn't exact on what you need to do when you get there, but it will definitely point you in the right direction, so you won't miss the strategy guide. The animations and voice-overs are good, but I did find the female lead to be just a bit too laid back for a woman who has lost her only son and is desperate to find him. I think they could have ramped up her frustration at having to do countless tasks on the way to finding her son. She doesn't seem to mind at all that she has to take a very indirect path on her quest and none of the characters she meets along the way seem to sympathize much with her concerning the loss of her son. They all seem much more preoccupied with what they need FROM her instead of what they can do FOR her. That was one of only two negative comments I have about the game. The other is the ending...not satisfactory at all..and that extra play from the Collector's Edition is needed to bring the game to a satisfactory end. In the Standard Edition, you are definitely left wondering what came next. However, overlook those two things, and you'll have a few evenings of fun, traipsing through Tideville, meeting some interesting folks, solving some nifty puzzles, and interacting in the hidden object scenes, and they are plentiful, and that's a plus for me. I like hidden object games that have, oddly enough, plenty of hidden object scenes. You do revisit hidden object scenes, but you're not asked to find the same stuff over again. Try the game - lots of choices about how to play, volume control, difficulty level, all of that..and a Standard Edition that provides several hours of fun.
November 14, 2012
The Apple logo is a trademark of Apple Computer, Inc.
The Windows logo is a trademark of Microsoft, Inc.