Lost Tales: Forgotten Souls
Exclusive
A crow smashes into the windshield of your car and causes you to crash into a nearby tree. A nice elderly lady named Emma offers to let you and your daughter, Maria, rest in her cabin until the thick fog dissipates. You settle down for a nice cup of tea and then suddenly fall asleep. Emma fed you poisoned tea and kidnapped Maria! Solve riddles and brain teasing puzzles as you desperately search the spooky cabin for your missing daughter in this ghoulish Hidden Object tale.
Challenging puzzles
Beautiful graphics
Find Maria before it's too late!
Game System Requirements:
OS:

Windows XP/Windows Vista/Windows 7/Windows 8

CPU:

1.2 GHz

RAM:

1024 MB

DirectX:

9.0

Hard Drive:

397 MB
Game Manager System Requirements:
Browser:

Internet Explorer 7 or later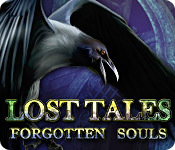 NEW299
The Big Fish Guarantee:
Quality tested and virus free.
No ads, no adware, no spyware.

Reviews at a Glance

Lost Tales: Forgotten Souls
0
out of
5 (
0
Reviews
Review
)
Customer Reviews
Lost Tales: Forgotten Souls
52
52
Intriguing Story: Cursed witch?
Graphic are old school, I liked the music Many HOGs to play though quite easy, I was on casual play for an hour. The mini-games are also easy for most of them, but I liked it. The story on the other hand is very intriguing, you feel there is a curse on being a witch. The Hint button don't tell you where to go, only there is nothing to do in the scene. All in all, I liked it. A nice HOG to do on a rainy day!
March 31, 2013
Good game
This was a good game, a little on the average side but kept you wanting to keep playing. I recommend this game, wasn't my favorite, but was worth it to purchase!
April 18, 2013
Nice Little Game
This is kind of like the old HO's. Had some nice little surprises and interactions going on. Slightly spooky. Makes a nice rainy day special. Music was just okay and I do like voice overs and maps even ones that do not transport put show locations of activity. Maybe on their Collections they will add that in.
March 30, 2013
Lost Tales: Forgotten Souls
Really enjoying this game Not boring like the last few games I bought.
April 18, 2013
Rescue Your Daughter from the Evil WITCH
I've finished the whole game. Could have been longer. Hints could have been a tad more helpful. I really hate "nothing to do here right now" hints. I got this with a free game coupon. Don't think I would have gotten it if I'd had to use a game credit or money. HOS were clear, interesting with few 'impossible' finds. Impossible finds are things that are 99.99% hidden so you must use a hint to find them. I don't cheat and hate when game developers do. This is a solid little game, coulda been a contenda tho!
March 30, 2013
Not convinced to buy...right now anyway!
Don't let the title fool you. I do plan on buying this game. But I'm not so excited about it that I am going to do it just this second. The fun factor for me was ok. The visual aspect was good, but not great as I have seen on some other games. I love razor sharp images. The level of challenge was just about right and if not, the skip meter charges up rather quickly. There was no interactive map. But so far on the trial version, one is not needed. The storyline, for me, is the best part of the game. THAT factor is what is going to make me buy this game. My curiousity is definitely peeked and I do want to know how it ends. I anticipate a good ending, at least for the heroine. I am hoping that there will be more back story on the witch in the story as well. I do recommend the game. I just have a few others that take precedent over this one.
March 30, 2013
Couldn?t Get Into It
BASED ON DEMO & WALKTHROUGH The story is not new, we?ve been telling it and retelling it since Hansel and Gretel. Children are deceived by a wicked old witch so she can nab them and feed on them ? well, their souls anyway. This looks like an interesting version of it. And hints of Azada as well! As I seem to be saying non-stop this month, it?s the look of the thing that stops me short. The graphics are clear, as in precisely delineated, but they are chunky and grainy, at least on my monitor. When it?s hard to tell the difference between stone and wood, I think there?s room for improvement. The game also didn?t seem very busy. There was often only one or two things to do in a scene, the game seemed to move too slowly. Do one thing. Pick up another thing. Go to a previous room to use. Get one thing. And as alternate worlds go, this was totally unimaginative. Stacks of HOs for those (like me) who like them. The puzzles all seem very familiar. The game does not have any ?bling? ? collectibles, achievements, cute sidekicks. What it does have is length. Judging by the walkthrough, you?ll be saving kids? souls for quite a while! For those of you who prefer a game without all the trendy distractions, and aren?t all that interested in wrapping your mind around some weird surreal landscapes, this is probably a game you should add to your collection. For you,...
April 20, 2013
Mixed Response
Hmm not sure about this one Fun - ok it was payable - no Voiceover- bit odd Story- bit jaded - evil witch snatches doll-like child Magic protecting cabin - find bits to unlock games and open things - all been done before Visual & sound - music was actually enhancing the game- I usually turn it down almost all the way. this time I didn't. Visually - it's ok not outstanding not poor. Level of challenge - medium to easy. Played the demo for the full hour.. still can't make my mind up whether this is worth the full price...Think I'll check out the walkthrough to see if iot is long enough to warrant the cost. Average rating for an average game- probably a good bet for the reduced offer but now????
April 1, 2013
Could've Been Perfect!
I decided to try this game after seeing it around for a while, and decided to give it a spin. This game has a lot of potential, but there are quite a few flaws in the game preventing it from being perfect. That being said, I did enjoy the trial I played, which was 40 minutes. The storyline is rather well done, and the presence of voice-overs would have made it better. The opening scene of the game is great and gets you sucked in a little, and as you play, the true story of the old woman who took your daughter begins to unfold. The main story is: After crashing your car in the woods, you and your daughter wander around to an old woman?s cabin, and there the old woman abducts your daughter and it?s up to you to get her back. While this has been done many times before, I enjoyed the twist this game gave it. In my opinion, there were FAR too many HOS. All I seemed to be doing in the trial was playing HOS. To give you an idea of how many there were, there was one scene where I finished one, walked in to the next scene, and had to play another one. It infuriates me when games have too many HOS, and this one infuriated me a little for that reason. That being said, I did actually enjoy the HOS. They were a good challenge for me, and included a couple of extra step items. There weren?t many puzzles, but the ones I played were a mixed bag, some easy and some hard, which I appreciated. The graphics were decent. Not bad, but not fascinating either. As soon as I entered the game, I was thinking this game was from a couple of years ago based on the graphics alone. That being said, nothing was hazy or unclear, and I could find anything I needed. FEATURES - Journal to keep track of events - No map - Hint and skip recharge quickly and the hint is a great help. After playing the trial, these are the main things stopping the game from being a four or five: - No map - No voice-overs - Needs a strategy guide. Seriously, I was wandering around for a while not sure of what to do. A strategy guide would have been a great help. - Too many HOS and not enough puzzles The game itself is pretty decent, and had it been worked on a little longer, and had the developers played this game themselves before releasing it, the mistakes could have been prevented and this would have been a cracker. I enjoyed the trial, so I?d be happy to recommend.
May 14, 2013
Missed the Mark
The story begins with a car crash where you and your daughter (who looks like a doll in the game) go to the nearest cabin and are greeted by a witch who spikes your tea and steals the doll-like looking child. The visuals were awful. No VO. Too many HO scenes with misclick penalty. The mini games were simplistic. This game really missed its mark with me. I wouldn';t recommend it.
March 31, 2013