Small Town Terrors: Pilgrim's Hook Collector's Edition
The only person that could bring you back to Pilgrim's Hook has called you out of the blue. Return to your childhood home and save your twin brother from the dark forces that have invaded this coastal village. The few remaining residents of Pilgrim's Hook appear slightly mad and something strange is happening to those that resist the call of the sea. You are the last hope in this decades long struggle between good and evil, sand and surf, and land and sea. Do you have the strength to defeat this evil that lurks beneath the ocean? Find out in Small Town Terrors: Pilgrim's Hook.

This is a special Collector's Edition release full of exclusive extras you won't find in the standard version. As a bonus, Collector's Edition purchases count toward three stamps on your Monthly Game Club Punch Card!

The Collector's Edition includes:
Bonus chapter beneath the sea
Achievements and morphing collectibles
Search for missing whale bones
Integrated strategy guide
Game System Requirements:
OS:

Windows XP/Windows Vista/Windows 7/Windows 8

CPU:

1.2 GHz

RAM:

256 MB

DirectX:

9.0

Hard Drive:

778 MB
Game Manager System Requirements:
Browser:

Internet Explorer 7 or later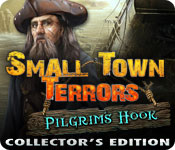 The Big Fish Guarantee:
Quality tested and virus free.
No ads, no adware, no spyware.

Reviews at a Glance

Small Town Terrors: Pilgrim's Hook Collector's Edition
0
out of
5 (
0
Reviews
Review
)
Customer Reviews
Small Town Terrors: Pilgrim's Hook Collector's Edition
82
82
Small Town Terrors: Pilgrim's Hook Collector's Edition
SIMPLY PUT..AWESOME!!! A LOT TO DO..SO MUCH TO FIND..MORPHING OBJECTS & ACHIEVEMENTS IS MY FAVE. A MUST HAVE GAME IF YOU LIKE THOSE ASPECTS..HOPEFULLY THERE WILL BE MORE TO COME LIKE A SEQUEL HINT HINT
April 15, 2013
Best Collector's Edition Game I have played !!!
I am an avid hidden object gamer. I love the storyline, a girl having to return to her home town to save her twin brother from an evil source of the sea. The graphics are amazing and the game is easy to follow. I would love to see what comes next in the series.
April 17, 2013
Wowsa!
Opening cutscene grabbed my interest! Very clear what the mission was, and kept me intrigued until I unfortunately had to exit to feed the animals (and make supper). Quite interesting, kind of like "Pirates of the Carribean" meet "Jessica Fletcher" without Skrillex and Deadmau5 making the background music (so sad). With games like this, I see the Devs going far. If the Devs keep making this kind of game, I may sell the farm so I can play full time!
April 15, 2013
Great HOG :)
I definitely liked the challenge of this game- I liked the extras as well.
April 14, 2013
Exciting, Creepy, Imaginative - The Works!
I could not stop playing Pilgrim's Hook! I'm a bit of a wuss when it comes to scary games but I thought this was eerie and suspenseful in all the right ways. The antagonist is a huge, sentient black octopus and he lurks in some unexpected places, so you get little surprise jolts as you play! The Pilgrim's Hook town is really beautiful, with several diverse landscapes and scenes. You can really appreciate the hard work that went into making each one visually unique and appealing. There were some moments of light humour with the townsfolk (the museum worker acting like a cute little squirrel was the scariest thing in the world made me laugh) and those provide a nice counter to the suspense of the game. The HOS, the puzzles, the overall mystery - all fantastic. The bonus chapter was also magnificent! It had longer gameplay than many bonus chapters and the story tied in well to the main theme. It's sort of a prequel, where you play as one of the cursed characters from the the original game before he fell victim to the dark forces of the island.
July 2, 2014
Help her find her brother....
This is a story about a girl who's searching for her lost brother on an island in the ocean, I'm not going to go over the story line here, as I'm sure it has been done many times. I will just talk about what I liked/disliked about the game. This game basically had everything I enjoy in a game. As always, I play these games for relaxation so I don't want endless hint recharges and long skip times on the puzzles. I really don't want to have to think tooooo much:#, and I like to play games where one move logically leads to another move, provided you have half a memory and can remember previous moves. Anyway, the hint charge time was perfect on this, the skip charge was fine, though, the puzzles were not difficult, so I rarely used it. I really didn't have to use the hints much either. The other thing I liked about the game were that the HOS were not very numerous, just about the right number, and were not difficult to see the items, nor solve them. It also had a built-in map so you could see where active areas were #this cuts down a lot on the hints#, and you could use the map to teleport to the area you wished to go to. All in all, I highly recommend this game. You know, had you told me I'd like this game when it came out, I probably would have said Phooey!!, just based on the title and the way it sounded. But, this is why you have to give every game a chance, as sometimes you find a gem like this one, and get a lot of enjoyment out of it, but don't end up liking games you'd think you'd like. For some reason, though it didn't look particularly attractive to me, I gave it a try. I haven't played the bonus game #I haven't even looked to see if there is one - if so, will probably start it in a minute#. Oh, and graphics were very good. This game was done about a year ago, so there really are no new features to report here, and the graphics on games just continually improve, so graphics may not be as good on this as you are getting used to, though they are very good. Again, give it a shot, it is a fun game. It is so fun, I played it twice #the first time the laptop I loaded it on overheated during the game, which I probably had 3/4 done, and I lost every thing on the game). It isn't the best game I've played, but one of the top 10 or 20, and very worth it, especially on half price days! It is surprisingly good! Give it a try! Happy gaming!
May 27, 2014
Review of Completed Game...
When I first started playing this, my initial reaction was...why the heck did I buy this? Its been awhile since I purchased it and starting off it doesn't look all that spectacular but about 20 minutes into it and I remembered the appeal. Although a familiar tale of evil coming to an island, its actually a very unique twist on it. There are all kinds of weird people like half deer half human, an octopus that talks to you, people who should be dead but aren't, talking whales etc. This is a game that could have been cutesy BUT the developers made it scary instead and thats the overall appeal. Weird characters but an overall creepy feeling each time you find more about the story or go into different rooms. There are 10+ chapters, 25 creatures to find, bonus chapter & 80 whale bones which are a lot harder than I thought they'd be since you can't use hints on them. The whale bones are in the extras and after you are all done with the game, you go back in and find all the bones to put the whale to rest. I tried using hints and it said that this is a special challenge where hints aren't allowed. Luckily though the strategy guide shows you where each one is in case you get stuck. I missed ONE and when I saw it, it was HUGE in the middle of the floor...like how'd I miss that? Throughout the game you have morphing creatures which can be very hard to spot as well. There are achievements, the normal fare like not skipping any puzzles or hidden object scenes etc. I found that most of the mini games were pretty easy to do although some were a bit harder. The hidden object games are really fun as most items are interactive not to mention sometimes you have to find X amount of things or 4 shells, 4 roses, 4 hammers and they are behind some things and interactive as well. I enjoyed the hidden object scenes so much, I wish there had been more. Bonus chapter is not very long BUT shows how this mess happened in the first place. I wouldn't say its necessary to the story but it was nice to see how it all happened especially since everything was so weird. This game however, is VERY long. I finished it in 2 days because I was addicted and couldn't stop playing but Id say I put in about 7+ hours into this which is a great length. There are so many extras that it makes the collector's edition very appealing. I have no doubts about buying it. I definitely recommend this game. The voiceovers were impeccable, dialogue flowed without having to click continue. My only big pet peeve was that the inventory box didn't lock because I personally hate it bobbing but I got over it for such a creative and well told story. I don't own the first small town terrors, as I remember it came out as a standard edition awhile ago and I didn't quite care for it but these developers learned from their mistakes and were able to make this incredibly well done game. I quite enjoyed myself and its very rare I give the 5 stars out but this is a game that definitely deserves some hype. Kudos developers! I hope to see more! Games like this remind me why I fell in love with hidden object games to begin with. I wish more games were like this.
February 7, 2014
It Hooked Me!
I really liked this game. Nice and creepy. The graphics were good, the music was good and not irritating, the voice overs were great and not overdone. There is a journal to keep you on track and a good map. The hint button is very helpful..maybe a little too helpful. The puzzles were fun with a good amount of challenge...but not crazy hard. Oh and it had collectables, I love finding collectables. The HOS were a little fuzzy for me but I still did them just fine. There were 10 chapters and a bonus level so there is plenty of game to play. I really recommend this game.
September 5, 2013
More interesting than the average
I beta-tested this game and couldn't wait to buy the final version. The story is very interesting and the game is challenging. Creepy visuals add an extra layer of enjoyment. I would also recommend the other Small Town Terrors title - just as fun and twice as creepy.
September 2, 2013
What a GREAT GAME!
This game was great. It was one of the best games I have played in awhile. Storyline was great an the Voice overs where done excellent. I recommend this game to everyone.
April 18, 2013
The Apple logo is a trademark of Apple Computer, Inc.