Adelantado Trilogy: Book Two
The story of Adelantado continues in Book Two – get ready for new adventures and unexpected twists! The sequel starts where the previous part left off. Don Diego has found a new path and now he continues his mission. There are still survivors from the previous expedition to save, glory to achieve and gold for the Spanish Crown to find. His crew, however, is tired. While some people start to rebel and abandon Don Diego, some stay loyal, and together they advance through wild jungles and endless swamps. The atmosphere is moody and grim but Don Diego tries to keep everybody cheerful, though an ever-present rival, Commander Rodriguez, is more evil than ever!
New Quests
Improved Graphics
Discover New Lands
Game System Requirements:
OS:

Windows XP/Windows Vista/Windows 7/Windows 8

CPU:

1.2 GHz

RAM:

1024 MB

DirectX:

9.0

Hard Drive:

173 MB
Game Manager System Requirements:
Browser:

Internet Explorer 7 or later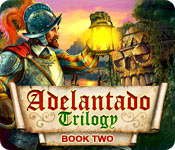 NEW299
The Big Fish Guarantee:
Quality tested and virus free.
No ads, no adware, no spyware.

Reviews at a Glance

Adelantado Trilogy: Book Two
0
out of
5 (
0
Reviews
Review
)
Customer Reviews
Adelantado Trilogy: Book Two
79
79
Trilogy...Book One vs. Book Two
I really enjoyed Book One but I like the changes they have made to Book Two. I LOVE the fact that I don't have to click on every single item found by Mr./Ms. Adelantado because once they have found the "secret" item they take care of it themselves and it saves me "clicking" time. Am SO looking forward to the adventures ahead! :)
April 10, 2013
Great game. Roll on Book 3
Loved this,.about time we had another brilliant Time Management game. You get to pick which level you want to take this game on, even casual mode.
April 9, 2013
Adelantado you rock!
Excellent = just as good as the first - did not play demo just downloaded this game straight off the bat. As challenging as you make it. Can't wait for Book 3!!!!! Will not be disappointed if you love strategy and time management games :) Enjoy playing peeps!
April 3, 2013
Worth purchasing
I love Book 1 but admit they did fix a lot of the irritating aspects of the game in Book 2. However, I do like Book 1 better because I am able to use more strategy in placing the buildings where I want and it seems Book 2 just did that for you a lot more than Book 1. It was more challenging to use your own thought on where a production building could go. I did not like all the hand holding in Book 1 especially when you replay and still have to be told what to do a lot. However, I also do not like them eliminating their constant tutorials and putting the buildings in themselves in Book 2. I think game value is about strategy, time and NOT just getting gold. The challenge should have been more up to us. The story line is not as concise and clear as Book 1 and you are actually all over the place in Book 2...yes more area but so many times cannot place buildings...it is just vast open spaces. Overall a great game but even though Book 1 has more irritating issues, I shall replay it a lot, which I do, and not so much Book 2. I also bought both games from the other site, because usually it takes a long time to come to BF, but not for Book 2. It came onto the BF site really quick this time. So might wait when Book 3 comes out and get from BF.
April 2, 2013
Great but no-shows drive me crazy
I love this type of game. It's fun to get lost in another world. The visuals, sound, storyline, and characters are all great. The cave scenes are very well executed visually. The generating sites that need efficiency upgrades add to the challenge. HOWEVER, I've found glitches at every single level in the game. Sometimes a necessary site or character shows up and sometimes they don't. I have to restart the level only to find another no-show. Maybe it's my system. Maybe it's because I take so long. I've checked the forums more times than usual just to see what was supposed to happen. It's very frustrating because, otherwise, it's a great game. Hope they come out with a third sequel with improved programming.
May 2, 2013
Better than Book One!
This second chapter in the trilogy is far better than Book 1. For one thing you can save a chapter part way through rather than play the whole chapter or lose your progress. When the hero opens the gold or the food the player doesn't have to stop and click on each piece to retrieve it. The storyline is improving with each chapter, and I for one, like the game. It is not my usual genre, but a great break from the usual horror/mystery/thriller. Can hardly wait for Book Three! Wonder what that will have in store for us.
April 7, 2013
Some improvements, but still feels the same.
This second "Adelantado", although it showed great improvements, still made me tired of practically always doing the same. Pros: - You now have rewards! Great!; - Great graphics improvements, you can clearly see it and they look better than ever; - More level related variety. In some levels you don't have to set up camp, but go through a series of characters quests in order to advance. You also have more variety in the normals levels, you have more tombs and burial chambers to visit and they are larger; - You can now exit the game and your level progress is saved! Hurray!; - Beautiful artwork and cutscenes, without a doubt; Cons: - Still the same music! Since its always the same, I always end up turning off the sound because it annoys me; - The gameplay is still the same and so, the game becomes tiring after a while; - I noticed that now the efficiency of the buildings drops much more quickly than in the first game and although you can now restore it, it costs too much and then it drops down quickly again; Although it has been improved, it still practically feels the same to me and the gameplay becomes tiring as you advance through the levels. By the end, I'm sick of doing the same things over again and never accomplishing nothing at all. However, I still liked it and when "Book Three" comes out I'll definitely try it.
April 29, 2013
Very Boring Game
This game is along the lines of the Westward Series but it is missing Loads of elements that Westward has there is nothing really beyond building buildings and waiting while your resources build up no warring or real fighting no side quests no challanges really just Waiting..that in itself is the challange can you wait without falling asleep!! This is gameplay in a nutshell... build buildings Player Waits sims gather resources Player Waits hero sim chops down bushes and bashes vases Player Waits Staring at a screen Waiting is not my personal idea of fun.. Two chapters are devoted to your hero fetching items for the natives..while there is no waiting in those chapters i found fetching items also Boring... While the first game in this series had several challanging chapters even in normal mode this one was not a challange at all the conclusion chapter i replayed just to see if i could make it a challange the only way i could was to spend time building up too many resources And to Not build the cobblers shop even then.. my hero beat his competitor on first try.. i was so bored with the game i did not play the hard mode perhaps it does offer some sort of challange i dont know.. i suggest trying the game out Before purchasing and i also suggest that the first in this series is better than this one... i doubt i will play either one again in the future...
April 13, 2013
lousy
don't like it it's not a good time managment game this is the worst i've ever play
April 2, 2013