Deadly Voltage: Rise of the Invincible
A mysterious force from a parallel universe wreaks havoc on a small town as a scientist fights to stop it from taking over the world! With its dazzling animation, super-charged gameplay and electrifying story, Deadly Voltage: Rise of the Invincible is a hidden object adventure for all ages! Plug in today!
Explore an abandoned city
Discover a shocking revelation
Unlimited hints and tips
Game System Requirements:
OS:

10.8/10.7/10.6/10.5

CPU:

1.6 GHz (INTEL ONLY)

RAM:

512 MB

Hard Drive:

604 MB
Game Manager System Requirements:
Browser:

Safari 4.0 or later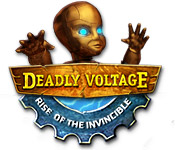 NEW299
The Big Fish Guarantee:
Quality tested and virus free.
No ads, no adware, no spyware.

Reviews at a Glance

Deadly Voltage: Rise of the Invincible
0
out of
5 (
0
Reviews
Review
)
Customer Reviews
Deadly Voltage: Rise of the Invincible
54
54
A solid old time HOG
This is a very good game. It is solid entertainment that lasted me about 6 hours-- a great value for a SE. Story was good and music, well, I'm no Jazz fan but it didn't bother me to leave it on. I hope there's a sequel, it was worth it.
January 25, 2013
Good game - bad music
I enjoyed this game. I liked the story line, I liked the graphics and overall atmosphere.The puzzles were pretty good for the most part. Skipped a couple that I just found annoying. but most of them weren't difficult. Once you were finished in a general area, you didn't return to that area, so not a huge amount of backtracking. The HOs were pretty easy and at least there was some interactivity to many of them (find something and combine it with something else). I think there were maybe two or three times when I used the hint button in a HOS, The length of the game was very good. The most annoying thing about the game was the music. It didn't fit the atmosphere of the game at all. A bit of not-so-great jazz. As another reviewer said, bad elevator music. It could have been SO much better and done something to enhance the game, not detract from it. Still, definitely worth playing.
March 12, 2013
Different and Entertaining
I appreciate a game with a sense of humour, and this one does in a rather subtle way. I see from your reviews that many of you don't like the music, but jazzing it up is an important and refreshing change. Most games are so formulaic, even in the choice of music. But not this one. So, I'm giving high marks for its originality.
January 22, 2013
Very good game
They make you go back and forth to find and use stuff. Which I like. I hate when games are too easy.
January 23, 2013
Glad I bought it!!
I am well into this game. Without going into detail there is a lot to do. The game does not end short, thankfully. Need to use your brain in this game. Just have to play and then decide. Story is a bit lame...I can get past that minute detail.
April 10, 2013
A HO Game At Heart
Hmmm, I read the advertising blurb, I thought parallel universe etc., cool. So far I have delivered a package to a hotel address in a town not on any map, discovered the parcel is actually for me, a form of protection, and I have since been wandering around the deserted town dodging live power lines and looking to stop I know not what from doing whatever it is he shouldn?t be doing, and my guide is a scientist who says he can?t meet me in person, and refuses to tell me what?s going on. Other than that, the day?s been fine, thank you for asking. ? This is a HO game really. Oh, don?t get me wrong, there are PUZZLES, although fairly SIMPLE ones. And there is point and click adventure action to be taken, but most of the time is taken up with brightly coloured, slightly INTERACTIVE HOS. Since you?re just moving from scene to scene without a lot of motivational input, it is good that you have a JUMP MAP & DIRECTIONAL HINT. Without it there's a lot of to and fro. The ART in this game looks pretty good, but occasionally its ?clip art? origins show through, where the cut has been less than perfect. I find that sort of thing irritating, but I imagine most don?t. The MUSIC is jazz, and it is very laid back and cruisy. There is no sense of urgency or danger in this adventure. The game?s LENGTH will be determined more by how quick you are in HOS than anything else, it could go short or long. NO BLING! ? collectibles or such. This is a low budget game, but not without its moments. If you are like me and spoiled with all the brilliant HOPA?s out there, you?ll understand why I can?t recommend this game.
April 27, 2013
Lots and Lots Of Hidden Object Scenes
You really have to love hidden object games to play Deadly Voltage: Rise of the Invincible. I could not turn a corner without another hidden object scene. Way too much for me. The music was ho hum. I don't mind jazz but that music loop became annoying. The graphs were good and the puzzles were challenging enough. Thank goodness for the skip button as I got bored with all the hidden object scenes and just wanted to get through the game so skipped some puzzles. I have to agree with other posters, this game seemed to come out of the dusty vault of old timey HO games. If you really like HO games you may like this one but I would wait for a DD before purchasing.
February 8, 2013
Old Timey HO Adventure
Agreed graphics are old timey but decent. This is a game brought to you by the same people who did Natural Threat: Ominous Shores and Oddly Enought - Pied Piper. Options for Music, Sound, Full Screen Aspect Ratio and Custom Cursor. 34 locations 17 hidden object scenes 20 mini games 45 videos Overall, interesting storyline with nicely challenging puzzles, journal and a navagatable map. Agree that items can be tricky to find, but not too bad. Robotic story is intriguing enough to keep you going. For those of you who don't like traveling around in a game - not for you.
January 22, 2013
Too many HOS
Cool game, but nothing special. Definitely for those who prefer HOS over puzzles. - graphics are good, lots of color, crisp, I really liked the look of robots - choice of music is nice but not suitable for this game, I really didn?t imagine jazz in the background while dealing with robots - story is great, I was hooked from the very beginning - 2 modes: regular and expert - you have a journal that contains notes and map( you can use it to travel) - hidden object scenes are good, nice visibility, interactive, but as I sad there are too many of them- disappointed - puzzles are mainly easy, nothing tricky, but for a relaxed play they are perfect Over all, nice game to spent some time on, especially for those who love HOS!
February 22, 2013
Another Game From The Vault!
After having played the demo I have decided to pass on this one. Although I enjoy the classics, this game was either produced many moons ago along with the first IHOGs that came out or the developers enjoy the nostalgia of the earlier HOPAs and are sticking to that format. What we have here is a somewhat interesting Sci-Fi story that has us playing a delivery man who stumbles across a town that is threatened by robots gone amok. Apparently there is a parallel universe involved but I really didnt get that far to find out. I actually love Science Fiction but found this game out-dated. Surprisingly the graphics are relatively good, sharp with good annimation although the HO scenes are dark and somewhat murkey making some items difficult to spot. There are no voice-overs which tells me that the budget for this game was very restricted. I liked the music, a cool jazz tune that does not suit the storyline but is not entirely unpleasant to listen to whilst you play. There are two play modes and although there are no sparkles in the second mode, the blackbar tips offer you too much information as to what you need to look for. Gameplay offers you adventure with alot of HO scenes that are slightly interactive. There is a journal along with a map that will allow you to jump and there is alot of jumping involved. Other than the zaps and the sizzles you hear from all the electricity around, the game has no other paticular sound effects. If you enjoy nostalgia, are a fan of HO games and/or are a beginner to this genre, this game may just appeal to you. It offers an interesting story, quick pace in gameplay, lots of HO scenes, very few mini-games that are far too simple and an adventure that involves finding inventory objects and using them to either unlock, repair or apply. It isnt a bad game nor a great game but falls somewhere in the middle. Highly forgettable and if you have a spare credit to spare, it may offer slight amusement. By all means try the demo but my earnest recommendation is to wait for it to come out as a DD.
January 22, 2013
The Apple logo is a trademark of Apple Computer, Inc.
The Windows logo is a trademark of Microsoft, Inc.