Empress of the Deep 3: Legacy of the Phoenix Collector's Edition
After vanquishing her evil twin, Pandora, Empress Anna must find her lost tribe. In a fever dream she learns they are threatened by a cursed colossus on a distant and mysterious temple city, adrift on the waves below. Helped by the ghost of Jacob and an ancient phoenix she escapes the burning palace in the clouds and finds the beautiful floating city, constructed by her lost people. But where have they gone? Only a sinister two-headed wizard and his cats remain. Can she trust him? Will he help her find the lost tribe before the colossus fully awakens? Find out in Empress of the Deep 3: Legacy of the Phoenix!

This is a special Collector's Edition release full of exclusive extras you won't find in the standard version. As a bonus, Collector's Edition purchases count toward three stamps on your Monthly Game Club Punch Card!

The Collector's Edition includes:
Summon the Blue Whale to unlock bonus levels
Enter the chamber of Zem II, a deluxe Match-3 game
Win Zem trophies to unlock concept art
Integrated strategy guide
Game System Requirements:
OS:

10.8/10.7/10.6/10.5

CPU:

1.0 GHz (INTEL ONLY)

RAM:

512 MB

Hard Drive:

406 MB
Game Manager System Requirements:
Browser:

Safari 4.0 or later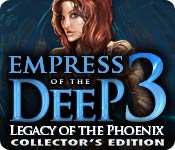 The Big Fish Guarantee:
Quality tested and virus free.
No ads, no adware, no spyware.

Reviews at a Glance

Empress of the Deep 3: Legacy of the Phoenix Collector's Edition
0
out of
5 (
0
Reviews
Review
)
Customer Reviews
Empress of the Deep 3: Legacy of the Phoenix Collector's Edition
93
93
Too much chit chat
This game would have got a higher rating had not half of the demo been taken over with unskipable chatter. I didn't find it challenging at all and felt that the continous pictuers of the vials needed was unecessary. Sorry, but this one is uninstalled.
April 14, 2013
FOR BEGINNERS ONLY
This seemed to be an exceptionally long game, yet there weren't that many HOS or puzzles to account for the length. Lots of voiceovers and cutscenes. All the puzzles were very easy. The map was not interactive although there were "cat stations" throughout the game that helped you jump between locations a little bit. And there is a lot of back and forth in this game, adding unnecessarily to the length. Although at times there seemed like a lot of handholding, at other times, clicking on a scene would tell you nothing at all. The hints outside the HOS were OK, but not great. Toward the end, I needed to refer to the strategy guide to figure out where I missed something that wasn't there the first time I went to that location. And the bonus content was a definite ripoff. Being forced to play a hybrid match three game to win trophies to finally get the artwork, etc., that should come standard in a Collector's Edition is bogus. I'm a glutton for punishment and always try to finish what I start, so I played the entire game. It's always good to get the experience that might help in another game.
June 1, 2014
Pretty Good
Waited what felt like 100 years for this second sequel to finally come out and now that it has and I've played it, it wasn't all that big of a deal. Nothing amazingly special about it. It was entertaining to make of Anna (the point of view character) for her obvious disassociation with her storyline and purpose, and the voice acting was terrible. Animation was pretty bad on the moving things... I did, however, really enjoyed the hidden object scenes. There were the classic ones of find the items in the list, but also ones with different things to find and ways of finding it. It was a nice change to the classic hidden object reputation.
December 20, 2013
Why others say it's blah.
Lack of interaction due to too few characters is why people rate this game lower. You are stranded on your home island, a two-headed wizard and spirits the only beings you communicate with. It does not have a lot of characters the way ERS and Elephant games have. The ending is lovable though I bought this only for the Zem game which is in the collector's edition only
May 28, 2013
First Impressions Only
This is not my usually long thought out review, but just what I felt a half hour into the demo when I stopped playing. I just couldn't go on with it. The archaic looking graphics depressed me. They haven't improved one iota from the previous game, and they are of a style that just doesn't feel right in a top rung fantasy game. 2 or 3 years ago, yes. Not anymore. What I saw in 30 mins was not enough to overcome that prejudice. There were a couple of easy puzzles, 3 iHOs, a lot of backstory and cutscenes. The cutscenes were pretty well done. The 'book' guy Jacob is still very very good. The music is truly zen-like and my favourite part of this game. The story is not unusual, but that's not an objection really. Looks like it will be treated in much the same way as Empress of the Deep 2. A quick peak at the strategy guide shows you'll not be getting much in the way of useful help there. The screenshots are blurry and poor quality, in the HOs, they give only the final item you'll recover, guess you'll need to get hints for the rest. The solutions to puzzles are a bit tight-lipped too. It showed 3 chapters out of what looks like 11. The extras are what attracts me to the game even though I don't like what I've seen. You must unlock through game play first Zem and then Zem 2, (Match 3 game) Then you can win trophies that unlock artwork. LOVE this idea! And there are escaped cats to collect - aw!!! I love cats. So maybe I'll give it a second chance later, but for now, it just looks so awful!! I felt embarrassed looking at it. Not for me.
April 11, 2013
Be careful what you buy...
I posted the following review in the game forum direct to Silverback Productions, be careful what you buy as a CE. Hi EOTD/Silverback: I loved EOTD I and II, played them as SE and had a ton of walking around to do since I didn't have the strategy guide. That said, I thought it was safe to buy EOTD III as CE so I'd have the strategy guide. Boy, did I waste my money! 1) The map is NOT jumpable and the transports are few and far between. 2) The SG is NOT needed due to all the handholding, conversations, quests, etc. 3) Had I known what type of Match 3 ZEM was, I would definitely skipped buying the CE. The bonus game is SHORT and then to find you must EARN the concept art, screensavers, wallpapers, etc. by CONTINUOUS ZEM play, what a ripoff!!! If the trophies are cumulative based on points, the points should remain at whatever level you ended the previous game. Having to start over each time sucks. 4) I should have read farther into the comments as others have made some of these comments as well. Hope the next game from Silverback is better.
April 11, 2013
Zzzzzzzzz
This game is so boring I kept falling asleep. The graphics are just not sharp enough, and the HOS are way too vague to be interesting. Everything takes too long. The cut scenes, the dialogue, even changes in the scene are dragged out. Seems like a good way to make this game last longer -- all the more torturous for us. All that sparkle and no substance do not impress.
April 11, 2013
If you LIKE being treated like an idiot/child, this is the game for you...
The visuals are, as always, eye-catching and the music is lovely. I was elated to get back to this game and ready to continue Anna's journey. I loved the original, made my way through the sequel, and had high hopes for this third game. Imagine my disappointment.. Disregard the window that asks "Would you like interactive help?", because the game is set to disregard your answer and drag you kicking and screaming if it has to through the game. Not that there is much in the way of anything to explore on your own; there are only three to four active points in each area, one of which will be yet another HOG. It was almost a relief to get to the HO scenes, though, as it was a respite from being forced to go here, do this, interact with what we tell you to and don't...go...off...script(!) For me, the point of a casual game is to relax, enjoy the scenery and story, and unwind with a bit of mental exercise and self-challenge. I like clever puzzles and tasks that are not simply a gesture to kill time collecting pieces, or a conduit between cut-scenes. This game is like a slow boat traveling non-stop through a one-way tunnel, with no regard for whether you enjoy the trip or not. I'm getting off here, and thankfully I haven't paid the ferryman yet....
April 11, 2013
Not a game for me!!
I own the other Empress of the Deep games and was looking forward to this one. The developers did not do a good job with this one. It is still beautifully drawn and the story line is good but the game is just too cumbersome to play. Can't even list all the things wrong with this game but here are a few of them. You must click to open and close your inventory and the cut scenes go on forever and you can't skip them. You have so much help in this game and I had turned off the tutorial and I still had too much help. As in the other games there is a lot of back and forth which I don't mind and they make it easy with "transports" to get you there and a map to tell you where to go next or go back to when it sparkles. I am sorry to say I will not be buying this game. I got no enjoyment out of playing it and was more frustrated after I played it. Sorry I ever played it. Back to the drawing board with this one.
April 11, 2013
Shockingly Bad
This is my first ever game review. I've played quite a few games from Big Fish and the majority I have loved and enjoyed playing i.e. Brinks of Consciousness: The Lonely Hearts Murders (fantastic, well acted voice overs) and my first ever game from Big Fish, Mystery of the Ancients: Curse of the Black Water. Now I loved the first instalment in the Empress of the Deep series. The graphics were absolutely stunning, to this day I think it's the most visually stunning HO game I've played. I loved the twist at the end and the speed with which I was able to move within the game. Based on that experience I bought the second game on disc without playing a trial. When I saw a little window pop up alerting me to the third instalment available exclusively from Big Fish I actually squealed with glee. Unfortunately, I had no idea I would be so astronomically disappointed. The game is incredibly slow and the story is boring. My biggest qualm with the game was the terrible pointless voice overs and the epic slowness when moving from scene to scene. I felt like pulling my hair out. I couldn't believe how bad this instalment was. I was sincerely disappointed and I can't understand why the game developers have taken this direction. This game is so deficient compared to the first. There was no way I could complete it. In addition, the graphics are no where near as beautiful and well done as the first game. In fact, they're dull and grainy as previous reviewers have said. I have played another game on here that was tedious to complete (Abyss: The Wraiths of Eden) but this instalment is in a league of its own. Thankfully I have received a refund and am now enjoying playing Dark Strokes: Sins of the Fathers. For people who played the first game, you need to avoid this one, it will only taint the pleasurable experience you had with the first.
May 5, 2013
The Apple logo is a trademark of Apple Computer, Inc.
The Windows logo is a trademark of Microsoft, Inc.