Azada: Elementa
Exclusive
Journey to amazing worlds as the whimsical saga continues in Azada: Elementa! After its precious elements are stolen, Azada chooses you to find the elemental mages who can save this special world. But bad-guy Panoptes is waiting around every corner to stop you at any cost – or is he? Nothing in Azada is as it seems...
Game System Requirements:
OS:

10.8/10.7/10.6/10.5

CPU:

1.4 GHz (INTEL ONLY)

RAM:

1024 MB

Hard Drive:

754 MB
Game Manager System Requirements:
Browser:

Safari 4.0 or later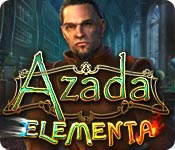 NEW299
The Big Fish Guarantee:
Quality tested and virus free.
No ads, no adware, no spyware.

Reviews at a Glance

Azada: Elementa
0
out of
5 (
0
Reviews
Review
)
Customer Reviews
Mayzy's Review: Azada: Elementa
Elementa is the fourth of the Azada series and it follows the style of In Libro, meaning that rather than being presented with a series of puzzles without a lot of story line, you are taken into the world of Azada, this time to save the realms of air, fire and water. It is a beautiful game and a nicely long one, too. I really enjoyed almost all of the Azada series and like seeing the plot carry over from one to the next. Just one note? Developers, please... please! If you're going to have voice actors in your games PLEASE make sure that they all know how to pronounce the characters names correctly? I hate it when different characters say the names in different ways! It's such a pet-peeve.
April 25, 2014
Hidden Object BigFish Style
Big Fish Games has a very tell-tale style of hidden object games with story lines. This one, like the others, is visually striking with a fairly interesting storyline, and moderate difficulty.
April 1, 2014
Not the Azada I was hoping for
This was the fourth Azada game I've played. All are different from each other but this is my least favorite. The story is minimal, There is a loose theme of elements (fire, water, air# that is an attempt to tie a hodgepodge of scenery and puzzle elements together. I found the game terribly tedious and still have no idea what value a customizable 'pet' added to the experience. The map feature is a plus, as it saves navigation time and tracks open tasks. There were diverse puzzles and interactive HOS. But these, coupled with eye candy, were not enough to make a cohesive game experience. There are so many other really good games out there - some by ERS.. I'd recommend skipping this one!
August 27, 2013
The 'magic' has disappeared
I enjoyed the first 3 AZADA games for their innovations and different brain teasing games, when I saw that there was a new game in the 'trilogy' (I know a fourth game in a series of three now that is magic), I was pleased, so I decided to download and give it a whirl. This whilst retaining the AZADA characters and the 'feel' of the first 3 games, soon became a hybrid of the innovations of the previous games with a HO game thrown into the mix. As the game producers were one of my favorite then yes it was going to be different from a standard HO game (I think these producers producer higher quality HO games than some other game producers), but at the end of it still moved away from the originality of the first 3 AZADA games. In the SE there was VO and the voice acting was of good quality, the music and graphics were good, but I am still unsure as to whether I will purchase (may use a free token), as whilst this is of ERS usual high quality for me it detracted a great deal away from the original licence of the previous games. All in all I am not sure whether I can recommend this game, if you are die-hard AZADA fan and think this will be a continuation from the first 3 then you will probably be disappointed, if you are looking for a high quality HO game from a good games producer then go-ahead and at least trial it, but for me even with all the plus points I don't think I can purchase, purely as I feel it moves away too much from the original (the originals did not 'standard' HO scenes), so if new to the series then yes I would recommend (just if you then decide to try the others you may get a tad confused), if you are a die-hard fan then leave it at the end of the 3 as this does not 'bring anything to the party'.
April 6, 2013
there are better ones out there
This is the first one I tried and did not last past the trial. Graphic and music are ok. Has a map but does not tell u much at all. Just for a RES game not that good as many of there others.
April 22, 2013
Disapointing
Being a huge fan of the previous AZADA games, i was excited to see another one released. Unfortunately that quickly ceased, and the game seems to have gone in a complete different direction to previous releases. I also found the graphics and storyline to be lacking. I only played the trial, (which was enough and had to push myself through that), so i cannot comment on the complete game, i only wish they had continued with the already tried and proven fabulous game that we all loved..
April 13, 2013
well
I was totally dissapointed there were just simply too too too many puzzles way too many puzzles I can stand a few(very few) I am a hog myself & I just think this game should have been labeled a puzzle game ??? sorry but we all don't like the same things; just think what a dull world that would be!! :-) :-)
April 14, 2013
What happened here?
I was disappointed in this game. I had high hopes it would be different. Although the hint button worked quickly and well for directional use, I was not impressed with the same "elements" such as locked boxes, overly crowded HOS, and too easy minigames. The artwork was done very well, but on the HOS the red writing was almost impossible to read. This game lacked imagination and creativity.
April 11, 2013
Third installment is So So, I did use try b4 U buy
Wow this games sucks you in right at the start. this is a deep or long play game. I did use the hardest challenge level, because there is plenty of help in the Diary (what ever you want to call it) also you can down grade the challenge level at any time during play for a bit of help, plus you always have the hint button and a jump map. Even in the hardest challenge level there are still sparkles to give away a hidden object scene. For me some of the challenges were very easy. Now there were a couple I do not have patients for, But I always give it a go until I push away from my desk and spin around in my chair babbling I can't believe I have to start all over again. I just finished playing this game and can only give it an ok. which feels wrong because of the way it started out for me. The game slides into being "rote". I have found many installment games are thrown together just to continue revenue generation created by the first or second game. (like the whole C.O.D. thing.) This is not so here, but still I could keep typing trying to find a way out of this rating and I can't.
April 10, 2013
The Other Azadas Were Better
The first three Azadas were fun and clever puzzle / adventure games. This one is different - and not for the better - in a few ways. This one is now a standard HO / puzzle / adventure game. In fairness it has fewer HOSs than most HO/P/A games, but I liked the other Azadas precisely because they had no HOSs. The storyline in the other Azadas was interesting and different. In this one, it is pretty much like every other HO/P/A game - the evil villain will destroy the city / the kingdom / the universe and only you can stop them. ERS seems to have run out of energy before finishing this game. The last of the three worlds in this game was kind of short and less challenging than the first two. Finally, to distract you from the game's shortcomings, ERS introduced a childish and annoying "pet". The pet doesn't affect the game play except to pop up every now and then and chatter about how wonderful you are in a really irritating voice. I would have been happier if they left this out. I am disappointed in this game because it was sold as an Azada, but was nothing like the ones before. However, once you get past that, it's actually a pretty good HO/P/A game. The interactive HOSs were fair and challenging as were the puzzles and adventures. If it had been sold as something other than Azada, I would have rated it better.
May 7, 2013
The Apple logo is a trademark of Apple Computer, Inc.
The Windows logo is a trademark of Microsoft, Inc.