Azada: Elementa
Exclusive
Journey to amazing worlds as the whimsical saga continues in Azada: Elementa! After its precious elements are stolen, Azada chooses you to find the elemental mages who can save this special world. But bad-guy Panoptes is waiting around every corner to stop you at any cost – or is he? Nothing in Azada is as it seems...
Game System Requirements:
OS:

Windows XP/Windows Vista/Windows 7/Windows 8

CPU:

1.4 GHz

RAM:

1024 MB

DirectX:

9.0

Hard Drive:

767 MB
Game Manager System Requirements:
Browser:

Internet Explorer 7 or later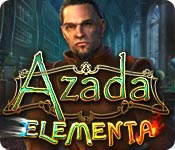 NEW299
The Big Fish Guarantee:
Quality tested and virus free.
No ads, no adware, no spyware.

Reviews at a Glance

Azada: Elementa
0
out of
5 (
0
Reviews
Review
)
Customer Reviews
Meh
Not thrilled with this one. I was expecting it to be as fun as the others. That was not the case.
April 30, 2013
JUST OK!
Graphics are not always detailed and often somewhat fuzzy, I like crisp and minute detail which I have loved in some new games. Too much back and forth, and if there was not a map available, it would have been awful, I ended up using it constantly which i do not like to do because otherwise, i kept on running around like a chicken without a head. The HO are too busy and it is hard to find some items, hardly visible. I did enjoy the game somewhat because the puzzles are interesting and challenging but that is it!. The story is far-fetched, but I could have put up with that although I do not love the unrealistic tales' types, less engrossing than a real life or close to real life plot, but the objects you had to find to go on often made no sense at all making the progress difficult and annoying because I had to use them in situations that often made no sense, it made the game hard because it was not a common sense solution so I tried to use different things that made little sense till I fell on the right one. I have played better games with better graphics and more follow through. Anyway that is my opinion. There are different chapters and the graphics are the best at the beginning and the end of the game, to attract us when we try the trial I assume and to leave us on a good impression when the game ends. There are better games now
November 14, 2014
Just don't call it Azada, OK?
This is a standard game of the kind this developer offers. Option to play hard or easy puzzles, teleporting map, somewhat decent hints, pretty settings. It just isn't the Azada we knew from the first two games.
May 30, 2014
ERS Have Given Us Some Masterpieces. This Is Not One Of Them.
Once I heard that ERS had taken over Azada, I was excited to try this game. Shortly after, however, the excitement wore off and I began to realize what a bore this was. The story is a little confusing, but is gripping in some sense. The cutscenes are dramatic and hook you a little more each time. There was great use of fairytales and magic in this story, and I thought it was okay. The puzzles in their own right were good, although I skipped a couple of them. A lot of them had easy concepts, but I couldn?t get past the coin one, so kudos to the developer for that. All other puzzles were relatively easy though. The HOS are a different story though, and I found them quite hard, having to use the hint multiple times. There are quite a number of extra step objects, which was very challenging for me. The graphics were standard ERS and were all clear, with well-drawn artwork and characters. The scenes were done well too. The voice-overs were good, again, standard ERS. Voice-overs are hard to fault in any game unless they are annoying, a drone or just plain BORING. (for example: Phenomenon: Meteorite) so these voice-overs are just the average of what you?d expect. FEATURES - A pet that you get to name, decide its age & hometown, customize and dress. This was a cute, but unnecessary addition to the game. - Diary to keep track of events (very useful) - Map, which is interactive and shows you the tasks you have left to perform in that area - Hint and skip- Both charged fast and were needed a lot, as I would struggle to figure out what to do next. I also needed them a lot for HOS. - Element Amulets (which you needed to assemble) After a promising start, this game soon diminished in to one to forget. I didn?t much like the other Azada's, and this is no exception, despite the new developer.
May 31, 2013
OMG I cant stand it
I just couldnt finish this one. I admit that I am so not a fan of ERS anyway but I did enjoy the last Avada so I thought I'd give it a shot but it's just a carbon copy of their other games which all get to feel the same. You do the same game mechanics, the same "bad guy" and the weeping woman or child. Nothing new, nothing origonal, same washed out graphics. This one felt quite juvanile (sp?). With a cat you get to dress up, some dogs that you feed oatmeal??? and a drumming turtle.. okay. I dunno. Not for me. I now wont even make an exception for Azada. Next time I have a free coupon about to expire I will choose anything but. Sorry ERS fans but a person can only play the same old thing so many times.
April 28, 2013
Azada Elemental
I did not enjoy this game at all!! Now don't get me wrong it started off with so much promise in the trial version that when it went on sale I quickly snatched it up in hopes of it being all that it started out to be. I was sadly dissapointed. It started dragging and the story line for me went too quickly from one to the other and the Ending??!?!?!? what in the world was THAT was one second there and the next second was poof all gone. Even the bonus game ending was one sec there the next gone. I really really was dissapointed I don't recomment this game to anyone
April 6, 2013
Bad
I couldn't finish this game. I've grown to increasingly dislike ERS games, for a lot of reasons. I can't believe they snatched up the Azada franchise. I gave it a go anyway, because I really liked the previous games, but ERS just completely ruined a good thing. The bad: HO scenes were cluttered and the words written in red on blue background practically impossible to read. Storyline dragged on and on. Puzzles were either too easy or ridiculously hard. Didn't see the point of the cat/panda/dragon/eagle/whatever mascot we had to find tokens to dress up. What is this? Kindergarten? Hated the repetitive gameplay. Too many non-skipable, boring cut-scenes. This game has definitely turned me off ERS for good. There is no way I'll ever buy one of their games again.
May 28, 2013
Annoying
I do not know why I continue to purchase the Azada games. I only really liked the first one. Since then I have been irritated by the puzzles and characters. I am sick of the storyline as well. At least I kept my promise to myself about not buying the CE. I have so many free game coupons that they expire before I use them so I caved and used a game coupon for the SE. Save your money and your sanity. Ignore this game.
April 1, 2014
Too many cut scenes
I will admit that I didn't play for long. Although the cut scenes can be skipped, they are constant and annoying. I didn't see much game play at all. This was the daily deal yesterday, and based on reviews, I "purchased" it, or I thought I did. Thankfully the purchase didn't go through!
March 30, 2014
The Apple logo is a trademark of Apple Computer, Inc.