Strange Cases: The Faces of Vengeance
Exclusive
FBI Agent Claire Ellery is grasping for any clue she can find about her missing ward, Anna. Strange tarot cards were found at the sight of her abduction, but the kidnapper has remained strangely silent, until an unmarked envelope arrives addressed to her. The clues will lead her straight to the heart of the criminal's hideout, in the abandoned Mercury Shopping Mall. Unfortunately for Claire, this masked kidnapper is always one step ahead, watching her every move. Who is he, and why did he kidnap Anna? Navigate the corridors of his deadly traps in Strange Cases: The Faces of Vengeance, a thrilling Hidden-Object Puzzle Adventure game!
Join Agent Ellery on an exciting case
Who is this masked criminal?
Game System Requirements:
OS:

10.8/10.7/10.6

CPU:

1.6 GHz (INTEL ONLY)

RAM:

1024 MB

Hard Drive:

427 MB
Game Manager System Requirements:
Browser:

Safari 4.0 or later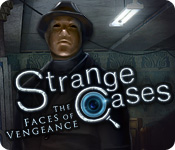 NEW299
The Big Fish Guarantee:
Quality tested and virus free.
No ads, no adware, no spyware.

Reviews at a Glance

Strange Cases: The Faces of Vengeance
0
out of
5 (
0
Reviews
Review
)
Customer Reviews
Strange Cases: The Faces of Vengeance
36
36
Outstanding and original setting
I realize no game is perfect, and each player has different taste in gaming themes, but this was right up my alley. A good story line....a thriller that was mysterious not "demonic creepy". The setting is brilliant. Set in an abandoned mall from an earthquake in maybe the 50's. The setting was a retro mix, but the artwork was very contemporary and genius! I'm really surprised there are any comments about the visual quality being grainy or boring.....not on my computer. It was clear, crisp and original. Lots of HO's for hidden object fans...which I am...with a clever twist that you have to find a tarot card before you start digging. Some are shadow images, but they are still good....most are not. Just when you think they are easy, they tighten it up a little with those few items that bring you to a challenge. The antagonist is out to get the main character, you ie Claire. He's rigged the mall with hidden cameras and speaks in a grainy voice that is reminiscent of Hannibal Lector without the gory story that goes with Dr Lector. The map is a great tool if you get lost.....very easy to interact with....and you can jump to locations from the map. The playground is ingenious, and has shades of creepy toys....but the artwork is so meticulous and professional it's still a delight to the game play. My only wish for this game would be to add some intriguing music that fits the areas of game play. Much of it is silent which is interrupted by the kidnappers voice....it's irritating, but that is part of the plot.....he's taunting Claire Ellery. I also thought it was short.....but I did not want to take breaks with this game. I was sorry that it was over, but now I can replay it on different levels just to see the fabulous settings again! Don't pass up the demo! My bet is you will buy this one!
September 13, 2013
Another great Strange Case.
Have & love all the Strange Cases and this one looks just as good. Some one has kidnapped your late partner Tom's daughter Anna to get revenge on you. Follow the tarot cards again to solve the latest mystery and find the little girl. I already bought it and recomend it.
April 6, 2013
is a good thriller
is a good thriller, suspense and want to know how it ends, the graphics looks good to me also the scenes and hidden objects are interactive, it does not seem so old as the game. a 'SE' well done. I put it in my wishlist. (based on the demo)
April 6, 2013
A very different hidden object game
This game is a different hidden object game. Before you can start to find any of the hidden object, you first must find a tarot card then the list of items will come up. The dects Claire and Tom have to find Anna. Good graphics and sound. I would recommend this game.
April 7, 2013
I Like The Strange Cases Series: Review Of Completed Game
Hidden Object Puzzle Adventure which is the 4th in the series. Strange Cases: The Tarot Card Mystery released as a SE only in Aug 2009 The Lighthouse Mystery released as a CE and then SE in June 2010 The Secrets of Grey Mist Lake released as a CE and then SE in Nov 2011. If you haven't played any of the previous games in this series well it's not necessary. This game stands alone by itself. You do play the same character Agent Claire Ellery, but a totally different case involving rescuing a young girl Anna who has been kidnapped and is trapped in an abandoned mall. 5 chapters 3 play modes. I played advanced mode. No sparkles but does have "black bar tips" up at the top. HOS: There are quite a few scenes. First you have to find the tarot card then you get either a list of items to find which it's mostly word list however a few scenes find by "shadow" of object. They're also interactive. Puzzles: There's also quite a few puzzles. Some new ones at least I've never seen them in other games I've played along with well known ones. Just to name some: Swap pieces to form a picture, get the chain lock out of the maze, swap the marbles from one side to the other. Hint/Skip take about a minute for charge up. Hint not that helpful outside of HOS. Just tells you that you are finished in the current location at least for now anyway. There is a transporter map which comes a few minutes into the game. The orange areas you can travel back/forth however doesn't indicate if there are things to actually "do" like some games will put an exclamation point indicating something can be done there. The gray areas can't go to those just yet. No journal. There are voices overs. My overall impression: For the most part not a very challenging game which is fine by me and having said this I'll admit I got hung up a couple of times on where to go/what to do next but I enjoyed this just as much as the other Strange Cases games. The story while yes it's been done before but I thought it was well told with twist & turns. Definitely eerie/creepy in my opinion and I mean that in a good way! The graphics I found to be quite good. I really enjoyed the cut scenes. The voice overs excellent. While this game does have a lot of HOS as I mentioned it still has a nice balance of HOS, puzzles and adventure though I wish there wouldn't of been so many "swap the pieces" type of puzzles. I don't much care for these. As for game length exactly 3 hours for me and this is with using the hint a couple of times and skipping a couple of the puzzles. No complaints about game length here. This was long enough for me. It seemed longer than that but I timed it and that's how long. May be more/less for you. Overall 4 stars from me. I really enjoyed this game and more than glad to add this to the other Strange Cases games especially Big Fish having the 1/2 off sale of this game this weekend. Thanks Big Fish for the sale on this game and the developer for a really good game here. As always give it a whirl and decide for yourself!
April 7, 2013
A LOT OF FUN PUZZLES
I don't usually review here unless I have played the whole game and this is based on demo alone. I completely enjoyed this! It has everything I look for an Adventure/Hidden Object Game. Great storyline, fun and unique mini games, interactive HOS as well as map and a hint that works outside the HOSs! It keeps you moving along and isn't so difficult as to frustrate you! The only downside is the graphics can be a bit grainy at times and the voices ,although well done, do not match the mouth movement at all. That made me giggle so in a way is a good thing. GOOD GAMING!
April 6, 2013
Not too bad
Finished the demo and then bought the game. Not the most challenging game but that is okay with me. Sometimes I don't want a game that is too hard. This one is relaxing. There is plenty to do in this game. Items are mostly easy to see in the hidden object games. I say go for it!
April 6, 2013
another good game in the series
played casual. low sound-what you would expect. hint/skip charge fairly fast. follows along like the others. in this one you are trying to rescue a girl that has been taken by an evil man. a detective is helping you. hints hand-hold you through it. there is an interactive map that will jump to where you want to go once you have been there. it also shows where there is a point of interest. surprise ending. i am sure there will be a sequel. there so far has been. i didn't really like this one as much as the others.
May 13, 2013
Loved the entire series
Who would have thought I like being an investigative agent or that I had it in me. I really like all the games in the Strange Cases series and had only trouble (may need to get the strategy guide) for one and that is Grey Mist Lake which I think is my favorite-don't much care for the modern fare (go figure - I'm a "period" grandma - older the better). But getting through the trials was a breeze and hated when they were over so they go in my personal book of "reviews" of what I want on a scale of 1-5 they rate high. The only problem I had with this particular game in the series - while in Sarah's garage - I am a girl's girl - I have no clue what a clamp handle looks like and the walkthrough available didn't like so I had to quit playing before the time was up and may not get this one because I don't want to spend hours looking for it. Otherwise, great series of serious investigative work!
April 21, 2013
Enjoyable Game
After finishing the demo, I purchased this game and enjoyed playing it very much. I liked the story line and really did not find the background all that grainy as some have. I thought setting it in an abandoned mall enabled a variety of different locations (dress shop, cafe, book store, etc.) and was a great idea. The gameplay and storyline were just challenging enough to keep me interested without being so frustrating that I had to resort to help.
April 6, 2014
The Apple logo is a trademark of Apple Computer, Inc.
The Windows logo is a trademark of Microsoft, Inc.