Strange Cases: The Faces of Vengeance
Exclusive
FBI Agent Claire Ellery is grasping for any clue she can find about her missing ward, Anna. Strange tarot cards were found at the sight of her abduction, but the kidnapper has remained strangely silent, until an unmarked envelope arrives addressed to her. The clues will lead her straight to the heart of the criminal's hideout, in the abandoned Mercury Shopping Mall. Unfortunately for Claire, this masked kidnapper is always one step ahead, watching her every move. Who is he, and why did he kidnap Anna? Navigate the corridors of his deadly traps in Strange Cases: The Faces of Vengeance, a thrilling Hidden-Object Puzzle Adventure game!
Join Agent Ellery on an exciting case
Who is this masked criminal?
Game System Requirements:
OS:

10.8/10.7/10.6

CPU:

1.6 GHz (INTEL ONLY)

RAM:

1024 MB

Hard Drive:

427 MB
Game Manager System Requirements:
Browser:

Safari 4.0 or later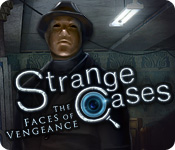 NEW299
The Big Fish Guarantee:
Quality tested and virus free.
No ads, no adware, no spyware.

Reviews at a Glance

Strange Cases: The Faces of Vengeance
0
out of
5 (
0
Reviews
Review
)
Customer Reviews
Strange Cases: The Faces of Vengeance
36
36
HO'S Plenty!!!!
Playing this game. Took a few minutes to right, this review. Most of us have, different views on games. I am enjoying this one for sure. Glad I had a free game. I would purchase even if, I did not. I love love at lot of HO'S give one surly does. Give it a try.
April 12, 2013
Ok, so maybe not the best...
I've played all the Strange Cases games and liked them all! They're not really mind-numbingly complicated nor mind-numbingly boring and I did actually have to use the hint button and reference the BF strategy guide more than I thought I'd have to. All in all, I enjoyed this. My game ran a little "jerky" but not so much as to make it just a tolerable annoyance. The storyline made sense, just enough interaction to keep it interesting and the HO's and puzzles were fairly challenging - some of the puzzles were downright hard! I really like the clear graphics...I don't much care for the cartoonish, "dreamy-looking" graphics on some games and, honestly, don't buy them for that reason. The only complaint is maybe it isn't quite as long as I'd have liked, but I'll definitely buy the next Strange Cases game!
April 12, 2013
Twists, turns, and lots of creepy mannequins
I like a good mystery, and this one wasn't bad. With the gamee setting in a decrepit abandoned mall that still had living potted plants, working equipment, and merchandise still in the stores, this would have been a teenager's fantasy. (I bet the devs have teenage kids, huh?) I didn't really understand what the tarot cards really had anything to do with the game, but, they made a bit of a red herring.
April 12, 2013
Pretty Good Game - Stupid Ending!
Just so you know, all my reviews are on the COMPLETED GAME. Two levels of challenge. Graphics are good - tolerable. This seems to be an older game, judging by this alone. Very 'cartoonish'. The voice-overs are fine; you only hear them talk, [the cartoon factor]. There's an interactive map, & it's imperative that you use it. There's a lot of bouncing around in this game; from one floor to another, inside/ outside. So take advantage of it or you'll be forever walking around. The gameplay on this is average. I got tired of going to the same HO areas time after time! I think it's 3 times per site, so it gets a bit redundant. The mini-games are so-so. There's not much challenge to them, & they are pretty easy to figure out. The game only took about 2 1/2 hours to play. I couldn't believe how stupid the ending was! You get all geared up for a big show-down with the bad guy &.... pffft! It could have been so great, instead it was a huge disappointment. What were the developers thinking?! As far as re-play value, I'd say it's pretty low. With it being so simple to figure out, it would be way too easy if you played it more than once per year. I will recommend this game, but be aware of the simplicity of this game. It was enjoyable, & a bit fluffy at times. It could've/ should've been much better.
December 11, 2014
Great Game - But A Little Short
Good Graphics & Sound ... And Some Nice Finishing Touches ... Very Good Story, Concept & Delivery ... Some Creative Puzzles And HOG Game Variations ... An Extra Hour Or Two Of Adventure In The Game Play Would Have Been Nice Rather Than Bulk The Time Out With The Puzzles ... I Used Up A Free Game Voucher ... I Am OK With That, But I Would Have Been Better Waiting For A Special Deal ...
April 12, 2013
Average Game. Not really appealing.
At first the game seemed interesting but has too much talking and little to do. Game is not bad, but lack a lot to reach the level of current games. Claire and Tom must save Anna, a girl who was kidnapped. Graphics are well done, excellent VO, calm music. Three play modes. Interactive HOS, and first you have to find a tarot card containing the objects to be found. No penalties. Some new mini games, some known. Game is not really challenging. It has a interactive map, and no journal. If you have nothing better to do, try free trial.
April 6, 2013
A DEMENTED KIDNAPPER
I would in reality give this game a 3 1/2 stars because it really isn't bad, it just isn't as good as some of the current games out there and the bar has been moved up a little. A demented man has kidnapped young Anna to lure Agent Clair to save her. He has her in a cage at an abandoned mall that he has rigged with hidden cameras and dangerous traps to test her skills....but why? What has Clair done to this crazed kidnapper? The game itself has a good plot, good graphics and voiceovers, three modes to choose from and a map for traveling with stars for areas of interest. However there just isn't enough to do in my opinion and the tasks you come across are so obvious that it becomes almost boring. The HOS are well done, you must first find a taro card before you receive the list of items. They have interactive parts where you also use inventory items. Mini games are simple switch the red buttons to the top and the blue buttons to the bottom etc. I'm just on the fence with this game, I suggest trying the demo before purchasing.
April 6, 2013
Too expensive for the duration! I'm kind of disappoitned! :(
I was really ecxited when I saw that a new "Strange Cases" game was out as I really enjoyed the other games. However, this game was a lot easier than the others - too easy and not challenging at all as the puzzles are not diversified and almost the same all the time. They also lack creativy. In addition, one needs only 2 hours to play through the whole game and in my opinion this duration is far too short considering the amount of money it costs. :( All in all I was fairly disappointed by the game - it's nothing compared to the other "Strange Cases" games. If you want to play a great game in the same style, I recommend the previous "Strange Cases" games or the "Ravenhearst" games - they are quite challenging and from long duration. :)
April 24, 2013
Excellent if you like HOS
Played demo in advanced mode skipping dialogue and cut scenes with music/environment sounds muted. Very good graphics, lots of interactive HOS and a few easy puzzles. Excellent game if you like HOS. My ratings are based on my preference for puzzle adventure games with more challenge.
April 6, 2013
A LITTLE MYSTERY BUT ALSO A LITTLE DRAB FOR MY TASTE
Plays on widescreen. There are 3 modes of difficulty and 3 volume controls. You also get a map. Nicely done game. STORY: What is the purpose of the mysterious doll of Claire (our investigator)? Who kidnapped Anna, the daughter of Claire's partner? You have to follow the tarot cards to find Anna and you find that you and the detective accompanying you have to split up when he is trapped by the villian. GAME: Is easy to determine what you need to do and where to go. The tarot cards will give you direction. Nice voice overs. Well-done graphics, although some of the locations are on the drab side. (I'm tired on drab.) I expected feeling of intriguing mystery as the story unfolded, but didn't get it. Although the story is solid and nothing is wrong with it - guess it's just me. HOS & PUZZLES: You have to find a tarot card before you are given a list or shapes of objects to find for each HOS. The HOS are adequately drawn, but I also felt too many of them were a little drab. Puzzles are easy to moderately challenging. Proper amount of HOS to puzzles.
September 15, 2013
The Apple logo is a trademark of Apple Computer, Inc.
The Windows logo is a trademark of Microsoft, Inc.