Tiny Token Empires
Tiny Token Empires offers a hilariously unique mix between Match3 and turn-based strategy game styles. You will play as one of the five major ancient empires: Rome, Greece, Egypt, Persia, or Carthage. By developing cities, training armies and annexing new territories, you will gradually expand your power over the world! Wisely utilize special tokens in each battle, explore locations ridden with treasures and special items, and obtain super powers for your heroes or generals! Have a blast and laugh along with this crazy, comical universe as you discover goofball gods, super cute mythological monsters, clown legionnaires, and much more. Play your way through five campaigns, or skip directly to the free mode that allows you to choose your enemies and conditions of victory!
Unique mix of strategy and puzzle
40+ trophies to unlock
Puzzles, battles, digs and more!
Game System Requirements:
OS:

Windows XP/Windows Vista/Windows 7/Windows 8

CPU:

2.0 GHz

RAM:

1024 MB

DirectX:

9.0

Hard Drive:

258 MB
Game Manager System Requirements:
Browser:

Internet Explorer 7 or later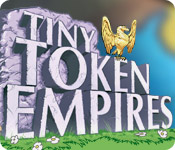 NEW299
The Big Fish Guarantee:
Quality tested and virus free.
No ads, no adware, no spyware.

Reviews at a Glance

Tiny Token Empires
0
out of
5 (
0
Reviews
Review
)
Customer Reviews
A True Challenge and Lots of Fun
This is my first time with a Turn Base game. It has very good humor that makes it fun. A very helpful tutor character helps learn the basics. I really needed that too. there is a learning curve here. It is a lot like Risk with moving armies to win territories and build new armies. The combat phase is very new and challenging. I played the demo and decided to buy it and spent several hours unit it was time for bed. Time went by quickly and I was still learning the basics. I think you will enjoy it.
April 29, 2013
Good idea, bad execution
Most of what others have said is true, but not all. If you leave the tutorial and go back to the main menu and select options, you can get the system cursor and change the screen resolution a bit. That helps tremendously. However, the tutorial is slow, monotonous and boring enough that I didn't finish it. Movement on the match 3 is at a snails pace. Dull and boring is the best description.
April 8, 2013
Might have been enjoyable.
I lasted all of 8 minutes. No option to remove the blocky and skipping/slow (massive) cursor, trying to get it _just right_ got me frustrated I was actually telling the mouthy hermit off. (shake my head). The music is... weird, and the resolution way too tiny - maybe I am getting old - shrugs. Its too bad really, it looked like it could have been kinda fun. But frustrating is anything but fun. Hail Ceasar (Salad!) no, I won't recommend it.
April 8, 2013
Could Be Better... Game Phisics Demanding
The text was WAY too Small to read, so the phisics of Gameplay were HARD Mousing was NOT Crisp.. You have to kind of "Hover & Land" the pointer Cartoony Graphics & same music over & over, but the difficulty in Gameplay overshadowed these slight detractions The basic Idea of the Game was ok, but simply Playing it kept it from being Real Fun
April 8, 2013
Could do better
Not a time management game but a match 3 of sorts, this was not my cup of tea, you had to build up armies and conquer countries etc. Didn't like the game play, instructions not very clear, unless it was just me, I played for over half an hour and that was enough. Ok if you like this type of game play, different to the usual from big fish, but not for me.
April 8, 2013
Masochists should love this!
The game seems fun...Until you get to the 3rd Campaign. It is my opinion that the computer CHEATS BIG TIME ON THE MATCH 3 at this level...Want to see some fireworks when the cpu makes a simple match - then BOOOOOOM! - 15 more matches - and BOOOOOOOM! - they attack you! Oh, then you can make one stinking match and then the CPU's turn - WHAM BANG BOOM another 16 matches and you DIE! Here's the cheats - they don't help on the match 3 - zeushelpme - 5000 gold - givemefive - 5000 points - fromhell - get mythological troops. I flew through the beginning and now I am facing a vertical cliff!
April 26, 2013
Wouldn't even play it for free!
I rate this game a one out of The whole hour demo was spent on the tutorial. The cursor was a floater and hard to control except in the M3 part. The 3 of 60 rounds was still tutorial and it's like the game was telling you what you had to do. I wouldn't even use a PCC on it. And if you made a mistake, you either get this 'wakey, wakey' or get called dum-dum. Some people might find the dum-dum part funny but I didn't. Game Play: Reminds of a Risk clone except for a short M3 thrown in. Story: From what I could gather, you have to conquer countries. That's all I could gather. Graphics: So-so. Cartoon characters. I've seen better in concept art. Music: That was o.k. M3 board: 1, 2, 3, and it was over. All in all to me a bad game. No fun factor at all.
April 8, 2013
Not For Me
I almost gave up right in the beginning because of the floating curser. That always drives me nuts. But I gave the demo a chance and played for 30 minutes. I found the directions complicated and hard to follow. The print was also extemely tiny. And then I wasn't really having any fun either. It will be interesting to see if anyone has a differing opinion.
April 8, 2013
Not for me
Could have been fun but missed by a country mile because of the jarring repetitive music, wonky cursor and impossible tutorial. I found the tutorial instructions were difficult to follow - very unclear as to what you needed to do and no way to review them. The supposed tutorial would not allow you to do anything except what it wanted you to do - which would have been fine if I had understood them in the first place. No build up to increasingly difficult game play Match 3 difficult to understand exactly what resources were needed for your team to be able to win.
April 9, 2013
I Hate This Game!
I love match three games... when I don't have to compete with the computer (I always have the feeling that the computer always cheat when I am playing against it). I could not understand the instructions! And being called dum dum is not cool.
April 9, 2013
The Apple logo is a trademark of Apple Computer, Inc.