Ghost: Elisa Cameron
You wake up in a cold, desolate bathroom without any memory of your whereabouts, as a surveillance camera tracks your every move. Can you piece together the mystery and find your way to safety? As Elisa Cameron, you must work to save your sister, your future, and possibly the world. From the best-selling Dark Horse graphic novel, "Ghost", comes a story of supernatural proportions!
Over 50 gorgeous locations
Richly detailed environment and scenes
Solve 14 unique mini-games
Hours of gameplay
Game System Requirements:
OS:

Windows XP/Windows Vista/Windows 7/Windows 8

CPU:

2.0 GHz

RAM:

1024 MB

DirectX:

9.0

Hard Drive:

581 MB
Game Manager System Requirements:
Browser:

Internet Explorer 7 or later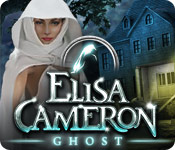 NEW299
The Big Fish Guarantee:
Quality tested and virus free.
No ads, no adware, no spyware.

Reviews at a Glance

Ghost: Elisa Cameron
0
out of
5 (
0
Reviews
Review
)
Customer Reviews
Ghost: Elisa Cameron
62
62
Boring
I play a lot of hidden object games - this one basically just bored me. Really nothing other than an area that lights up with blue when you can do something there, and this leads to a hidden object scene. Very easy. Not fun for me.
April 9, 2013
That Should Do It! LOL! Review Of Completed Game
HOPA - Hidden Object Puzzle Adventure Story: Elisa who is in a somatic state must find out the mystery behind her condition. Is she dead or alive? Two sinister men who are responsible and she must also save her sister. 6 chapters: I was just starting chapter 3 when demo time was up. You can also replay the chapters if you wish. No choice of play mode and heavy on sparkles. Journal which keeps some notes and some clues to solve puzzles. There are voice overs. HOS: Very heavy here. A lot of scenes. Found by word list. They are not interactive. There are some listed in green color and these are the items that are for inventory. Inventory pretty much used right away. Puzzles: Not a whole lot. Nothing new here. Just to name a few: Jig saw, lock pick, and rotate the rings. Adventure: There is some back/forth to this game but not a whole lot and there is no map however not needed as there is no way to get "lost" in this game. Hint/Skip: Quick on charge up. It's about 30 seconds. My overall impression: Well I stuck with this for the story. This started out with some promise with the two sinister men in the opening scene and this is what drew me into the game. I wanted to see where the story was going and how it ended. This game unfortunately went down the hill and pretty quick. The story got overtaken by the clumsy game play meaning you have to click around to find the next area to go which I've played games like this but once I found it well I was able to go no problem. Not this game. If you click about two to three times well the game will direct you in the direction you should be going when there is nothing to do in the current area but I found myself still clicking for the game to finally recognize I wanted to go to that area it's directing me. Game play not smooth at all. Oh and no it's not my computer. All up to date here! This also filled my 20 inch monitor just fine. I didn't have to adjust resolution setting. I also prefer no sparkles but I don't mind if it's just for HOS only but this game was overkill with the sparkles.This even sparkled where to use inventory. Also the bar tips at the top. The graphics for me were really good. Nice and clear. No problems here. Oh and the voice overs I usually prefer those but Elisa here was too chatty for my taste and I found her downright annoying with her constantly saying after you put the inventory where it goes: "That should do it" and the reason for my review title here. As for game length about 4 hours for me and I honestly could of finished this at least an hour sooner than I did cause this game wasn't challenging at all but the game play was so clumsy/awkward so it took me a bit longer. Overall sorry Big Fish and developer but the best I can do for this game is 2 stars. I really wanted to like this and give it a better rating but the game play moving back/forth, the overkill of hand holding sparkles, too chatty Elisa and I also think the story could of been worked on just a bit more. I stuck with this cause it started out pretty good and I thought the game would redeem itself but no it didn't. The story ended on just an "OK" note with me. Nothing to get overly excited about in my opinion. As always, give it a whirl and decide for yourself.
April 9, 2013
Why Won't She EVER Shut Up?
BASED ON THE DEMO (as much as I could bear before I felt myself on the verge of screaming "SHUT UP!" at the protagonist): Story: The protagonist finds herself in a washroom of all places. She does not know how she got there and she is not dressed appropriately. The game goes downhill from there. It is a series of amazingly simple HOS with a tiny bit of story thrown in and a lot of gasping/moaning sounds which are irritating beyond belief. Even worse, if the player clicks on an area, the protagonist repeats everything she has already stated before about that area; over and over like some sort of torture. Her voice is irritating and she speaks slowly. The graphics are very poor and the game play is clunky. I kept accidentally clicking on sparkling areas again and having to listen to the protagonist repeat herself. Instead of muting her I finally left the game as I could see nothing redeeming about it. For example, there is a puzzle at the piano. I had no idea what I was doing other than hitting keys using a code but before I came close to finishing, the puzzle was over and I received my "prize." The fuse box puzzle is so simple that I could not believe it. Surely there must be more to it than that! A five year-old could solve it. Maybe a three year-old! Items in the Inventory are not labeled and are not always obvious as to what they are. The Hint Button doesn't take very long to recharge but the hints it gives are very limited. Yes, I know I need to go there - tell me how instead of just showing the area over and over! There are so many good games out there. This is not one of them. I wouldn't even buy this as a DD. Please try it before you decide. You might like it. I don't. :(
April 9, 2013
Wow, really!
I read the reviews, but always try a game for myself. I may like it when you don't. However, this game left a lot to be desired. Graphics and game play were okay. HOGs simple, games simple. Didn't use the hint button, so not sure how quickly it recovers. The heavy breathing was a bit much. Wondering where items went when you clicked on one in a HOG was beyond silly. The dialogue was very childish and the voice over made this person sound rather boring and stupid. To be honest with you, I think it is even below a beginner level. There was no challenge to the game. Not because there were a lot of HOGs (I happen to like HOGs), but it just didn't have that extra something that makes you want to continue playing. No, I will not be purchasing this game. As always, try it for yourself and see what you think. We all have different tastes in games and you may find it quite enjoyable. Thanks for the reviews.
April 9, 2013
Good Idea, but fell flat
I was really looking forward to a new HOG, but this one really fell flat. It is HO after HO after HO and no challenge. This game reminds me of the old HO games with just a little interaction. The quality of the game is really good, just wish it was more action to it. It was just boring to me. I do Not recommend this game to anybody but very beginners to HO games.
April 9, 2013
Uninspiring...
Based on the trial version, I gave up after 20 minutes. Simplistic and unchallenging, with next to no coherent storyline... Find an object, use it immediately. I found the narrator annoying, and the graphics flat and boring.
April 9, 2013
Much Improvement Is Needed...
This game is nowhere near the standard that other games on Bigfish have set; from the start I didn't enjoy it, although it began to get better, it wasn't enough to make me buy. The storyline is just confusing. Are you dead or not? The title of the game and the opening scene make you think so, but the rest of the game begs to differ? When you meet your sister later on in the game, you need to give her many things to calm her down and make her believe you, one of which is drugs. I mean, come on! Obviously someone will believe anything if you give them drugs. My main problem with this game is the HOS & Puzzles. First off, both the HOS and puzzles were WAY too easy. I breezed through the majority of the HOS and puzzles without needing a skip or hint, and adding to my frustrations, there are way too many HOS! For example, I ended up finishing one and going straight on to another. If you?re going to include that many in a game (mind you I was only on to chapter 3 and there are 7 chapters), at least make them a little more challenging, otherwise, take some out! The graphics were ok. There were a few scenes that were hazy and unclear, and a few that were fine. While not the best graphics, these certainly were not the worst. Although, there were parts of the game that were cut off by the screen. FEATURES - Diary is given to keep track of events. What annoyed me about this though, was that some items you picked up went straight to the Diary and didn't let you read them first - Map is missing - There is something called a ?hideout? which I didn't get to use. - Hint & skip recharged quickly. - The game features 7 chapters. I had finished 2 and had gotten through some of the third when I quit the trial. Overall, as the general consensus states, this really is not a very challenging or enjoyable game. There are quite a lot of things that need to be improved (the clarity of the story for one) and I hope the developers learn from this mistake and make the next one better.
April 25, 2013
Ghost: Elisa Cameron is not a challenge
I wasn't expecting much from this game when I saw there was no level of play option. That in itself was a red flag. The game is years behind what is out on the market now. The plot, "What has happened to me?" is nothing out of the ordinary, and the game leads you around by the nose, practically giving you the answers to everything. The graphics are good, not the best I have seen, but overall, I deleted the demo after about 15 minutes. Die hards will find this game far too easy and better suited for a child or a beginner.
April 9, 2013
Am I dead??
Did I say a couple of other games were wierd? I take it back, this game is REALLY wierd! I never heard of the game makers, but if it would've been a decent game, that wouldn't have mattered. The HO's were too easy & the graphics were blurry in some spots. I could only play about 20 minutes & I got out of it. This is a definite no buy for me!
April 9, 2013
Yawn....
Really like to give games a fair chance when I play the demo and review them but unfortunately I didn't make it too far into this game. The game (the time I played it# plays like a tutorial which is VERY annoying, it even tells you to follow the arrows to go to differenct locations. The HOS were very very easy and so was the one mini game I played. The character talks ALL the time #or so it seems!) and the dialog comes across also in a text box. You had no choice of play mode so you can't make it more challenging. Some may like this game but it just wasn't for me.
April 9, 2013
The Apple logo is a trademark of Apple Computer, Inc.