Criminal Investigation Agents: Petrodollars
Step into the shoes of investigator Frances Keegan and track down a tax evader suspected of murder! Frances is relentlessly pursuing Klaus Fredricks, who has been under constant surveillance ever since he was suspected of murdering one of the agents' colleagues and friends, Eric Ward. As a specialist in the oil industry responsible for tracking down tax evaders in three-piece suits, you know the financial world, spy techniques and on-site investigations like the back of your hand.
Stunningly realistic animated scenery
Zoom in and move around scenes easily
Several mini-games and puzzles
Game System Requirements:
OS:

10.8/10.7/10.6/10.5

CPU:

1.0 GHz (INTEL ONLY)

RAM:

512 MB

Hard Drive:

99 MB
Game Manager System Requirements:
Browser:

Safari 4.0 or later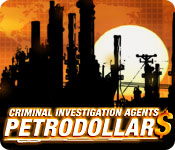 NEW299
The Big Fish Guarantee:
Quality tested and virus free.
No ads, no adware, no spyware.

Reviews at a Glance

Criminal Investigation Agents: Petrodollars
0
out of
5 (
0
Reviews
Review
)
Customer Reviews
Criminal Investigation Agents: Petrodollars
28
28
criminal investigation agents: petrodollars
excellent i played the 60min game it felt like i had only been playing for 10min got so into it
October 14, 2014
Am I In A Time Warp?
Can somebody explain to me if this is the year 2013 or 2014? This was supposed to be tomorrows game today but there are reviews from 2013 so does that make this tomorrows game, todays game or last years game? I have to lean to last years game because the click, drag, and zoom scene of yesteryear has been booted to the curb, and for a good reason! Agent Eric Ward has disappeared, 9 months ago (that's it! agent ward has been found since last year and thats why this game has been brought back, so we could get closure!) to be exact. Eric has been presumed dead, and his colleague Frances Keegan is investigating a case that seems to be linked to to Eric's case. As an agent of the American Federal Tax Bureau, one of your jobs is to apparently dress up like a "lady of the night" and work undercover (pun intended) to get more information without being recognized. This game is old school, you will be given items to find, either one item at a time, a list of items or several items of the same kind to search for in a room by clicking on the screen and then dragging the screen around to assimilate a 3D effect, you can also scroll to zoom into a section for a closeup. There will also be hidden stars that will appear out of nowhere and you need to collect them for extra clues, a total of 99 clues is the maximum ( couldn't we have 100?) There are also minigames such as swapping and rotating tiles to complete a picture, there are 3 different controls that you switch, one for swapping tiles, one for rotating pieces and one to rotate the entire puzzle. I'm not a fan of this type of game, in my opinion the story isn't in depth and the tasks are mundane at times, not to mention I get tired of pulling my screen all over the place looking for unidentifiable objects.
October 14, 2014
New And Improved HdO ? Says All You Need To Know
BASED ON DEMO Well, it?s HdO, a series and game style I absolutely hate, but I was so impressed to find it rereleased, complete with horrific reviews calling the game ?outdated?, written (did you notice?) in April 2013! So I played the demo ? all of the demo! I was cut short by the timer! And I still can?t tell you what it is that kept this jaded old reviewer so absorbed. For those who haven?t had the dubious experience of playing previous HdO games, they all have a feel that is theirs alone. They look archaic. The game play is classic iHOG, little to no animation, find the items in the location ? not junk piles, small items, photo-realistic graphics, no choices of difficulty for the main game (will come back to this), no voiceovers, a lot of unavoidable talk, and a tutorial that really got in the way. No choices for the next move. Its unique features, which is why this style of game has its fierce defenders, include a parallax view (picture is bigger than the monitor, so you can move around in it, use a zoom-in option and such, to create a kind of 3D effect in otherwise boring and inanimate locations. Likewise, the story treatment is sort of realistic, in the sense that it is based in the here and now, no swords or magic potions to find, and has a logical progression. Nothing is technically difficult about the game, HOPs are challenging mainly because the items are often small. The puzzles are not new or difficult ? except you arrogantly don?t pay attention to the puzzle?s instructions, because there?s no going back, and there is 3 minutes to wait for skip! No map needed, you can?t choose the next move. There is an archaic hint system that gives you a finite number of hints, but after using one, you can wait for 1 minute for the base one. You can collect ?hints? by finding stars in each location. Easy peasy to see. There?s a Match 3 puzzle which you do as well, which rewards you with new hints. But there is also a misclick penalty. There is a choice on some puzzles (which are called jigsaws in this game) to opt for the easier version, but you must wait 1 minute for it. So. That?s the game. What? What?s the story? Well, we are after a guy for tax evasion and possible murder ? of our partner of course. So we put a tracking device on one of his colleagues and follow him. We really hate this guy, and we are gonna get him, fair means or foul. Actually, no. We may be the muscle arm of the Tax Bureau, but we?re not totally without morals! Hee hee. COMBINED IMPACT Well, heck, I just don?t know! It is the same as every other HdO game, and should totally appal me, but it didn?t. It is the kind of one-off, never play it game, except that one wet wintery day when it suddenly seems to be the right game for the mood. Or as a cult classic. Or for HdO fans, a new and much better technically game from the series. Which means there are people out there who are going to love this game. But it probably won?t be you.
October 13, 2014
Strictly an HOG Game.
There is no story line. NONE. These police are suspicious of someone for something and, therefore, an undercover investigation ensues. Graphics are good but NO voice overs. Everything is "click and read". It's just too much reading. Gave me a headache. There is NO choice of difficulty that I could tell. No diary, notes or map. You DO get a series of items to use such as a camera, flashlight and binoculars. HOGs. This is an HOG (hidden object game) game. In every scene you're looking for pieces of clothing, "x" number of files, etc. The few mini games were match 3, find the pairs and several that would have been fun IF there had been instructions. This game has no flow or consistency to the story. I had no idea what I was doing and/or why. There was also too much "click and drag" for my old hands and I got a cramp. Many of the mini games did not have any instructions - AT ALL. For these reasons and more, this game is not a purchase for me. If you're interested in a truly incredibly easy investigative game you should definitely try the demo. I recommend it for beginners only. Intermediates and Experts would get incredibly bored. Enjoy!
October 13, 2014
Do not waste your time!
To investigate the disappearance of an agent, you will play a classic (boring) HOS. No cutscenes, no VO, no skip dialogues (and has too much dialogues). HOS - different objects - appears only one name at a time, or several of the same object - 24 screen off /13 files, etc. It has stars in the scenes - they are hints. Nothing challenging. Mini games well known and easy, like puzzles and match 3. The game is extremely easy! Nothing appealing or challenging.
April 10, 2013
Hoh Hum
pros graphics are crisp and clear cons no vos music annoying ambiance was lousy no tutorial hos was the whole room one after another limited hints, altho there are stars to collect but since there was no tutorial it was an accident i found them. personal thoughts i could not get this off my computer fast enough...only 9 min i was very disappointed in the game i did not expect hand holding but this was too much idk how to explain it except i would NOT waist any money or even a pcc for it...but ik there will be ppl who will absolutely love this game...don't let my review stop you from trying it tho.
October 13, 2014
Absolutely awful - 1.5 stars
The graphics are not of the highest quality and have the same appearance of games made several years ago. The art style is photo realistic and somewhat cluttered. The music has a pointless crescendo motif and is on a fairly short repeat so it became annoying. The atmospheric sounds are minimal but what there is doesn't really match well with what is going on in the game. There are no voice overs. The story line is severely lacking in any kind of character development and plot development is pretty thin also. You play an investigator whose partner was murdered. This basic theme could be developed into something interesting but, unfortunately, the devs chose not to go that route. Instead you spend your time doing mundane things like getting dressed for work, searching for your phone, and turning on computers. Interspersed with these activities is some of the most banal dialogue I've ever seen in a HOP game. Game play involves being given an instruction to find something in the current scene. You find it and another instruction appears. This goes on for awhile and then the scene changes or you're treated to some of the boring dialogue. There is also the occasional dull puzzle. Nothing is difficult to find but having the list painstakingly delivered one item at a time is quite annoying. You return to the same scene over again which, given the lackluster appearance of any given one, is very unfortunate. You can move your viewpoint of the area but the panning you can do is so minimal I don't see why the dev bothered with this feature. This game is in the style of an older HOP game. Unlike the greats of that genre this game has no charm, no cleverness, no humor, no creativity, and no soul. Playing it is, quite simply, a very boring and joyless experience. I'm giving it an extremely generous 1.5 stars because, while it is absolutely awful, at least it isn't offensive.
October 13, 2014
Pain to play!
This game looks good, and that's what the two stars are for. It is basically a pain to play...characters shoot in and out from the sides and then you read the dialogue. Everything takes longer to do than is necessary and the story line is goofy...look out, the tax dept is tracking non tax payers! It looks and plays like a 2008 game with better graphics.
October 13, 2014
Tedious
I agree with everyone else. It is outdated, too easy and no fun. Not sure what the developer even wanted, why even bother.
October 14, 2014
Good concept, poor execution.
The storyline is good. Forget the rest. This game looks and feels very 2005. It has the flat, cardboard characters that pop in while you read the dialog. Very awkward for 2014. And it's junkpile after junkpile. As well, it only presents ONE thing at a time on the find list, mostly the heroine's costume items. And if there is anything I despise, it is dress-up games. HOs in other locations are the find x number of whatevers. No glitches, play was smooth. But please. I really liked Mysteryville back in 2005, but I don't think I'd like it now, and I certainly don't like this one, either. And the music is AWFUL.
October 28, 2014
The Apple logo is a trademark of Apple Computer, Inc.
The Windows logo is a trademark of Microsoft, Inc.