Gardenscapes 2
Gardenscapes 2 takes the unique experience of the original Gardenscapes to a completely new level! The garden at the estate where Austin was born and grew up in is in a pitiful state. Rundown and neglected, it is waiting for you to come and restore it! Accompany Austin to the place of his childhood, meet his parents, and collect the old photos and other memorable things from his past. Run sales of the old stuff found around the house to implement the original decor ideas of your own! Help your good old friend bring the family garden to bloom again in this brand new hit from Playrix!
80+ HO levels
60 outdoor decor items!
Customizable 3D characters!
Complete a family photo album
Game System Requirements:
OS:

Windows XP/Windows Vista/Windows 7/Windows 8

CPU:

1.0 GHz

RAM:

1024 MB

DirectX:

9.0

Hard Drive:

819 MB
Game Manager System Requirements:
Browser:

Internet Explorer 7 or later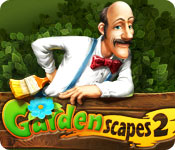 NEW299
The Big Fish Guarantee:
Quality tested and virus free.
No ads, no adware, no spyware.

Reviews at a Glance

Gardenscapes 2
0
out of
5 (
0
Reviews
Review
)
Customer Reviews
my Fav HOG series
I love this series I have them all ! I was disappointed in Austin's attitude ( so very testy ) I normally get a kick out of him . Other than that the game was ok . I hope the next one is a bit more challenging
January 11, 2014
More GOOD fun !!
I liked this game's graphics, hos and the butler. very nice game.
May 20, 2013
A Very Nice Change!
These days, most Hidden Object Games are also adventure games and/or have dark, dreary storylines where somebody goes missing, is murdered etc, etc. This is not the case with this game. It was really nice to play a ?happy? game for once, with nothing to do except find Hidden Objects. I actually surprised myself with how much I liked it! Gameplay is very challenging, because some of the objects are hidden very well and hints are limited (you start off with 3, and then have to find more. Hints included: Thermometer hint, camera hint and regular hint. There was no time on the game, so everything was very relaxed and enjoyable. The game has upgrades which are purchased with the money collected after every Hidden Object Scene. The gameplay was very simple, and as stated before, very enjoyable. The game puts your name in to the story (though it is used briefly) and you also get to name your dog once you have bought a kettle for it. The graphics are done very well, and are improved greatly from the last game. The artwork is done well and they are modern and very clear. It seemed like a 2013 game. The whole story is you are visiting your parents (as Austin) for the first time in a long time, and your aim is to restore the garden among other things such as finding photos from the photo album. While this story doesn?t win the ?Thriller of the Year? award, it sets up the game nicely, and you have a good idea of why you are here doing what you are doing. FEATURES - Achievements. There are quite a few achievements, and some have more than one level. - A screensaver. - Photo Album (unlocked some point in the demo). You must find photos in various scenes to reassemble the old photo album. - Upgrades. Upgrades start from $50 and are used to restore your garden. For each type of upgrade there are three items to choose from. - Hints. There are different 4 different types of hints - Camera Hint: For a brief moment, all items you need to find are displayed on the screen. This is very useful, but blink and you?ll miss it. - Magnifying glass hint: Very useful, lasts the longest out of all hints. You run the magnifying glass over items, and an item will bounce if it is one you need to find. Lasts for 3 items. - Thermometer hint: Also useful, but to use you have to move your mouse around until the box turns red. Takes time to use and is only valid for a limited time. - Question Mark Hint: Classic hint; makes a ring around the item you need to find. You start the game with 3 and must collect more. Question marks can be found in various scenes, and often, there is more than one. I was a bit reluctant to try the game at first; having hated the last Gardenscapes, but this was really enjoyable. I was 6 minutes away from finishing the demo when I stopped playing. This will definitely be a nice addition to your collection. Strongly recommend even if you didn?t like the first one!
April 30, 2013
Cute fun game
This game was a lot of fun. The characters were believable, the dog was really cute. Finding gold coins, question marks, cameras and thermometers added to the locating of the other objects in the scenes. It was fast paced and the items were not hard to find. Then take the money you earn and redecorate the yard. It's not for everyone but had a good time playing the demo.
April 11, 2013
Love it
Great game I played all of them and I really enjoy it :)
April 10, 2013
OMG-he's watching you.
Cool updated version; better than the first one. Bigger money, more to lose quicker; so more challenging. The comments he makes are a hoot too. But the thing that is freaky is the fact that the "game" knows how long you've been gone-overnight or for a few days. NSA worries? This game is WATCHING you. LOL Weird. Good fun though.
October 19, 2013
Great Game
I thought it was a great game. It had a good length to it. A little repetative but still fun!
September 12, 2013
Same old same old....
This like most sequels is just a continuation of the first game. Yes the storyline is different, but the actual game-play is the same (even down to the bonuses), if you liked the first game and want to in effect play it all over again with a slightly different storyline then go-ahead, personally after purchasing the first and playing this as a demo, I don't think it is sufficiently different to warrant me to spend either cash or a game credit. The graphics, sound etc are all as the first and this game does not bring anything new to the mix (that is not to say this is bad as these were good in the first game), the level of challenge is also same as the first. This is not good or bad just more of the same of the first (like most sequels are), if you have not got the first and like this 'junk yard sale' genre then try it as you will probably like. I personally always purchase the latest in a series as I think games should (in theory) improve with age, however I got the first game when it first came out and there is nothing in this game to convince me to purchase this. I say no to recommending this game based on the review above, however if you have not got the first or like it so much to want to 'carry on' then yes the game is a good solid extension of the first.
April 15, 2013
Not as fun as the first installment
I really enjoyed the first Gardenscapes so looked forward to playing this outing. Sadly, despite some technical improvements it just doesn't hold up as well as the first. The biggest complaint I have is the music. It's better than the dreadful stuff in "Mansion Makeover" but doesn't measure up to Gardenscape 1. If I'm going to invest some time into hunting for objects, I want to have some good music in the background. Gardenscape 1's was great and the fact that the music changed with each room added variety. The garage theme even got me rocking. But this new chapter has clunky dull music. The HO scenes are really the same as the first so why bother buying a new game? The value of these straight HOG games is that replayability since the scenes are ramdomized. This new version has some fun features, such as the mild scolding you get if you don't play for a few days and the photo album. But outside of that it's high on corny and light on entertainment. If you own the first Gardenscape, just play it again, rename the dog and save the money.
July 21, 2013
Gardenscape 2 was a disappointment to me.
The game was a disappointment to me. I really liked the first Gardenscape and looked forward to this one. IMO the hidden object part of the game was very well done and I really enjoyed it. Decorating the garden was awful. The choices were ugly. The statues, the fountain, the lounger and even the flowers were very poorly done. I noticed even the butler had quite a few rude remarks to make. Wonder if someone was angry when they made this game, it seems like it. I recommend this game for the hidden object if you don't care what your garden looks like when finished.
July 6, 2013