Gardenscapes 2
Gardenscapes 2 takes the unique experience of the original Gardenscapes to a completely new level! The garden at the estate where Austin was born and grew up in is in a pitiful state. Rundown and neglected, it is waiting for you to come and restore it! Accompany Austin to the place of his childhood, meet his parents, and collect the old photos and other memorable things from his past. Run sales of the old stuff found around the house to implement the original decor ideas of your own! Help your good old friend bring the family garden to bloom again in this brand new hit from Playrix!
80+ HO levels
60 outdoor decor items!
Customizable 3D characters!
Complete a family photo album
Game System Requirements:
OS:

Windows XP/Windows Vista/Windows 7/Windows 8

CPU:

1.0 GHz

RAM:

1024 MB

DirectX:

9.0

Hard Drive:

819 MB
Game Manager System Requirements:
Browser:

Internet Explorer 7 or later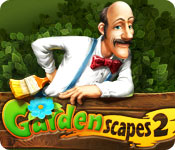 NEW299
The Big Fish Guarantee:
Quality tested and virus free.
No ads, no adware, no spyware.

Reviews at a Glance

Gardenscapes 2
0
out of
5 (
0
Reviews
Review
)
Customer Reviews
Awesome HO for anyone
Lighthearted HO with great story, easy to find objects that make sense, achievements are a great addition to this wonderful series.
April 10, 2013
Gardenscapes 2
Please see my reviews of "Gardenscapes" and "Gardenscapes: Mansion Makeover" for the basics on this series' gameplay. Just as delightful and amusing a game as the previous installments! Plot: Austin the butler #your guide from the previous "Gardenscapes" games# has decided to return home to visit his beloved parents, only to find that their once beautiful garden has fallen into disrepair. This shouldn't be a big problem, seeing how well Austin's idea of a "jumble sale"--collecting junk from the family mansion's numerous rooms and selling it--went over the last time. You're to hold these sales and take personal requests from various customers while Austin and his dad work on getting the old car up and running again, just in time for a nice surprise for you! Yet again, gameplay involves searching the rooms for various hidden objects which you sell to your customers. Again, there are hidden coins in the rooms, plus you perform small repairs for Austin's parents. There are three choices for each garden upgrade, a family dog you can name #once more I bestowed upon the poor thing the name of "Foofy"#, and photos that give you a peek into Austin's life growing up. The pictures are collected in an album you can browse between rounds of selling and upgrading. Also in between sales, you get to watch Austin, his parents, and the dog interact with each other #and the environment# in the garden. Keep your eyes open for when Austin exercises or dances to his favorite music...it's hilarious. Oh yes, there's also a bit about Austin entering a pool championship, though it's given relatively little time in the game. The graphics have received an upgrade themselves since the last time; for some extra amusement, observe the reactions whenever you give the customers their desired items, and click on them while they're waiting to see what they do. There's a rather fussy-looking lady, and an old man, who wiggle their hat ribbon#?# and ears in delight...so cute. #There's even an alien!# Though I was always wondering why the mysterious trench-coated man without a face was looking for the items he was... o.o Austin even keeps track of how long you've been away, and what times of the day you tend to play at...when I'd start up the game he'd greet me with such things as, "It's been almost three days!" and "Do you always play at night?" #I admit that unnerved me a bit, ha.# Unlike the previous games, this one has achievements! These alone are rather humorous, such as the "Everybody Dance Now!" award. The three-star achievements can take quite a while to earn, which gives you incentive to continue playing even after you've finished the main game and completed all the upgrades. Oh, and "upgrades" this time also refers to the characters' clothing...even the dog's. I actually played the game twice, as I experienced a possible bug the first time following the cutscene with the car; I was supposed to take a family picture, but was given no option to do so--I merely saw the family waving in the garden, and there was no menu and no way for me to interact with them. I don't recall seeing the viewfinder, either. I had to do a Control+Alt+Delete to exit the game, and forfeited taking that photo...on learning of my mistake, I started the game over, and the second time around this part played through properly. I'd thought that was the game's end due to the cutscene and was perplexed that I hadn't gotten to finish gameplay! So I'm not sure what caused the lockup. Additionally, during the second playthrough, I experienced several crashes whenever trying to collect coins--the game simply closed without warning--but I avoided that by collecting some items first, then the coins, plus that bug cleared up after about a day. There are also very occasional ADVERTISEMENTS when you enter the garden...a large popup for other games from this developer, telling you you can earn more coins if you review one of their games. That was pretty jarring and borderline Spammy IMO #you make enough money on the sales to not need to take this request--and what if you've already reviewed the games?#, though it was easy enough to get rid of these offers by declining them. Still, rather a strange and inappropriate way to gain business. :/ In addition to the other two games in the series, there are the semi-related games "Farmscapes" #a match-3# and "Barn Yarn" #much the same as "Gardenscapes," only with a farm setting#. These are from the same developer and the characters even cross over a bit. I blush to admit that nearing and at the end of the game I was smiling like silly, feeling so happy to be helping out Austin and his family. This is a feel-good game from start #depicting Austin happily on his way to meet with his family# to finish. I definitely recommend it. I obtained my copy of "Gardenscapes 2" as a direct download through an online retailer. The game folder takes up 613MB on my hard drive. I ran this game on Windows 7 with two possible bugs/errors #the "lockup" following the car cutscene, and the game crashes while collecting coins, mentioned above# but no other problems.
June 25, 2014
gardenscape
i like gardenscape because the games is very interesting and
November 5, 2013
An Entertaining Addition
It's common for developers to create additions to popular games that don't live up to the original. This game is not one of those. Austins parents are fun and the pace is perfect. All new rooms and customers make for fun HO levels. A new garden and decorations make the remodeling so much fun. I promise, you will not be bored! If you loved the first gardenscapes, you'll absolutely love this game!
October 25, 2013
gardening funnnnnn
I love this kind of game just wish that I could get more than an hour to play it
October 20, 2013
Gardenscapes 2 - Fun & Colorful
Challenging enough but not too much, the story line is fun, the parents and puppy are cute. This is a nice break from the usual dark, grim hidden object games. Restoring the garden is a lot of fun. I want Gardenscapes 3 to come along!
October 12, 2013
Fun Game
I loved Austin...he's a stitch! I would have liked a better choice of some of the items, but it was still fun.
July 13, 2013
Gardenscapes 2
is special games....!!!!!!!!!!!!!!!!!!!!!
June 22, 2013
good game
This is a great game indeed!! i like this one better then the first game, really is a great game!!
June 18, 2013
awesome hidden object game
enjoy this game would recomend to friends
June 16, 2013