European Mystery: Scent of Desire
Exclusive
Stop a maniac's murderous trail of fragrance and deception in European Mystery: Scent of Desire! You've barely settled into your retirement in the peaceful French countryside, when you receive an urgent request from Paris. Young women are disappearing in broad daylight, the authorities are baffled, and the person responsible is still on the loose! How could any able-bodied detective refuse such a case? Stay on scent of the murderer in this intriguing Hidden-Object Puzzle Adventure game.
Game System Requirements:
OS:

10.8/10.7/10.6

CPU:

1.6 GHz (INTEL ONLY)

RAM:

1024 MB

Hard Drive:

587 MB
Game Manager System Requirements:
Browser:

Safari 4.0 or later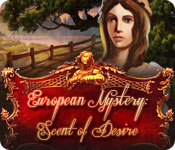 NEW299
The Big Fish Guarantee:
Quality tested and virus free.
No ads, no adware, no spyware.

Reviews at a Glance

European Mystery: Scent of Desire
0
out of
5 (
0
Reviews
Review
)
Customer Reviews
European Mystery: Scent of Desire
51
51
Enjoyable
I like that you can see the HO scenes. Too many games have scenes that are too dark. Why? The object is to find the hidden objects so why do the game designers/programmers make the scene so that even if I max the lightness setting on my monitor I can barely see the objects. Mini-games are too hard/complicated. If I want to play mini-games I'll buy mini-games. And, why are they so long, complicated, and hard now? I never used to skip any mini-game, now I skip most of them.
May 9, 2013
Good story, engaging gameplay
Enjoyed this one quite a bit! Standard HOS, good puzzles - most weren't too challenging, but nothing too tedious or annoying, excellent map with active zone flags, and inventive use of cut scenes. Despite the serial killer plot, the narrative is pretty amusing at times. The scent collecting and elixir-mixing was a nice touch too. Slight deduction for some hokey animations and so-so voiceovers. For those choosing between the SE and CE, the CE adds achievements, some extra objects to find, and a bonus chapter that lets you bring the killer to justice (after you rescue the kidnap victim in the SE). Personally, I think the SE is the better value, but those who really love the European Mystery games should take a look at the CE.
April 13, 2014
Fun
I enjoyed it and it was a decent length.
December 28, 2013
Fun and Entertaining
While I agree with one of the reviewers about the hint button. What should I do here? got really annoying because obviously we need to do something. I played this on advanced and didn't have any problems. An interactive map made life alot easier due to not having to run around alot. The graphics are nice and overall it was enjoyable. Music was nice and the story was interesting.
September 24, 2013
Beautiful game - a bit boring for me.
Loved the well composed storyline, the drawings are beautiful and the challenge is very good. However, being a fan of such games as the Puppetshow series, Mystery Case Files, Agency of Anomalies and Charlaine Harris (btw, a sequel for CH??); I have to say this is a beautiful game, but it never won my heart completely. It's a little too neat and wrapped up, too easy on casual level and has too few scenes. But if you love a feminine game (it's all about collecting scents), and are not easily bored this is your game. It's beautiful, but a bit boring for me.
May 9, 2013
always play the demo...
I haven't actually finished the game yet, and frankly I nearly gave up even sooner than the point I've reached. I bought the same after reading reviews and liked what I'd read. Ok so it's a fairly good HOG with the usual things to find, puzzle out where to put, etc, and scents to create to add to the fun. But WHY did the game creators have to put an identical sentence on everything you look at "I could use something here". Well, doh, yes, I realised that already. In fact I KNOW there is something I could be using, I just haven't found it yet. It's driving me crazy -- couldn't at least there be something like "the bolt is missing" or "it's stuck to the wall". Generally you can see these things from the picture, so it's not exactly giving anything away to be a bit more creative. Any, although I like the idea of the game, in addition to this major irritation it hasn't gripped me so much that I really want to go on. I haven't found any of the puzzles very difficult either. Pity. However, other people obviously like it.
May 10, 2013
A visually beautiful game but ...
I guess I'm the dissenter because other than the graphics and long playing time this game was mediocre. The music is pretty but after hearing it for several hours not so much. The collecting scents was different but not challenging. There weren't as many locations as I would have liked. The map allows you to jump locations and shows where you have something to do. It's not a bad game just predictable and unoriginal. I'm glad I waited for the SE. It seems more & more the game developers are focusing on graphics and not originality. .
June 4, 2013
Pretty pictures, predictable plot
The settings in this game were lovely. I also enjoyed that this was a regular mystery and did not involve supernatural influence like most HOGs. However, I found that the plot was very predictable; there were no surprises. There was some humor, which was nice. The voice acting was terrible though; the voices themselves were fine, but the accents were awful. It would have been better to just have everyone speak with an American accent than to try to sound French. Overall, the game was fun, but not as much as other games I have played recently. Therefore, I am recommending it, but not strongly.
July 9, 2013
Nor the worst, but not the best either.
Wow, I can't believe how many reviews there are just RAVEING about this game like it was the best thing ever. It's not as good as some people make it out to be, unless of course, they haven't played any other games. This game was okay, the graphics were okay, the HOS were fairly simple with some of the games being a bit more challenging. I found the storyline of using fragrances to ie. corrode locks a little far fetched, but so be it. Overall, I was glad I used a game credit for this one.
June 14, 2013
Don't believe the hype...
I really need to start playing demos first before I purchase games. But considering how much people are raving about this game, I went by my gut and decided to get it. What a mistake. I play all HOPA games on expert and usually never have to revert my difficulty setting, but on this game I constantly had to. I went through the first 30 min wondering why every time you clicked on something to investigate it said the SAME sentence over and over. "I believe I use something else here" or "What item should I use?". You never know if you need to repair stuff, replace it, or what kind of object you need to use so you can look out for it. I clicked on a cabinet that was ajar and it looked like it could be opened. I clicked on it and nothing happened and the text at the top of the screen didn't tell me anything. I later found out (from reverting back to the BEGINNER difficulty) that something was blocking it from opening on the inside and I had to use a thin object to pry it open. How on earth was I suppose to know that from just looking at it? Apparently on Intermediate and Expert Difficulty you get those annoying two sentences instead of describing what you're looking at. On Beginner, that's when it disappears and everything goes back to normal, except everything becomes insanely easy when all the sparkling indicators comes back on. Horrible. A custom difficulty setting is very badly needed in this game. Other than that this game was a total snoozefest. It was very, VERY boring. There was nothing exciting about it, I tried to force myself to play through the whole thing but I just couldn't, I was bored out of my skull. The puzzles were ridiculously easy and HOS were nothing special. The storyline is ridiculous. You're playing the role of a detective and yet -- from where I left off -- the culprit manages to kidnap two women AND murder a innocent old man right in front of you. He is able to do so by distracting you most of the time by bombarding you with a toxic gas. Hasn't this guy learned already from the first time that he should maybe keep on his mask that he has on him? Worst. Detective. Ever. The graphics are highly inconsistent. The interface and the main title screen are probably the best graphical-looking things in the whole game. Some scenes in the game look better than others but in general the artwork was uninspiring and nothing special. It wasn't bad, just average. The music, though beautiful initially is EXTREMELY repetitive. There's a song when you're in a HOS, a song when you're in a puzzle, and a song when you're walking around. And it loops over and over. Some variety would have been nice. After a while it got so annoying I turned it off entirely. The only redeeming quality about this game was extracting scents to make perfumes that perform different functions. That was a very unique touch. Do yourself a favor. Try the demo first before you spend your hard earned money.
September 28, 2013
The Apple logo is a trademark of Apple Computer, Inc.
The Windows logo is a trademark of Microsoft, Inc.