Viking Brothers
By the horns of your helmet, this is a Viking adventure you'll never forget! Join two brothers as they set off across a battle-scarred kingdom to drive off savages, restore their land, and search for the magic items that will breathe new life into their once magnificent realm. Interact with captivating characters as you race to complete tasks and reap the highest possible rewards. Gather resources as quickly as you can, and then clear roads and rivers, rebuild bridges and towns, and beat back enemies, earning gold, silver or bronze trophies for your efforts. Explore glorious Asgard, delve into dwarven caves, and slog through soggy swamplands, freeing druids, fairies and fellow warriors as you guide the brothers on their quest. Through 50 levels of rollicking time management fun, you'll learn the heroic ways of the Vikings and experience an epic story of love, valor and legend! Will you take up the cause of the Vikings and restore their world today?
50 levels and four settings
14 characters
Comic book-style cutscenes
Game System Requirements:
OS:

Windows XP/Windows Vista/Windows 7/Windows 8

CPU:

2.0 GHz

RAM:

512 MB

DirectX:

7.0

Hard Drive:

404 MB
Game Manager System Requirements:
Browser:

Internet Explorer 7 or later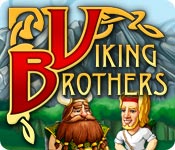 NEW299
The Big Fish Guarantee:
Quality tested and virus free.
No ads, no adware, no spyware.

Reviews at a Glance

Viking Brothers
0
out of
5 (
0
Reviews
Review
)
Customer Reviews
like it kinda cool
it ws pretty cool you can do either one relaxed or time mode. I did the relaxe one till i got the hang of it and to where i can study it better then went on to do the time one.
April 12, 2013
Invasion of the vikings!
This review will not be too indepth as these games have been done a lot before (think any 'clear the path' style of games. I will therefore just go into the differences between this game and others of this subgenre of the TM genre. The game itself is nice and colourful and the graphics do the job very nicely. The game is basically about two brothers. The game is intuitive in that there is no 'empty-handed' syndrome as I call it. By this I mean if the any of the characters are empty handed they can be directed to do other tasks without them having to go back to their 'home' and back out again, (I always feel in other TM games that this is wasteful (not only of my own personal time but of the game-time, and I am sure I have lost out on an 'expert' score because of this (possibly :)), this game doesn't and another bonus is that you can queue up jobs so that when one task is completed the character knows what job is next. This is good as on others the game would not let you do this. Another great improvement of the game was that if you clicked on a building or bridge or anything that needed repairing and you had not got all the resources it would highlight (by blinking), the resources that were required (such as trees if wood was required, or the gold mine if more gold was required), this to me was a huge step forward as it showed in graphic detail exactly what elements were needed, to build the building, bridge etc. Also I liked if you tried to click on something and the path was blocked then there would be footprints up to where the path was blocked indicating what needed to be done to unblock the path. This again was good as on some games it may not have always been obvious what needed to be achieved to clear the path. There were other touches that I felt enhanced the game, but I will leave these for you to discover :) (or to put it another way I sure there will be other things that enhance the game-play I just haven't discovered them yet.:), The graphics are nice and 'chunky' (this is not in a negative, but I mean they are clean and bright and solid), the music is a much of a muchness, but I guess does the job (as I have said before these games are not necessarily played for their soundtrack). This game for me is a definite keeper, I have loads of this style of game but there is always something slightly different in them that makes me want to add others to my collection. I wholeheartedly recommend this game. This is the 'clear the path' style of TM that is popular on Bigfish.
April 21, 2013
cute fun
it is a bit distracting at first to have the two brother characters moving around on the game board because they don't really do aything except 'supervise' the workers. otherwise, it is a fun game.
June 30, 2013
Road clearing resource & time management
Starts off easy and increases just the right degree of difficulty with each step, If you like My Kingdom for the Princess you will enjoy this too.
April 26, 2013
The game
It is an ok game as far as this type of game goes. I wish the graphics were better. It is fun. Not a waste of money if you like this form of game.I bought it. It just had the potential to be so much better.
April 12, 2013
Relaxed Mode? I don't see it.
I downloaded this game because of another reviewer who said they played it on "relaxed mode". I don't see that as an option. I am waiting for a TM game of this ilk to offer relaxed....
April 12, 2013
Fun, clever game
I may have to buy this one. The hour trial went by way too fast. I like TM games and this one was fun, not too easy, not too hard. Very enjoyable.
April 12, 2013
Basic TM game
It's fun for me to play TM games. "Viking Brothers" is basic TM game. I like it!
April 12, 2013
Fun Game
This is a good game with a fun story and enough challenge to keep it interesting. The graphics are very good and it moves along nicely. Well worth buying.
January 4, 2014
Vikings - the American way :(
Viking Brothers is a Time Management Game in the "clear the road" genre (like My Kingdom for the Princess, Roads to Rome and others), and as such it does a good job. A bit too much storytelling in the beginning of each level, that is not easily skipped. I haven't finished the game yet, so can't really say anything about difficulty level, so far no problems in getting gold time. <rant on> Let me start by admitting that I'm a Dane, and thus brought up on the norse mythology and viking history. What really annoys me is the way this game deals with it's subject: Vikings. 1. Vikings DID NOT have horns on their helmets!!!! (is was something Wagner invented for his opera, as far as I know) 2. When you use norse mythology, alt least try to get it right. (not giant squid for instance - use the big dragon/snake Midgaardsormen instead, please). 3. If the journey to the fertile lands refers to the Vikings journey to Vinland (New Foundland), then the "savage barbarians" are American Indians, not someone that looks like a comic African chief. Yes, I do realise that this is supposed to be a game, not a serious history lesson, but you might as well get the historical facts correct. <rant off> For people, who are not interested in history all this is probably completely irrelevant, and you will most likely enjoy the game, if you have played some of the games mentioned above.
April 12, 2013