Viking Brothers
By the horns of your helmet, this is a Viking adventure you'll never forget! Join two brothers as they set off across a battle-scarred kingdom to drive off savages, restore their land, and search for the magic items that will breathe new life into their once magnificent realm. Interact with captivating characters as you race to complete tasks and reap the highest possible rewards. Gather resources as quickly as you can, and then clear roads and rivers, rebuild bridges and towns, and beat back enemies, earning gold, silver or bronze trophies for your efforts. Explore glorious Asgard, delve into dwarven caves, and slog through soggy swamplands, freeing druids, fairies and fellow warriors as you guide the brothers on their quest. Through 50 levels of rollicking time management fun, you'll learn the heroic ways of the Vikings and experience an epic story of love, valor and legend! Will you take up the cause of the Vikings and restore their world today?
50 levels and four settings
14 characters
Comic book-style cutscenes
Game System Requirements:
OS:

Windows XP/Windows Vista/Windows 7/Windows 8

CPU:

2.0 GHz

RAM:

512 MB

DirectX:

7.0

Hard Drive:

404 MB
Game Manager System Requirements:
Browser:

Internet Explorer 7 or later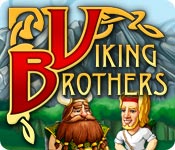 NEW299
The Big Fish Guarantee:
Quality tested and virus free.
No ads, no adware, no spyware.

Reviews at a Glance

Viking Brothers
0
out of
5 (
0
Reviews
Review
)
Customer Reviews
Road clearing resource & time management
Starts off easy and increases just the right degree of difficulty with each step, If you like My Kingdom for the Princess you will enjoy this too.
April 26, 2013
The game
It is an ok game as far as this type of game goes. I wish the graphics were better. It is fun. Not a waste of money if you like this form of game.I bought it. It just had the potential to be so much better.
April 12, 2013
Relaxed Mode? I don't see it.
I downloaded this game because of another reviewer who said they played it on "relaxed mode". I don't see that as an option. I am waiting for a TM game of this ilk to offer relaxed....
April 12, 2013
Fun, clever game
I may have to buy this one. The hour trial went by way too fast. I like TM games and this one was fun, not too easy, not too hard. Very enjoyable.
April 12, 2013
Basic TM game
It's fun for me to play TM games. "Viking Brothers" is basic TM game. I like it!
April 12, 2013
Vikings - the American way :(
Viking Brothers is a Time Management Game in the "clear the road" genre (like My Kingdom for the Princess, Roads to Rome and others), and as such it does a good job. A bit too much storytelling in the beginning of each level, that is not easily skipped. I haven't finished the game yet, so can't really say anything about difficulty level, so far no problems in getting gold time. <rant on> Let me start by admitting that I'm a Dane, and thus brought up on the norse mythology and viking history. What really annoys me is the way this game deals with it's subject: Vikings. 1. Vikings DID NOT have horns on their helmets!!!! (is was something Wagner invented for his opera, as far as I know) 2. When you use norse mythology, alt least try to get it right. (not giant squid for instance - use the big dragon/snake Midgaardsormen instead, please). 3. If the journey to the fertile lands refers to the Vikings journey to Vinland (New Foundland), then the "savage barbarians" are American Indians, not someone that looks like a comic African chief. Yes, I do realise that this is supposed to be a game, not a serious history lesson, but you might as well get the historical facts correct. <rant off> For people, who are not interested in history all this is probably completely irrelevant, and you will most likely enjoy the game, if you have played some of the games mentioned above.
April 12, 2013
Restore the Tree of Life
Based on the demo, this is a builder TM game which soo reminds me of another game, but I cannot think of which one. One reviewer mentions there is a relaxed mode.... I don't see a choice of modes. There is a LOT of talking between characters going on. Everything is small. I used to love TM games, especially Roads to Rome and Island Tribe, and I still do go back to those 2 series of games as filler games. This one, I'm not seeing it. I found it hard to see what was in my inventory. This game, to me, wasn't bad, but neither was it good. I will wait for some reviews of people who have played the entire game. It says it has 50 levels, but the levels are so short, it's not a long game at all.
April 12, 2013
Too small
Love TMgames and played a lot. Maybe too many because as much as I can hardly wait for new ones to come out I expect them to be good too.This one does not do it for me. Always play with music but this one I had to turn down. The graphics are not sharp enougyh and way too small for me to enjoy this.The good thing I liked is that you can pre click the task you want to do and that it shows what you need in case you click on something too soon.You really have to preplan your moves too. I am really undecided with this one. It is what I like but too small. I may keep playing older games until somebody comes up with something better.
April 14, 2013
What's with the racist story?
Cute graphics, fun enough gameplay, but I wanted to exit before I even started when it introduced indigenous-looking "evil savages" and their shaman who wanted to destroy the Tree of Life! What?! I did eventually exit when the story again threw in the "savages" and I'd seen and heard enough of that kind of outdated racist depiction of indigenous peoples and a derogatory word for them. It wouldn't be hard to make a story without that, so why did they? Games don't need bigotry. I'd hate to have my kids play this and then start talking that way at school.
September 17, 2013
Good, not great... but still challenging.
If you really love and/or are addicted to TM games, then you'll probably want this one. It is very similar to My Kingdom for the Princess, Legends of Atlantis, and Roads of Rome games -- but not as good. I thought the narrative was clunky and wished the characters would stop talking so I could play the game!! Instructions are a bit lacking and characters as well as story not very compelling. Still, it is a TM game with fairly challenging levels. As noted by a couple of other reviewers, I didn't find a "relaxed" option. Haven't yet pulled the trigger to buy, but probably will if nothing more interesting comes out in the next week.
April 15, 2013