Trade Mania 2
The makers of Trade Mania have released an amazing new sequel to the original economic strategy game, combining the best features of economic board games with realistic settings in the world's most fascinating cities! Trade Mania 2 features more dynamic gameplay, sophisticated virtual competitors, and a great variety of strategic solutions. Purchase real estate, construct buildings, trade goods and run your competitors into the ground using maps of actual cities in Trade Mania 2!
Multiplayer mode
Trade in products for profit
Develop hotels, factories or supermarkets!
Game System Requirements:
OS:

Windows XP/Windows Vista/Windows 7/Windows 8

CPU:

2.5 GHz

RAM:

1024 MB

DirectX:

9.0

Hard Drive:

138 MB
Game Manager System Requirements:
Browser:

Internet Explorer 7 or later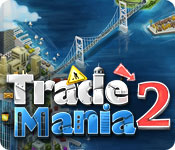 NEW299
The Big Fish Guarantee:
Quality tested and virus free.
No ads, no adware, no spyware.

Reviews at a Glance

Trade Mania 2
0
out of
5 (
0
Reviews
Review
)
Customer Reviews
KINDA BORING BOARD GAME
I felt this game moved way to slow. You are one of three players and waiting for the other two players taking their turn was just boring. The object of the game is to buy as much property as possible so you can collect rent when others land on your property. You spin a wheel to see how many spaces to move and if the property is available and you have enough funds you can purchase that property. You get 20k every time you pass the start point. There are spots that you can purchase a bigger vehicle so that you can purchase different goods for different areas. Other spots may audit you to pay taxes, some are investment firms etc. There are achievements awarded for owning the most property or completing certain tasks. You can also sell property or mortgage property. Would have been more fun if I could have fast forwarded the other two players.
April 15, 2013
the same as older version
sorry, but too boring for me, i think the first version is better
May 26, 2013
This game is fun but has a bug
The game is almost the same as Trade Mania 1. The three new cities are Vancouver, San Francisco and Moscow. The upgrades are you can now build factories (which give you a fixed income with every turn you take) or a supermarket (sell your products at higher prices) in addition to hotels. You actually need to use factories because my opponent in Level 1 had them, and I only built hotels and I lost. There are also 2 casino spaces where you can play roulette to win or lose money. But here is the bug- in playing level 2 (San Francisco), I bought out the weakest competitor within an hour, bankrupted the second weakest in less than another hour, and then went head to head with my main opponent. I made sure to buy up the auctioned properties that my weaker opponents were forced to sell when they lost. The goal is to have 80% of the property to win this level. I had 14 properties, almost all fully built out, to 7 for my opponent, which gave me 65% of the total property. I then played for over an hour to buy out 25% of my competitor but nothing changed. I played for another hour to accumulate enough cash to buy out another 25%, which should have won the game for me because 50% of his 35% of the property in addition to the 65% I had gives me 82.5% of all the property but nothing changed. My opponent maintained his 35%, and got the same income from his factories and I had to play for a full 8.5 hours to get enough cash to buy out the remaining 50% of my opponent. Thus, I needed 100% of the property, 65% that I had owned plus the 35% of my opponent's to win. I liked the game, but after 8 hours of going around the board buying step cards, collecting rent and buying and selling goods, the game gets repetitive and boring. Not sure if I want to attempt level 3 where 90% of the property is the goal with this bug in the game.
May 6, 2013
Trade Mania or Monopoly by Another Name.. Still Boring
The objective of this game is to buy places and collect rent, earning more money than other players who are pre-set in the game. Each level gives you different tasks to perform. I was only able to get through level one before the game was just too boring. During the first level, you are task with buying places, transporting products and buying a new vehicle. The Mechanics of the game require you to 1) spin a wheel to determine the number of moves you will make on the "board" 2) buying the places that you land on or not buy them and 3) selling products. The game's tutorial is not very clear, but the game is not difficult to figure out. Playing the game you basically watch players moving around the board and decided if you want to buy or sell. Not much of a challenge in the game.
April 15, 2013
Long drawn massacre
The difference between this sequel and the first one is winning. This game's saving grace is that it's not another HO. Did you enjoy the first level in the demo? It was a bait and switch. Next level the computer starts with properties already on it, they use cards galore, they end up with so much money they start constructing new buildings out of it. They'll pay rent, but they'll always make at least twice as much, just from their factories. Every turn. Then they'll land on the investor lot, just for fun. Though they are not without mercy. Once they have upgraded to rockets they may see fit to grant you the opportunity to upgrade from your bike to a truck, but only if you bought that 30k step card you couldn't afford. I'm glad they added in casinos, because I enjoy losing my money faster and spending time on lots I can't trade in. The ticker on the bottom is also extremely useful for nobody. Lastly I find it a bit laggy...but that could be just me. Enjoy!
April 20, 2013
Eh....
Not that crazy about it, played for about 3 minutes because I took it off my computer, it's kinda confusing about trades and buildings and what you need to know about the buildings. Eh I'll pass.
April 16, 2013
Boring Game
Half way through the trial period I got bored. There appeared to be little skill. The player is moved around the board based on the random turn of a wheel which indicates how many moves can be made. When the player lands on a piece of real estate you can either buy it, leave it or you have to pay rent and yes you can buy and sell goods. I could be wrong because I didn't play the game for long enough but for me there was no challenge. If a game doesn't grab you in the first say 20 mins/30mins then you won't be buying it. Take a look at it and see if like me you don't like it and therefore won't be buying it. There are some brilliant games on Big Fish. This isn't one of them!
April 15, 2013
Same as first version
I was disappointed as there was very mininmal changes
April 29, 2013
MAYBE for SOME
I found it quite boring, and you are playing against two robots, so there is no thinking. Some may find this fun. Enjoy...
April 15, 2013
What's The Point? Will It EVER End???
Horrible nightmare version of Monopoly. I played the San Francisco game for 8.5 hours and got no where towards an end. Maybe it is a glitch or just a fluke in the building choices or something, but PLEASE! When I finally gave up I had 54 million dollars and my opponent had 6 million. I owned 62% of the property. I had even given up 8 million to animal charity and I never lost a dime at the casinos because I don't play them. My opponent lost as much as 3 million dollars at the casinos at one time and yet, the game went no where. I LOVED Trade Mania, the original version. I could win in as little as 2 hours, usually 3 hours and it was fun to WIN and be done with it! Rather empowering. I went to purchase that game after playing it on instant streaming and found Trade Mania 2. What a waste of a game credit! I'm disgusted. The new graphics are so intense they make you nauseated at first and I learned to look at the ticker tape at the bottom instead of the lurching screen. Thank goodness you could make the screen smaller and zoom in or out. I'm also SO thankful that you could speed up the game, though at top speed, playing for over 8 hours to get no where is plain stupid. I was hoping they'd made the new game to have endless upgrades on vehicles and buildings so that you had constant choices on using your money because once it starts accumulating past a certain level the game just gets plain BORING. I also was not able to understand why you would buy a market, factory or hotel and had first assumed you could buy any or all at a later time instead of being locked into your first choice. That made the game less interesting. I'll be going back to the plain version of Trade Mania because it was FUN and deleting this one from my computer ASAP. I want entertainment to escape the world, not a painful boring death.
August 1, 2013