Trade Mania 2
The makers of Trade Mania have released an amazing new sequel to the original economic strategy game, combining the best features of economic board games with realistic settings in the world's most fascinating cities! Trade Mania 2 features more dynamic gameplay, sophisticated virtual competitors, and a great variety of strategic solutions. Purchase real estate, construct buildings, trade goods and run your competitors into the ground using maps of actual cities in Trade Mania 2!
Multiplayer mode
Trade in products for profit
Develop hotels, factories or supermarkets!
Game System Requirements:
OS:

Windows XP/Windows Vista/Windows 7/Windows 8

CPU:

2.5 GHz

RAM:

1024 MB

DirectX:

9.0

Hard Drive:

138 MB
Game Manager System Requirements:
Browser:

Internet Explorer 7 or later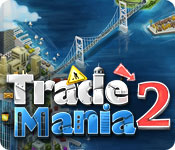 NEW299
The Big Fish Guarantee:
Quality tested and virus free.
No ads, no adware, no spyware.

Reviews at a Glance

Trade Mania 2
0
out of
5 (
0
Reviews
Review
)
Customer Reviews
Could have been better!
Loved Trade Mania so bought #2 hoping for great things! Sorry to disappoint. I liked the improvements, but there are so many more they could have done to make this an excellent game. Impossible to win if playing with human players! Limit the # of times to buy cards, allow buildings right up front, let the players take the risk; don't punish ambition with a storm! Allow human players to buy shares in other human players' companies . . . only way to win?!? Hope they put a lot more thought into Trade Mania 3, but I'll probably buy it.
October 24, 2013
Where's the rest of the game?
Excellent, simple but sublime economics and real estate game. Very clever, I was hooked before the end of the first city. The second city upped the ante. The third was a good challenge. And then the game ended. What? Yes, it ended. That's it - three cities. I was hoping for twelve or twenty. At the very least the designers could have had Easy, Normal and Hard difficulty settings making the game worth another run-through. Just as I was mastering the game mechanics and looking forward to the next challenge, the game said "Thank you for playing and have a nice day". Huh? This is a 5 star game that left me wondering what happened to the rest of it. Too cool a premise to be cut so short. A game editor would also be nice. Allow folks to make their own scenarios. Anyway, it's a can't miss it game that will leave you wanting more. Hopefully Trade Mania 3 will be out soon. Just think of of it as buying a full game in installments.
May 8, 2013
Nice Change from HO Games
Based on demo. Nice twist on the Monopoly game, it still gives you events and cards to use (think get of jail free or tax-free day). You can also trade goods to increase your bankroll. You have options of building on your property with a good ol' hotel or get a smaller steady income. Not the best graphics/storyline, but nice just the same. Great diversion from the glut of HO games at Big Fish (I love 'em, but give us a variety).
April 20, 2013
Great game.Monopoly with a twist.
Bit like Monopoly. I thought it was going to be a bit complicated but it really is not ! So good to have some NON hidden object games again. thanks Big Fish
April 18, 2013
Challenging
Bought it while playing the Vancouver level. Had a lot of fun, then found the San Francisco level impossible to win. 8hs of it just going on and on, with only one person bankrupt. Seems impossible with second level having 4 people. everyone gets a small pie 1st time around the board and no one can truly dominate especially with computer opponents already having properties and hotels before the level even starts. Gave up and started over and over and over again trying to figure out a strategy in the 1st few rounds to dominate early. It's gotten a little frustrating. But if you're stubborn it will keep you busy for a long time trying to get past the second level. lol
April 17, 2013
KINDA BORING BOARD GAME
I felt this game moved way to slow. You are one of three players and waiting for the other two players taking their turn was just boring. The object of the game is to buy as much property as possible so you can collect rent when others land on your property. You spin a wheel to see how many spaces to move and if the property is available and you have enough funds you can purchase that property. You get 20k every time you pass the start point. There are spots that you can purchase a bigger vehicle so that you can purchase different goods for different areas. Other spots may audit you to pay taxes, some are investment firms etc. There are achievements awarded for owning the most property or completing certain tasks. You can also sell property or mortgage property. Would have been more fun if I could have fast forwarded the other two players.
April 15, 2013
the same as older version
sorry, but too boring for me, i think the first version is better
May 26, 2013
Meh
Basically a not-as-fun version of Monopoly.
June 8, 2014
This game is fun but has a bug
The game is almost the same as Trade Mania 1. The three new cities are Vancouver, San Francisco and Moscow. The upgrades are you can now build factories (which give you a fixed income with every turn you take) or a supermarket (sell your products at higher prices) in addition to hotels. You actually need to use factories because my opponent in Level 1 had them, and I only built hotels and I lost. There are also 2 casino spaces where you can play roulette to win or lose money. But here is the bug- in playing level 2 (San Francisco), I bought out the weakest competitor within an hour, bankrupted the second weakest in less than another hour, and then went head to head with my main opponent. I made sure to buy up the auctioned properties that my weaker opponents were forced to sell when they lost. The goal is to have 80% of the property to win this level. I had 14 properties, almost all fully built out, to 7 for my opponent, which gave me 65% of the total property. I then played for over an hour to buy out 25% of my competitor but nothing changed. I played for another hour to accumulate enough cash to buy out another 25%, which should have won the game for me because 50% of his 35% of the property in addition to the 65% I had gives me 82.5% of all the property but nothing changed. My opponent maintained his 35%, and got the same income from his factories and I had to play for a full 8.5 hours to get enough cash to buy out the remaining 50% of my opponent. Thus, I needed 100% of the property, 65% that I had owned plus the 35% of my opponent's to win. I liked the game, but after 8 hours of going around the board buying step cards, collecting rent and buying and selling goods, the game gets repetitive and boring. Not sure if I want to attempt level 3 where 90% of the property is the goal with this bug in the game.
May 6, 2013
Trade Mania or Monopoly by Another Name.. Still Boring
The objective of this game is to buy places and collect rent, earning more money than other players who are pre-set in the game. Each level gives you different tasks to perform. I was only able to get through level one before the game was just too boring. During the first level, you are task with buying places, transporting products and buying a new vehicle. The Mechanics of the game require you to 1) spin a wheel to determine the number of moves you will make on the "board" 2) buying the places that you land on or not buy them and 3) selling products. The game's tutorial is not very clear, but the game is not difficult to figure out. Playing the game you basically watch players moving around the board and decided if you want to buy or sell. Not much of a challenge in the game.
April 15, 2013
The Apple logo is a trademark of Apple Computer, Inc.