Solitaire Twist Collection
Looking for a new twist on solitaire? Solitaire Twist Collection combines the classic strategy of solitaire with wild layouts, fun power-ups and stunning visuals! Match pairs to clear the board and reveal hidden cards one-by-one. Three special power-ups can help you out of sticky situations, but you'll still need clever strategy if you want to finish fast. This twisted solitaire game will throw you for a loop!
Over 500 maps and 5 types of cards
5 unique backgrounds and card faces
Incredible space-themed graphics
Game System Requirements:
OS:

Windows XP/Windows Vista/Windows 7

CPU:

600 Mhz

RAM:

128 MB

DirectX:

9.0

Hard Drive:

58 MB
Game Manager System Requirements:
Browser:

Internet Explorer 7 or later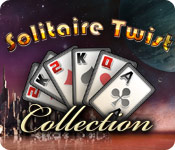 NEW299
The Big Fish Guarantee:
Quality tested and virus free.
No ads, no adware, no spyware.

Reviews at a Glance

Solitaire Twist Collection
0
out of
5 (
0
Reviews
Review
)
Customer Reviews
Solitaire Twist Collection
29
29
A BRAIN GAME
I went into this with a negative attitude after reading the 1st nine reviews. I said, I will do the hour. Glad I did. It is a timed solitaire game. You can go through the pile as many times as needed. No penalty. Cards are a good size. You see one card up by the pile. But, after about 10 levels, you see two cards up by the pile, at a time. Then three cards up by the pile. Then I goofed, and my card had no pair in the pile, and I had the option to end game, and that was my final score, or to restart that level (keeping my now score) and trying again. What I noticed was that I was back to one card up (OUCH)... After five levels I got my 2nd card, and then my 3rd. You get the same points for removing pairs on the board or a pair from your hand, when you have two or three cards face up by the pile. Which is nice. The total game lets you play many times and get a better score. I am buying this for it is a thinking game. No monsters to destroy my cards, no items to buy. Also, you get accumulated shuffles if you do not use them. Then continue to the next level. Cards are an appropriate size, even for me. I enjoyed this hour trial, and I am buying it. Which will make a lot of people mad. THIS GAME IS NOT LIKE "STRIKE SOLITAIRE", where you have the option to replay each level until you get 300. Because, when you do that, which I did, there is not reason to replay the game, for I can never do better... And BF knows that I do not say I like a game, if I do not.
April 17, 2013
A "no buy"
I love cards games, but this one goes on my no buy ever list. Pros: --- I didn't think the graphics were all that bad. --- You could choose different card fronts & backs. --- You could restart a level if you wanted to - I tried twice and didn't want to again. Cons: --- I agree with the music being borrowed from the Spanish Inquisition (mentioned by another reviewer#. I always play with music, but I could get it turned off fast enough in this one. --- Play was repetitive, which is true with a lot of cards games of this type. Unfortunately, the game was also boring. There just wasn't anything about this game that made it fun. I couldn't even get one layout cleared #altho it would might be possible if you didn't use any of the wild cards until the very end. Unfortunately for the game, I really didn't care to try playing again to see if that strategy would work. I would really like to say something positive about this game to encourage the devs to try again, but I just can't think of much to say. Sorry, devs, but the best I can say is to try again.
April 18, 2013
Relaxing fun
Based on the full hour trial. Reading the reviews while the game downloaded, I did not have high hopes. I'm also not much of a Mahjong fan because I feel the genre is inherently boring. But I had an hour to kill and felt like something relaxing. This game delivered. As the game description mentions, it's a mahjong game with cards instead of tiles. As soon as I started the game, I went to the options menu, lowered the sound, (as I usually do) to the point I could barely hear it. It was okay, no more grating or repetitive than any other game. I also flipped through the card choices until I found the one with the largest type-face. It was great. I didn't think the cards were too small at all. With an abundance of powerups and wild cards, I was able to complete most of the games in "level mode" in two minutes or less, and didn't lose until level 1-24. The difficulty increased by reducing the number of face-up cards. The hour pretty much flew by in a relaxing manner. With 500 maps, one would think they were getting their money's worth.
April 18, 2013
Recommend With Reservations
I too after reading the first 9 reviews was skeptical about the game. But I like to "C" for myself. If you like to play Solitaire games, this game may not be for you because it's more like a Mahjong game, which is one of the things that I did not really enjoy after 30 minutes. However, if you like Mahjong than give it a try. The reservations that I have about the game are: 1. Poor Visual -- The cards are small and after 30 minutes, my eyes were tired. I will chalk this up to age and therefore, this might not be a problem for others :). The black background was also hard on the eyes. 2. Sound Quality -- After listening to it for a few minutes, I had to turn it off. 3. Lack of a storyline. However for a Solitaire or Mahjong game, who cares. 4. The game really is not challenging.
April 18, 2013
Cute alien cards make it worth buying
After reading the reviews I was pleasantly surprised by the game. Standard Mahjong-style matching. The cards with the alien fronts made me smile and I wanted to keep playing after the demo was done.
April 17, 2013
relaxing card game
I enjoyed playing the game, but wish it was a little more challenging.
April 27, 2013
Game not bad
Base on the demo First, I think that the name is misleading because it's not really a solitaire game. Mostly mahjong in cards (that I will agree with others on that issue). This game (to me) is consisted a game for stress relief. When I'm unable to relief stress from other means, these kind of games help. The only problem that I have is the music. The music is fine to a point but wished they changed the music from time to time.
April 19, 2013
Boring!!!
The colour of the cards and the background are terrible, after a few minutes it gave me a headache. I did discover if you click on the options button you can change the cards, but it was too late for me, I'd had enough. The game is boring. There is no challenge at all. You are just pairing cards. To be honest, what is the point?? I can't recommend this game at all, sorry!!
April 17, 2013
It was a good casual game
I found this quite fun, especially considering other reviews, it was possible to change card front and backs, the 'power ups' were good and plentiful. I liked that it did not 'auto-match' with cards as this gave me a choice (when there was more than one possible match). I wouldn't say that the game was actually solitaire as I know it, was just matching pairs, but still filled those empty minutes which is what it should do. Music was annoying though All in all a good casual game - which is what Big Fish is about, I don't expect to find in depth detailed games on a casual gaming site.
April 18, 2013
Solitaire Snap
The title really sums it up. This game is solitaire as you do play on your own, but this version of solitaire is 'snap solitaire' which I have to say I find the most boring out of all the solitaire games. The game is similar to solitaire strike in that you are matching pairs, (but that game had slightly more of a storyline to it in the fact that you had to score a certain amount of points to move on), this I am not to sure about as I only played two minutes before I quit. I realise that some people may feel that just playing two minutes of a game then the thoughts are how are you going to make a unbiased rational view on the game, well to all you I say you are possibly correct. Though to be fair to myself if a game ain't going to hold my interest for more than 2 minutes then maybe that is a fault of the game thus that it is the case I am arguing your honour, if the game can't keep my interest for more than 2 minutes then obviously it is not the game for me. The game title to me indicated that there was going to be a variety of solitaire games, this to me didn't seem to be the case. Unless you like playing solitaire 'snap' or this game is for younger people then I can't really recommend this game.
April 17, 2013