Secrets of the Dark: Mystery of the Ancestral Estate
Exclusive
You will have to challenge yourself as a professional who specializes in most tangled cases and defeat the darkness to rescue an innocent soul. Earlier you've already had a chance to investigate strange cases in ancient Thai and Mexico. Now it's time visit the Mediterranean coast and reveal the secret of an ancient family estate which was inherited by a young woman who is now begging you for help. Her life hangs in the balance and her fate is up to your strength and courage.
Game System Requirements:
OS:

Windows XP/Windows Vista/Windows 7/Windows 8

CPU:

1.0 GHz

RAM:

1024 MB

DirectX:

9.0

Hard Drive:

539 MB
Game Manager System Requirements:
Browser:

Internet Explorer 7 or later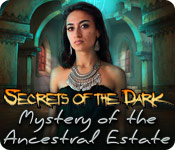 NEW299
The Big Fish Guarantee:
Quality tested and virus free.
No ads, no adware, no spyware.

Reviews at a Glance

Secrets of the Dark: Mystery of the Ancestral Estate
0
out of
5 (
0
Reviews
Review
)
Customer Reviews
Secrets of the Dark: Mystery of the Ancestral Estate
58
58
A worthwhile and entertaining Standard Edition!! :)
Been waiting for this release, because the Collector's Edition offered no extras to me such as collectibles or achievements. After investigating in ancient Thai and Mexico (in the first 2 ?Secrets of the Dark?), we are now summoned to Greece to defeat the darkness and rescue the soul of a young woman. Graphics/ cutscenes are superb: Very clear and welldone!! And, as in the first 2 games of this series, I like the fact, that we are able to ?jump? between past and presence through changing the lighting in some of the rooms. Things we change/ collect in the past affects the presence and the other way around? 3 modes to choose from. You may adjust music, sound, fullscreen, aspect ratio and custom cursor in the options. Hint is very useful, also outside the HOS. That?s very useful, as we don?t have a map. And we have a detailed journal. Lots of different HOS!! Personally I love those reverse HOS, where you put things back in the scene. And all kinds of minigames/ puzzles, some new, but most of them quite challenging (or frustrating?) with instructions and the option to skip? Game ending is conclusively after 4,5 hrs in the 2nd mode. Yes, this game is worth a buy!!! :)
April 19, 2013
Secrets of the dark: Mystery of the Ancestral Estate
Well done , this game is just great, I have only just played for about 20 mins, but I have to say that the ho's are different and very interesting, as well as the norm, there are interactive ones that you have to put things back, which inturn creates a scene that gives you the item you need. You have to go between dark and light scenes to move along, but don't be put off with this it is just genious , you are on an island to help the lady who has found the inherited home to be haunted, she needs your help, the graphics are good , the sound is good, voice over's good, I can find no reason to diss this game, enjoy , I purchased the SE , I think may be a bit hard for Beginners, but you never know give it a go.
April 19, 2013
THE ECLIPSE IS COMING!
You are summoned to the Rossolimo family estate to help the beautiful granddaughter Dayona, the heir to the mansion, who is afraid of the strange and frightening events that are taking place as the eclipse gets closer. When you arrive Dayona points to the room in the basement, which at this point is glowing bright green and shaking, this is where their relative with a bad reputation has been buried for some odd reason. Now the two of you are in the burial room and Daytona thinks this is where the strangeness is coming from as she points to the crypt that has green smoke oozing out and the lid is rocking back and forth! This woman's a genius! At this point the ghostly Stephanos bursts out of the coffin to tell you that you aren't going to interfere with his plans and whisks away the the lovely and smart Dayona. Now for the investigation. Just like the other Eclipse game you will be able to transform the area between the real current way the room is to the dark and eerie olden otherworld, just by changing the light source. When you click on the fireplace screen to open it the room will become light and there are things you can collect on both sides and use in one or the other light source, for instance you have to find a handle in the light room and attach to a cabinet, then you will change lighting and open the cabinet in the dark source. The HOS are a mixture of putting an item back in the right place on the scene to list finds and then some steps lead to an interactive puzzle. The mini games are fun but a few of them are a little frustrating like a chess game where you have to land on every pawn on the board and your knight only moves in the typical two up one over. A great story, beautiful graphics, ghostly characters and lots of things to do and interact with, a must play in either CE or SE. Enjoy!
April 19, 2013
Loved this game
First, let me say I never listen to audio, so the 5-star rating is for the visuals, not the audio. Also, I played the CE and the extra gameplay was worth the money, which isn't always the case. For me, generally, I prefer adventure and the fewer HOS, the better. That said, I did not mind the HOS in this game. There were not too many of them and they were fun. The rest of the game was fun, fun, fun! I did not miss having a map, barely used the journal and never cracked the included strategy guide. This game has morphing scenes, which I have come to adore. There were many places to go, but even with my less than perfect memory, I never got confused. It was interesting and challenging, but not frustrating. I don't see how anyone would not love, or at least really like, this game.
April 22, 2013
Something Different
After playing through the demo I knew that it was a must buy! Rather than the same old HO games that we see daily on here, this offers something different. There are many levels of different puzzles during the demo, that makes you use your brain rather than straining your eyes to find an object hidden. Try the demo, you won't be disappointed. I wasn't and wanted more.
April 19, 2013
What fun!
I thoroughly enjoyed this game. You get to help 3 or 4 brothers and their sister imprison one of the brothers as he was very naughty. I don't really pay too much attention to the story details as I just enjoyed the game play. There are HO's, some are find the object, some are put items where they belong so there is a good mix. Puzzles were very good. One was too hard for me but the others really gave my brain a good workout. You also have to go from past to present, depending on the amount of light, which is controlled with lamps, curtains, etc. If you need a cabinet opened, you can open it in the past & it will remain open in the present. Graphics are very good; loved the music, it was wonderfully creepy & fit the game very well. There was a lot of back & forth in the middle. One of the nice things was that the items collected were usually used right away so you are not carrying around a lot of stuff to sort through when you need something.
April 25, 2013
WINNER WINNER BIG FISH DINNER!!!!
Yes yes yes.....................thanks for having a game with updated graphics................
April 19, 2013
This is a real challenge!
if you are looking for something new and making your brain work this is the game for you! An outstanding adventure with an intriguing storyline, great graphics, good soundrack, charming setting on a greek island, genial HOS, varied and interactive, and funny and original puzzles, some of them really challenging! Excellent the idea to change the room's look depending on the light, with different clues to find and tasks to accomplish from the "dark side" to the real one..Many different locations to explore and a lot to do in every one..Something like 4.30 of gameplay in hardest mode (you cannot change it while playing so..be careful...hardcore mode has no hints and no skip option and some puzzles are really difficult...) for a superb game will hook you from the beginning on..try it and you will not be disappointed!
April 22, 2013
STRONG & CHALLENGING - ESPECIALLY PUZZLES
Took approximately 6 hours to complete this strong and challenging adventure game. An evil brother is kept at bay by a light in the family crypt (who keeps a crypt in their mansion?), until it breaks and the evilness escapes. Your job is to recapture him. GOOD: ? Many puzzles of various complexities. But see my comment in ?Not So Good.? Every minigame?s instructions are to solve the mini-game, period. Many of them are very, very challenging. Novices will likely skip them or look for a W/T with answers. All puzzles were directly tied into the story and gameplay. ? Voice-overs are very, very good. ? Many locations and lots to do. You can?t feel ?cheated? with the location. Story keeps you interested throughout the game. Ending was great. ? Every location has a bright, lovely and friendly modern scene, as well as an ?identical or similar? dark and dreary evil scene. This multiplies the locations and you will have to travel between the two types of scenes to complete the locations. It?s a lot of fun, but you have to have a good memory or pen and paper. ? HOS are either list-based or putting items into the scene where they belong. A lot of attention to detail and they are moderately but not overly crowded. Your prizes are directly related to the gameplay. There?s no disjointed HOS here. ? Animation and graphics are great. NEITHER GOOD NOR NOT SO GOOD: ? To further amuse yourself, click on the animals and watch vases. NOT SO GOOD: ? Directions for puzzles are ?solve the minigame to open? the door, exit, et al. That?s it! No additional information of what to do. The more experienced a gamer is, the more likely s/he can solve the puzzle. Unfortunately, newbies and most intermediates will have a great deal of difficulty figuring out what they are supposed to do and end up skipping them. Some of them make you feel smart when you complete them successfully. ? Once you are able to escape the mansion into the outdoors, the more locations open up. There is no map, so you have to remember what objects you need to complete the scenes. This becomes quite a mental ordeal ? pen and paper will greatly help those without the greatest memory once you have a large number of locations open. This becomes particularly frustrating, especially when you knew where you wanted to go but forgot how to get there.
November 4, 2013
Hidden object game taken to the next level
Impressive range of puzzles - some are quite challenging. Some rooms convert into different rooms where you need to figure out new challenges. Love that you had to think about where to place found objects. Game plays for good length of time. Money well spent!
May 5, 2013