Secrets of the Dark: Mystery of the Ancestral Estate
Exclusive
You will have to challenge yourself as a professional who specializes in most tangled cases and defeat the darkness to rescue an innocent soul. Earlier you've already had a chance to investigate strange cases in ancient Thai and Mexico. Now it's time visit the Mediterranean coast and reveal the secret of an ancient family estate which was inherited by a young woman who is now begging you for help. Her life hangs in the balance and her fate is up to your strength and courage.
Game System Requirements:
OS:

Windows XP/Windows Vista/Windows 7/Windows 8

CPU:

1.0 GHz

RAM:

1024 MB

DirectX:

9.0

Hard Drive:

539 MB
Game Manager System Requirements:
Browser:

Internet Explorer 7 or later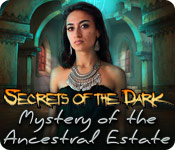 NEW299
The Big Fish Guarantee:
Quality tested and virus free.
No ads, no adware, no spyware.

Reviews at a Glance

Secrets of the Dark: Mystery of the Ancestral Estate
0
out of
5 (
0
Reviews
Review
)
Customer Reviews
Secrets of the Dark: Mystery of the Ancestral Estate
62
62
Excellent Value
I've played all the Dark Secrets games and can recommend them to anyone who wants a quality game with graphics that are well done, good puzzles, excellent length and certainly value for the money. I'm looking forward to the next release.
June 29, 2013
Good Solid Game
This game had great puzzles, a good story line and good design. For once, there were enough locations to visit that I did not feel claustrophobic. The hidden object parts were done fairly well which is a compliment from me as I am not a HOG fan. The only con that I could find was that at times a new HOG would show up and I had to hunt to find the location unless I used the ingame hint system. Well worth buying! Make more like this.
June 23, 2013
Disappointing
I loved the first 2 Secrets of the Dark, I get the feeling they ran out of imagination for this one and just profiting from a successful concept. Pros: Graphics were not bad. Story was ok. Nice addition to HOS, you have to put things in the main scene. Cons: Story could have been better used. Nothing ever happened with the eclipse. Some running around was ridiculous. You have a puzzle in one place, get an object at another place far away, come back to the first place only to find out you have to go back yet another time, and this happens many times. I call this 'making the game artificially longer'. It didn't need it, it was long. Mini games (usually my cup of tea) had no instructions at all. Some I had to skip. Some mini games were ridiculously easy. I still recommend it but at DD price or a free game coupon, it had a lot of gameplay.
May 19, 2013
Secrets Bounce
Secrets of the Dark: Mystery of the Ancestral Estate is beautifully developed graphically. The storyline starts out quite intriguing which captured my attention during the trial play. The movements from one location to the next was not as smoothly accomplished as most games I have played. The cursor had a mind of hits own. :-) The game is long enough and that is what I enjoy about this game however the bouncing all over the place is enough to make you lose a few pounds. :-)) The puzzles had strange elements of confusion embedded and encouraged me to skip a few of them after multiple attempts to solve them logically but was not the case. I enjoyed the design of combining and matching hidden objects which was a delightful twist. The hint button is a quick fix which always seemed to require you to move to a different scene. I did not feel a sense of accomplishment as I solved a parts of the game before bouncing to yet another segment which rarely was complete. In my opinion the sequential order is off balanced making the game one I frequently walked away from but would revisited the next day. In other words, I did not stay glued to the computer, burning cookies or turning the phone off as I have done with other HO games. Perhaps, I should have gotten the Collector's Edition but I doubt it would have made a huge difference. A likable game but not the best I have experienced. Recommendation weak an okay game.
June 8, 2013
I just do not understand how some of the reviews get to 5 stars.
I am having a bit of trouble understanding how this game is being rated so highly by seasoned gamers. For me the "tri B4 U bie" was simply to easy. If I would have used my magnifying glass during two of the Hidden Object scenes I would not have needed to use the hint button, #usually I use the hint button to move quickly through a so-so game.# Just lazy I guess. I did like having to put items back into HO scenes to complete a sort of puzzle, A bit like the game "Mouse Trap" if you remember that real board game. I also like having to change the scene by finding a way to alter it and having have to leave and remember to come back, or move back and forth to complete a task. Even this is getting old for me. I have rated this game on how it was for me to play. If you happen to be new to this type of game, it would be a blast. Again for me it was to easy. I like the challenge found in Large-File games, which is hard to come-by now-a-days. AnyWho. One review goes on and on about the visual/sound quality...yada..yada..yada, it is good, but it should be when I consider the current technology available to game artists/programmers. Still the characters lips do not move there is not a lot of body movement. The story line has been done to death in one way or another, it's like the game makers see a new thing that is hot so they bring it into their new games too. Based on how the game was for me it is 3 stars. I consider myself to be a High level Intermediate player #and horrific on a PS3# at times I still need to use a walk-through, and certain puzzle types I just can-not finish, just like chess, I cannot think far enough ahead to play at high a level anymore. I might have to just stop adding my $.01 cents worth of gibberish, so after typing all of this, the bottom line is this will be a fun game for someone who is new to this game format. I chose to try this game based on the reviews which is quite dumbfounding for me. I feel as if I was led astray.
April 25, 2013
HAD PROMISE
Review based on about 1 hour gameplay. VOS - Excellent Animation - Characters are beautifully and realistically drawn but do not move. Very disappointing. If a dev is going to draw such great looking characters, they should move with fluidity like a human. I prefer animation and VOS from beginning to end in addition to a good storyline. I may give this game another try in the future.
May 17, 2013
Highs and Lows Equal Mediocrity
SotD-MotAE is a game that has something for everyone, only most of what it has is not what everyone wants. No lip movement of the characters and mediocre graphics leads to limited enjoyment of the visuals. Going back to find HOGs (again) to find another object is at times frustrating in that it demands revisiting scenes multiple times to find the one spot that has reactivated itself. No map only complicates the challenge. While the game is not linear in terms of actions, the required ?next activity? is. There is rarely more than 2-5 items in inventory at any one time which limits the flexibility of the game even though at times, there are 35-40 available actions waiting to be taken once the right inventory item is possessed. The game is a constant back and forth and only by mapping the journey is any degree of success realized. The puzzles range from the inane to the insane with some of them being ?guess me if you can? type puzzles. Some of them are beyond simple and some of them are a real challenge. In a number of cases, the scale is skewed presenting another visual challenge to be overcome. Some of the actions that are to be performed involve an abstract interpretation of what the inventory item is usually used for; not an action that one would normally think of but one that actually makes a little sense once it is figured out. Some of the objects are quite evident while others are innocuously small requiring careful search of every scene to ensure something isn?t overlooked. It is definitely a thinking game in terms of figuring out the clues and actions and isn?t one to be enjoyed by those who want to have simple fun. All-in-all, if one can put up with the perceived shortcomings identified, it is fairly enjoyable. I?ve played much better so I don?t rate it as one of my big favorites but in fairness, I?ve played a lot worse. As such, I rate it as average.
August 23, 2014
It was ok.
It was short, not very challenging and nothing special really. My least favorite of the series.
June 7, 2014
Average Game. Trial is Worth It.
I?ve never actually liked the Secrets of the Dark series, but, while this one didn?t wow me, I was happy to play out the demo. The storyline was actually pretty good. Don?t be fooled by the opening scene, as I was. There ARE voice-overs! The story is the classic ghost story. The ancient ghost of a family member is awakened after the crypt lid is opened, (WHOOPS! My bad!) and it?s up to you to stop him. I?ve always been a sucker for ghost stories, so I must admit I?m a bit curious to see how this ends? The demo ends horribly, though. The end wasn?t when I thought it would be, and I was shocked and a little angry to discover this? To be honest, I wasn?t too keen on the HOS. There were three different types: Place the object, a mixture of Place the object and our old favourite, junkpile, and our old favourite, junkpile. I didn?t really like the place the object one (I never have) and I had mixed feelings about the mixed one. (No pun intended.) The classic junkpile was my favourite. That being said, all three types of HOS provided me with a good challenge, one that forced me to use the hint a few times. The same cannot be said for the puzzles, however. I skipped every single one, given that one was out of frustration, not for being too hard. The puzzles were way too hard for me. The graphics were standard. The artwork was well done, and the scenes were clear. The only complaint I have is that some of the character artwork was a bit grainy. The gameplay allows you to alternate between two different ?lights? as the game calls them. I was never a fan of this and still am not. I don?t get why the game couldn?t just let us play in one world! FEATURES - Diary to keep track of events. - No map, which was very disappointing. - Hint and Skip- Hint recharged fast on casual, skip did not. Hint is very useful outside HOS. - 3 modes of difficulty. I picked casual, as always. While this game is not going to have me clicking the ?Buy? button, it?s still a worthwhile game to play the demo for. I will happily recommend it.
June 20, 2013
Dull, Dreary and Annoying
I played this game in Hardcore mode. Basically, I found the graphics to be visually boring, mostly dull tones. There was too much to and fro-ing with objects hidden in arbitrary places. I found I didn't care about the story because the way the game was advanced it essentially disjointed the plot to the point that I just didn't care about anything but finishing the game to get it over with. This is also the first game that bored me so much that I nodded off while playing it. I didn't appreciate the way objects were placed willy nilly, here, there and everywhere but in a logical progression. My advice is skip it and spend your money on a better game.
April 29, 2013
The Apple logo is a trademark of Apple Computer, Inc.