Royal Settlement 1450
The kingdom's treasury is nothing but a gaping hole of emptiness. The liege lord is utterly discontented and astonished – what could be the best way to fill up the treasury again? The king appoints you to liege man in "Royal Settlement 1450". Your task is to build towns, villages and trade-routes in order to turn wild nature into prosperous and primarily profitable terrain. There is no time to lean back because the king is waiting for profit and patience has never been one of his strengths! But your chances of success are high. Don't forget to regularly pay moderate tribute to keep the king well-disposed. If you fail to succeed in time and fall behind with paying tribute, you will lose the king's benevolence…
Time-management and strategy-style fun!
Campaign and continuous modes
Construct fantastic buildings
Game System Requirements:
OS:

Windows XP/Windows Vista/Windows 7/Windows 8

CPU:

2.5 GHz

RAM:

1024 MB

DirectX:

9.0

Hard Drive:

101 MB
Game Manager System Requirements:
Browser:

Internet Explorer 7 or later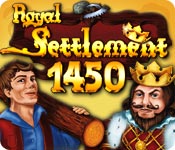 NEW299
The Big Fish Guarantee:
Quality tested and virus free.
No ads, no adware, no spyware.

Reviews at a Glance

Royal Settlement 1450
0
out of
5 (
0
Reviews
Review
)
Customer Reviews
Royal Settlement 1450
52
52
Horrible
I did not like this game. Didn't even finish my hour trial. Resolution is off. You have to right click and move your mouse to be able to see more of the screen. Takes forever to be able to accomplish the tasks. Workers are extremely slow. Do not recommend. BFG can do better than this. I am sooooo tired of seeing nothing but hidden object games. Need more good time management and strategy games.
April 19, 2013
Awful!
I love Time Management Games, however, this one was slow, boring and WAY TOO COMPLICATED to hold my interest. Just moving around the map is confusing, I have to click to pickup EVERY resource, or you loose it. Can't zoom out to see all of your buildings. Too much work to be fun.
April 19, 2013
Waste of time
I LOVE time management games and can spend hours clicking, building and collecting....but this game didn't hold my interest for 8 minutes. The graphics aren't great but I've seen worse. The 'collection' of goods and construction of buildings is done horribly. Just won't play it and won't recommend. Yuck.
April 19, 2013
A poor imitation
This game looks like something for DOS. The graphics are truly out dated - not to mention bad. The storyline leaves much to be desired and makes for a very boring game. Uninstalled it after about the first 5 minutes.
April 26, 2013
Terrible Interface
The concept is a good one, but the execution is lacking a lot. Gave up after 10 minutes when I couldn't create a plantation. Clicked on the button, but it kept building quarries. No reason given for why plantation couldn't be built (ie insufficient funds or some such thing). Graphics are nice enough, but if you have to sacrifice control response to have pretty pictures, you're doing it wrong.. I normally adore time management games, but this oe shouldn't have been given a pass on final inspection.
April 20, 2013
Quality is great - if you were really living in 1450...
This is a standard building and resource game. Hire workers, build production sites, collect resources. My first issue was that you can't switch back and forth between Casual Mode and Timed Mode. Whatever you choose for the first round is what you're stuck with. Second issue is that the game is not complicated and doesn't have a lot of bells and whistles - but it feels like it can't even keep up with itself. The cursor has a delay, pop-up text and information boxes overlap each other making it hard-to-impossible to interact with your screen, characters and actions are slow... feels very, very low quality. As everyone has already said, every resource has to be collected individually from wood to stone to money, etc. And if you can't see every resource, you're going to spend a lot of time trying to manage your unresponsive screen. I didn't even finish the trial.
April 20, 2013
Waste of Time
Slow moving, poor instructions... My patience gave out after 10 minutes of trying to figure out what to do.
April 19, 2013
Horrible Game
Way too much clicking of production and not enough time to build and play the game. Just when you are ready to build something new you have resources flashing away and if you don't stop to click on them you lose them. Worst game ever from BFG. wish I could get my money back.
May 12, 2013
Disappointing
I was extremely disappointed with this game; i like time management games and this one is visually nice, but the play quality is very poorly done; too many things in the game overlap visually, and it is hard to move around the game to get things done; also, the developers of this game are obviously 'foreign', as the english grammar and spelling are ATROCIOUS! how are our children supposed to read and write correctly, when they have to read this kind of garbage? i have excellent reading and language skills and even i was hard pressed to understand what they were trying to convey; because of the language barrier, the game is much more difficult than it needs to be; i have talked with BFCS about this issue before in other games, and they always promise that they screen the games prior to release, but i see now that they do not; this game should not have been released until all the grammar and spelling issues were corrected by the developers, so that game play could be easily understood; most directions left me scratching my head and saying, 'HUH???'... however, if you can get past all that, the game was okay to play, but it was very slow; to maneuver around in the game from place to place, you have to right click and hold your mouse button so that the screen will scroll, but nowhere in the game are you told this (i found it out by trial and error); when a product you have crafted or grown is completed, it is sometimes covered up by a screen pop-up that you have to move around and by the time you do that, you have lost the product; and you have to click on EVERYTHING, or you lose the object you crafted or farmed; and since the board is so hard to maneuver, you end up wasting a lot of time in having to remake products to complete the quest lines (which means you don't finish in the time allotted...) i only said level of challenge was excellent because it is VERY challenging to try to figure out how to play the game....
May 1, 2013
Pretty bad.
Nothing exciting about this one.
April 23, 2013