The Tribloos 2
The Tribloos are back in a brand new adventure! Join Trey and the gang as they embark on a brand new epic journey. The storms that wrecked havoc on their island have returned and they need to find a way of stopping them permanently before their friend Matilda the Dragon completely tires out! Can you help Trey build his way to the truth behind these terrible storms and stop whoever is responsible once and for all? Find out in The Tribloos 2!
Fun and challenging levels
Over 22 minutes of original music
Save your island home!
Game System Requirements:
OS:

10.8/10.7/10.6/10.5

CPU:

1.2 GHz (INTEL ONLY)

RAM:

2048 MB

Hard Drive:

89 MB
Game Manager System Requirements:
Browser:

Safari 4.0 or later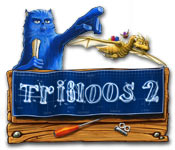 NEW299
The Big Fish Guarantee:
Quality tested and virus free.
No ads, no adware, no spyware.

Reviews at a Glance

The Tribloos 2
0
out of
5 (
0
Reviews
Review
)
Customer Reviews
Deceptively good game
The screen shots on the preview screen here really hurt this game. I almost didn't download it to try it if not for the other reviews. It's a decent game - highly challenging as you go along. It's a typical "collect resources and build" game, but somehow I found it less tedious than some of the latest games of this genre. The levels toward the end of my hour trial were more brain teasers than beat-the-clock levels and I prefer them that way. I liked it and suggest trying it.
January 14, 2013
Good clean family fun!
This game has a very steep learning curve and from about level 3 you have to think fast, strategically and multi-task if you want to get the 'gold at the end of the rainbow'. The game is good and reminded a bit of a game called 'creatures' for the PC (and old game from around 10-15 years ago). Whilst others have said that they thought this was a child's game at first glance, I couldn't see that myself, but what I did see were cute graphics and a good musical score. The game as I say is difficult from fairly early on (I played on the 'normal' setting ( I 'dare not even try the 'expert' setting), you have to plan your moves carefully, utilise all your 'Tribloos' and remember that you can multi-task as if you fail on anyone of these points then the game is very unforgiving and relentless. Over all though the game is good and a very good challenge for people of all levels (there are three levels of challenge 'easy','normal' and 'expert') so something for everyone. I would certainly recommend downloading the trial as this is a puzzle/strategy game but a refreshing change from the 'physics' based ones that made 'Angry Birds' etc popular. It is one for the whole family (IMO) as there is no storyline (as such), to follow, and makes a nice change from all the HO/HOPA games where some of the puzzles may have been a bit difficult for young children and some of the story-lines certainly not suitable for some. No this is good 'clean' family fun, but a very difficult challenge if you so choose it to be.
January 18, 2013
Nice building game, good level of challenge for all
I have played the demo plus 2 hours of this game. I really like the concept for this game. Very different from most other games of this type. It has the usual gather resources, build, acquire workers tasks, but in a new and interesting format. I love how you can progress to new levels without time requirements, but you have the option of getting gold/silver/bronze on the levels, and have achievements as well. This gives it great replay value and the choice of playing a casual game or a fast paced one. The graphics are simple but good and colourful, The sound is nice and not irritating. I do not usually play music at all but I left it on for the demo. It *does* get more challenging as you progress. After the demo new challenges are introduced that make finishing a level more involved and require a bit more thought and concentration. Over-all a pretty fun game. So glad BF is giving us a variety of games and not all HOGs!
January 17, 2013
i like it
nice game,very interesting,good for the youngs peoples
January 14, 2013
Fun Little Game
I wasn't expecting much when I downloaded this game, but I was pleasantly surprised. While there is a time management component to this builder game, you can choose whether or not you want to try and meet the time limit. The more interesting piece to the game is the puzzle-solving required and the different structures and places that get added as each level is achieved. You need to be careful to get the material you need before building and plan ahead to get to the log piles or build the sawmills you need to keep the materials to a sufficient level. For example if you don't build the sawmill before you build the house, you may run out of the wood you need to build the sawmill and in the meantime there are log piles and rock piles blocking your path. Each house built gives you more tribloos to work with so some figuring is required whether you want more of them or more material. The little tribloos are cute critters, primarily happy little worker bees who will go wherever you send them as long as there isn't anything blocking their path or the material supply hasn't been used up. Note that materials can be rocks or vines or flour for bread or wood for building houses. And then there's the storyline, which I won't give away now, but just say it has something to do with saving the tribloos. I think there is enough of a fun factor to make this a good game to idle away a lazy afternoon, but be careful because it can be addicting.
May 26, 2013
The Tribloos 2 is a bit slow and moderately interesting
I didn't play Tribloos (original), and it would seem that the developers would have stepped up the action a bit. I like building games, but this one had so much "lag time", it made it a bit boring. Cute concept and cute game, but even my 12 year olds would find it somewhat tedious and boring. It was okay.
January 28, 2013
kinda boring to me that is
i see alot of people said this game was awesome i love tm games and i like to be timed but this game was not for me a little to slow i was knida bored playing it i didnt finish my hour now, i am not saying its a bad game maybe for some people just not for me it was like playing roads of rome, rescue team and royal envoy all of them games do the same thing build buildings collect wood/money and use a limited of men i am so bored with them types of games thats y it got a 3 stars but try it 4 yourself hotwings out
January 17, 2013
querky but good
started playing this with no tutorial and with in two minutes thougth what the hells this, but it grows on you, easy to play and good un complicated fun, no tecnical hitches. cross between roads must roll, ( chop the tree collet the wood) and lemmings 9with no deaths) am off to play the tribloos 1 for an hour. its not like all the rest, would recomend to us die hards, sometning diffrent.
May 22, 2013
Quirky. Interesting. But I didn't enjoy it.
I decided to try something different and maybe that was a mistake. This game is quirky and at first glance looked interesting, but as I tried to play it I just wasn't having fun. The controls were a bit klunky and I disliked the UI. I also thought it really needs some kind of story to keep things interesting. Just not for me I guess.
January 17, 2013
The Tribloos Are Boring
I liked the first Tribloos game better. In this second game, the graphics are stepped up, but somehow I don't like them better. The levels are too long and it just gets tedious. There are too many impediments in this version and if the Tribloos get burned by steam or something, they all turn around and you have to send them all out all over again. Stupid. I didn't care about the story in the first version and there's too much attempt at a story here, too. There are also mini games, and they are BAD. I ended up skipping them all. I didn't mind the simplistic graphics in the first game, but in this one the dinky graphics are just getting on my nerves as you have to sit there for too long watching the Tribloos. They really aren't cute or anything, so I just have gotten sick of them. I have played through several locations and many levels in this game, but it is getting so boring, I am probably going to just stop and delete the game.
December 22, 2014
The Apple logo is a trademark of Apple Computer, Inc.
The Windows logo is a trademark of Microsoft, Inc.