Virtual Families 2
Enter a tiny world in your computer with this amazing casual family sim, Virtual Families 2! Adopt characters and help them choose a mate and start a family! Encourage them to work in their chosen career to earn money for necessities and luxuries. Expand and renovate the house. Make a nursery, a music room or even a game room! Help your character get through the challenges of life and shape their personalities with all sorts of upgrades, from psychotherapy to career counseling and many more!
Real-time game play!
Unique and fascinating adoptees
Fully trainable people! Scold or praise them to shape and adapt their personalities!
Dynamic illness system. Play doctor!
Game System Requirements:
OS:

Windows XP/Windows Vista/Windows 7/Windows 8

CPU:

800 Mhz

RAM:

256 MB

DirectX:

7.0

Hard Drive:

92 MB
Game Manager System Requirements:
Browser:

Internet Explorer 7 or later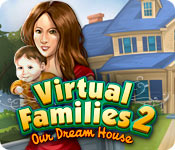 NEW299
The Big Fish Guarantee:
Quality tested and virus free.
No ads, no adware, no spyware.

Reviews at a Glance

Virtual Families 2
0
out of
5 (
0
Reviews
Review
)
Customer Reviews
It is a nice upgrade from the first
This game is fun and continues to be fun even after all levels are unlocked. Takes time to make money in the real world and this one takes time too! Great
September 2, 2013
Virtual Fun
I really like this game! I loved the first one and like this one too. But, it does take a long time to reach your goals. It can get a little frustrating to get to your goals especially when you're trying to buy the rooms. It takes much too long. Getting the little stuff is ok, but, big stuff not fun. You start to get board along the way. But, it still is fun when getting to the end and seeing what you have accomplished.
June 3, 2013
Fun But Slow
I like this game but I agree that the gameplay is too slow. And it's not quite as fun as Virtual Villagers because the only people you see is the family and it's just not as entertaining.
May 1, 2013
Better than last but not really upto mark.
Virtual Families, the first simulation game of its kind, was a huge hit four years back when it released. It became the biggest hit produced by Last Day of Work. Since then, we fans had been craving for a part 2. We expected more realistic features apart from better sound and visual quality. Tremendous and appreciable improvements have been done in Visuals. However, there is still some space for improvement. The level of challenge is better this time. There is hardly any story. Formed on the foundation of its original version, this sequel had only a few real additions. Many other realistic features (like tuitions, schooling, etc.) has been totally ignored by the developers. You won't want to play the last game once you have this one, because it is strictly similar in its foundation to that. Overall, had it been the first in its order, I would have gone for a 4/5, but since it is a sequel and a lot of suggestions had been made, I would say, this is one game to play but definitely its not something worth more than you pay. Buy it if you have extra money left out at the end of the month.
April 20, 2013
Computer people brought up to date!
I am not sure of this game, I really wanted to like this game as I saw it as a sims substitute, though the game for me was not without its problems. The first problem (which was quite a major problem for me) was that the mouse cursor had a mind of its own and kept going 'off piste' so that it could take a while just to click on the button you wanted to, this kind of marred the gaming experience. The next problem I had was that whilst the tutorial (though not that short as was suggested by the game itself), was informative, after that I kind of got lost. I 'made' a baby, but couldn't then get my 'sim' to put it anywhere and she didn't want to do any work as she was too tired, thus I couldn't get very much money to do the renovations in order to progress within the game. The free hour therefore was not enough to give the game justice, and I don't mind games 'maturing like a fine wine' but with regards to this game I don't think there was any encouragement or enough reward for me to want to continue with the game. I appreciate the ethos of the game and what it was trying to do but the the money earned by essentially one person for most of the free hour meant that I couldn't really explore the game much thus not got enough of the flavour of the game for me to want to continue. For me therefore whilst I can see the that for some the game would have depth and would be a 'keeper' for me I didn't get enough of a flavour for me to continue and purchase the game.
April 21, 2013
You get what you pay for
I have to admit, although I paid just the regular members fee for this game I was expecting a little more from a virtual game. I didn?t play the first VF game so I can?t give an inform opinion on what may or may not be different between the 2 games, with that being said I still found this game very limited. And here?s why: The family is stuck in this very restricted world, where once they enter the house, they can never leave. There?s no driving to the mall visiting family or friends or having family or friends visit them for that matter, at what is evidently some kind of Penitentiary house. No going to the movies or any other normal active you would expect from a regular family. The Husband and wife do some kind a ritual dance to produce a child. Then the poor wife is stuck carrying around this child until there around 2yrs old, then both parents proceed to ignore the kid/s for the most part, unless you pay for a movie or book for them to read to there child, but there no guarantee the family will even end up in the same room for this activity. As the kid grow into teenagers there nothing for them to do besides studying, eating and maybe chatting online if the parents don?t have both systems tied up working on their careers. This sounds like what most teenagers do now right? Except there something a little bit creepy about teenagers that?s still acting out as they did as a child jumping on the beds, playing in the kiddies pool, raiding the fridge every 5 min?s and once they turn 18 they leave home and never come back, even as the parents pass away. The only way a child returns to the house if you re-adopt them once the parents are gone and I?m ashamed to say, I find myself selecting the kid I like the least to move back to house of no escape.. The bottom line is I wouldn?t mind paying more for a more realistic VF. I think it will be well worth the money if the family could be more like a real family, go out to dinner once in awhile, attend soccer practice, have a ph in the house that actual work, send the kids off to school before they leave for college. Have different characters exhibit some real personality tracts; lazy, forgetful, vain, bubbly and so forth. Have them interact with other people for goodness sakes and pls give them some decent clothes to purchase and pajamas to sleep in..That?s not asking for to much for our little peeps I hope? FYI: Also, I agree with a previous post about the characters keep twisting there heads to stare at you as there performing a task, I for one can do without that. The last thing I have to add is I really love the concept of virtual family; this could be a major platform in the gaming world and for the virtual/reality-fans (virtualfans)
October 16, 2013
Great if it played faster
Love it and hate it. I bought the game two months ago. I have played pretty much every day- that should be the beginning of a rave review. But-- I have just today, in the NINTH GENERATION of my family of home owners, fully restored the house. Yep. Two months of daily play. Nine generations of home owners. And they are still living in empty rooms because I can't afford to furnish anything but the kids' rooms. I have a few pieces of used furniture for the living room. The parents have a bed. That's about it. The game is crazy slow. And the accumulation of money is like real life-- there is never enough and you have to wait forever to get it. The only way I figured out to get all the rooms restored was I spent the last three generations buying nothing but groceries and medicine -- two or three weeks. And the bank interest #10%# finally helped me start earning enough to actually restore the rooms. For eight generations, my little people lived in a house with those empty barrels, toxic waste signs and yellow caution tape ribbons. Ugh. And now that I am fully restored, it is a lot harder to decorate than I thought it would be. Not just because of money-- which is a problem again after the home restoration. But because the furniture choices are disappointingly limited. And not all of the furniture will rotate four ways #right, left, front, back#. So, if you buy two chairs intending to have them face one another-- you can only have one face right and one face front-- that is your only option. Same with beds. You can't get a kid's bed with the headboard to the right and footboard to the left. They only go the other way or with the header to the top of the screen, footer to the bottom. After waiting two months to buy my chairs-- I want them to face one another over the rug it took me just as long to buy. I hope Last Day is planning on introducing more furniture collections. There are really only two types of bedroom collections for adults- boring and weird, creepy gothic. And a big tacky heart bed. I guess that is three types. And the dining room tables are strange. They all look like cafeteria tables, even though there are a couple of fancy sideboards and credenza styles. You can't get a table to match any of the other dining room furniture. And some of the table don't have chairs. And the people won't eat at the table if you buy one. I wish this were a monetization style game. I would put in $2 to get nice tables and decorate things. I vastly prefer this game to Farm Up, for instance-- which is a money pit and all you can really do is grow tomatoes. There are very few games except Sims where you get to decorate a dream home. I know because when I realized this game was going to take months to let me decorate the house, I went looking for a game like it that provided more instant gratification and there aren't any out there. If Last Day released a new pack of furniture for $5 a month, a new style for every room, I would probably buy it. I can't imagine it takes very long to take an existing "rug" template and put a new design on it. They could make a mint off of me with just a few tweaks to this game and by cranking out new furniture. Because even though it is awful-- I have been playing daily for two months!! I wish I loved it. They have the addictive part down. Just not the fun part.
July 15, 2013
More interesting than the first one, but not the best
I found this game much better than the first one, as you could furnish the house how you wanted and you could but more in the store, and the game was much better quality, but I found that at the beginning, since you didn't have that many rooms, it was a bit boring. You may find your first generation drag as you only have a few rooms and little cash to buy much in them. I recommend this game if you are fairly patient, otherwise I don't really recommend this game
June 9, 2013
They're waiting to die
If you like Virtual Families you'll probably like this. It's similar in terms of choosing who to adopt, building up their family and their cash...although some items that are for sale have become very expensive - you have to really think it's worth paying for a doctor's assessment. I've never had a character die young so it's perhaps not necessary. The down side to the game is that I find myself waiting for them to die! There comes a point where you've bought the career upgrades and the house upgrades for that generation - you can't buy more until the adults die. Once they've had kids all they're good for is making money. I tend to load up their food and leave them to it. There's not much point in buying furniture, it doesn't really add anything apart from the odd useful item like a washing machine. Not sure how much longer I'll stick with it but it's ok.
May 18, 2013
NEEDS WORK
I really wanted to like this a lot more, but there are so many flaws. The concept is good, but the mechanics aren't. It needs a speed control. Everything moves so slowly, half the day is gone if you want them to pick up a collectable or cook a meal. You can unlock two rooms in the first generation and have access to very little furniture so you're basically stuck with a bunch of ugly stuff. You can get a kitten or puppy though. The oldest child went off to college about 4or 5 real days ago. Her brother followed 2 days ago. I don't know if they'll ever come back, I haven't heard a word from or about them since they left. Earning money does pick up after a few promotions, but that first few days is a real struggle. I'm really not sure if I'd recommend this or not. I was expecting more freedom from the first game, instead got a lot more limitations.
June 6, 2013