Virtual Families 2
Enter a tiny world in your computer with this amazing casual family sim, Virtual Families 2! Adopt characters and help them choose a mate and start a family! Encourage them to work in their chosen career to earn money for necessities and luxuries. Expand and renovate the house. Make a nursery, a music room or even a game room! Help your character get through the challenges of life and shape their personalities with all sorts of upgrades, from psychotherapy to career counseling and many more!
Real-time game play!
Unique and fascinating adoptees
Fully trainable people! Scold or praise them to shape and adapt their personalities!
Dynamic illness system. Play doctor!
Game System Requirements:
OS:

Windows XP/Windows Vista/Windows 7/Windows 8

CPU:

800 Mhz

RAM:

256 MB

DirectX:

7.0

Hard Drive:

92 MB
Game Manager System Requirements:
Browser:

Internet Explorer 7 or later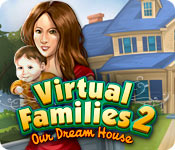 NEW299
The Big Fish Guarantee:
Quality tested and virus free.
No ads, no adware, no spyware.

Reviews at a Glance

Virtual Families 2
0
out of
5 (
0
Reviews
Review
)
Customer Reviews
You get what you pay for
I have to admit, although I paid just the regular members fee for this game I was expecting a little more from a virtual game. I didn?t play the first VF game so I can?t give an inform opinion on what may or may not be different between the 2 games, with that being said I still found this game very limited. And here?s why: The family is stuck in this very restricted world, where once they enter the house, they can never leave. There?s no driving to the mall visiting family or friends or having family or friends visit them for that matter, at what is evidently some kind of Penitentiary house. No going to the movies or any other normal active you would expect from a regular family. The Husband and wife do some kind a ritual dance to produce a child. Then the poor wife is stuck carrying around this child until there around 2yrs old, then both parents proceed to ignore the kid/s for the most part, unless you pay for a movie or book for them to read to there child, but there no guarantee the family will even end up in the same room for this activity. As the kid grow into teenagers there nothing for them to do besides studying, eating and maybe chatting online if the parents don?t have both systems tied up working on their careers. This sounds like what most teenagers do now right? Except there something a little bit creepy about teenagers that?s still acting out as they did as a child jumping on the beds, playing in the kiddies pool, raiding the fridge every 5 min?s and once they turn 18 they leave home and never come back, even as the parents pass away. The only way a child returns to the house if you re-adopt them once the parents are gone and I?m ashamed to say, I find myself selecting the kid I like the least to move back to house of no escape.. The bottom line is I wouldn?t mind paying more for a more realistic VF. I think it will be well worth the money if the family could be more like a real family, go out to dinner once in awhile, attend soccer practice, have a ph in the house that actual work, send the kids off to school before they leave for college. Have different characters exhibit some real personality tracts; lazy, forgetful, vain, bubbly and so forth. Have them interact with other people for goodness sakes and pls give them some decent clothes to purchase and pajamas to sleep in..That?s not asking for to much for our little peeps I hope? FYI: Also, I agree with a previous post about the characters keep twisting there heads to stare at you as there performing a task, I for one can do without that. The last thing I have to add is I really love the concept of virtual family; this could be a major platform in the gaming world and for the virtual/reality-fans (virtualfans)
October 16, 2013
More interesting than the first one, but not the best
I found this game much better than the first one, as you could furnish the house how you wanted and you could but more in the store, and the game was much better quality, but I found that at the beginning, since you didn't have that many rooms, it was a bit boring. You may find your first generation drag as you only have a few rooms and little cash to buy much in them. I recommend this game if you are fairly patient, otherwise I don't really recommend this game
June 9, 2013
They're waiting to die
If you like Virtual Families you'll probably like this. It's similar in terms of choosing who to adopt, building up their family and their cash...although some items that are for sale have become very expensive - you have to really think it's worth paying for a doctor's assessment. I've never had a character die young so it's perhaps not necessary. The down side to the game is that I find myself waiting for them to die! There comes a point where you've bought the career upgrades and the house upgrades for that generation - you can't buy more until the adults die. Once they've had kids all they're good for is making money. I tend to load up their food and leave them to it. There's not much point in buying furniture, it doesn't really add anything apart from the odd useful item like a washing machine. Not sure how much longer I'll stick with it but it's ok.
May 18, 2013
NEEDS WORK
I really wanted to like this a lot more, but there are so many flaws. The concept is good, but the mechanics aren't. It needs a speed control. Everything moves so slowly, half the day is gone if you want them to pick up a collectable or cook a meal. You can unlock two rooms in the first generation and have access to very little furniture so you're basically stuck with a bunch of ugly stuff. You can get a kitten or puppy though. The oldest child went off to college about 4or 5 real days ago. Her brother followed 2 days ago. I don't know if they'll ever come back, I haven't heard a word from or about them since they left. Earning money does pick up after a few promotions, but that first few days is a real struggle. I'm really not sure if I'd recommend this or not. I was expecting more freedom from the first game, instead got a lot more limitations.
June 6, 2013
sorry virtual family you get 3 on this one
when i saw they had a number 2 i had to have it, i didnt even try it first that was my mistake the game is a good game all the perks one could want but like the other viewers said the people are so darn slow they walk like they are all sick or they dont like to run it takes about 10 minutes to make a meal the lady is all ready kissing on the bed and the man is still on the floor with his head spinning by the time the husband gets on the bed the lady has left and you get no kids.. also the mouse has a mind of its own thats a real bother because the mouse keeps jumping that makes a big headache if they would change or fix this.this game would be a 5 because i did like the first one and the clicking at the store click click click nothing happens the mouse is terrible i have to click so many times to get the mouse to cooperate big fish fix please and give us a better quality game this isnt it if these were fixed then i would recommend until then not
April 26, 2013
another virtual game
A typical virtual game....slow and kinda boring
May 10, 2013
Why??
Please tell me why the people HAVE to move so slowly. What is it about this game that makes that necessary. I won't buy this game because of that very thing. I cleaned my bathtub and toilet while she was preparing dinner, and she still wasn't finished when I got back. I'm sure the game will be fun to some, I liked the village games, but the movement on this game is ridiculous.
April 20, 2013
Tedious
I really expected more from LDW's sequel to VF series. Unfortunately, their latest effort is a real downer. The characters movement is far slower than the previous VF and this game is riddled with glitches... - Issues with clicking and placing furniture in rooms. - The very annoying wandering mouse issues. - The problem that you cannot disable the annoying tutorial. - The diversity issue with the characters is still a problem. - The missing game speed mode. - The inflated pricing of store goods. - Issues with peeps who want kids and still unable to have them after using the baby booster. - Annoying issues with peeps taking nearly 10-15 minutes to cook and/or to work. As a fan of LDW games, I really looked forward to playing their sequel to VF and was greatly disappointed with the game and a host of other things. I just cannot recommend VF2 this time around.
May 5, 2013
This game is sooo boring!
I was enchanted by the game at first, but I did not realize some things about the game, so I made the mistake of buying it. It is sooo boring. Every day I have to play unless I pause the game. Day in and day out, I do the same things which include having them make a meal, clean the house, yard and themselves so they don't get sick, work, pick up collections to make more money and try to make a baby. Even though they both would love to have kids, they absolutely refuse to do so after their first child at the beginning of their life together :-o What's with that?? What happens if their first born dies? There will be no nice house, much less a mansion. It costs a lot to treat their illnesses which are very contagious, so I always try to have them earn money as quickly as possible. I save about $1,000 coins per person to treat them in case they get sick so they won't die. They need to earn enough money to fix the toxic and bug infested rooms so they don't get sick and die. There's too much focus on sickness and dying. And I would not want my children playing this game because of this either. It's very annoying and boring to not make them do what you want them to do since so many of the things they do are self-initiated. There needs to be a lot more to do! They could interact more with each other - adult interactions are limited to making a baby and tickling or reading a story to their children. It'd be nice to have them interact more with each other and do things together. They could make friends to call and do things with and choose a friend to date. They could learn about professions we want them to do and do activities to enter this profession and get promoted. But these things would require money that they don't have. You start with little and it takes forever to unlock things to the point that it is totally ridiculous! You can't unlock a new sofa till at lest the 3rd generation or later, so you are stuck with a stained hand me down sofa until then. What the heck are they doing picking up socks if we can't unlock a washer and dryer until generations later?? I think we should be able to buy more furniture in the first generation with each generation having nicer things providing they earn enough money. This game needs a lot more to it!
April 29, 2013
very disappointed
I am a huge fan of Virtual Villagers (when will a sequel come out?), but so disappointed in families. Like everyone else said so slow....no speed up button. Played an hr and only got one room renovated. Couldnt find where to get pest removal. Waiting for the next Virtual Villagers!
April 22, 2013