Virtual Families 2
Enter a tiny world in your computer with this amazing casual family sim, Virtual Families 2! Adopt characters and help them choose a mate and start a family! Encourage them to work in their chosen career to earn money for necessities and luxuries. Expand and renovate the house. Make a nursery, a music room or even a game room! Help your character get through the challenges of life and shape their personalities with all sorts of upgrades, from psychotherapy to career counseling and many more!
Real-time game play!
Unique and fascinating adoptees
Fully trainable people! Scold or praise them to shape and adapt their personalities!
Dynamic illness system. Play doctor!
Game System Requirements:
OS:

Windows XP/Windows Vista/Windows 7/Windows 8

CPU:

800 Mhz

RAM:

256 MB

DirectX:

7.0

Hard Drive:

92 MB
Game Manager System Requirements:
Browser:

Internet Explorer 7 or later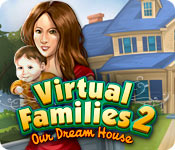 NEW299
The Big Fish Guarantee:
Quality tested and virus free.
No ads, no adware, no spyware.

Reviews at a Glance

Virtual Families 2
0
out of
5 (
0
Reviews
Review
)
Customer Reviews
Slow As Molasses In January
I really wanted to like this game as I enjoyed the first one so much, BUT... Characters move even more slowly than they did in the first version. Takes about ten minutes for them just to make dinner. In addition, the mouse is quite wonky and you have to really do some hand exercises to click on some of the items. Everything in the store is quite expensive and your little people will be sleeping on couches for quite a while. All in all, just not much fun and rather frustrating.
April 22, 2013
Don't buy this game.
The people move way too slow so there's a lot of sitting waiting for them to complete a task. Also they don't do what you tell them to half the time. Mine got stuck on repairing a sink. I kept dropping them on the sink and sometimes they would act like they were repairing it other times they would wander off and the sink never was actually repaired. Then the people refused to do much else because they kept wanting the sink repaired. very boring and frustrating game, I definitely don't recommend it.
May 4, 2013
Why no speed control or tutorial off switch?
I loved the first VF and thought this game would be great but I am so turned off by the slowness of the game and that you cannot disable the tutorial. Not everyone needs or wants to suffer through a tutorial. The game is very self explanatory. The lack of ability to speed up or slow down the game is another black mark. I just cannot recommend this game as is.
April 23, 2013
Unbelievably frustrating....
I waited so patiently through six or more generations for someone to actually want to work who made money - but these mini peeps became bigger pain in the rears than *real life!* I spent hours praising them, feeding them, entertaining them, buying them everything - the graphics are really cute! - and all for nothing. I was traumatized every time they got old, sat up in bed and waved at me with their ghostly outline and so angry at the most recent generation that I just kept hitting them with the green glove when they constantly argued and I had to spend coins to adopt all my children; it was a miserable couple - how is that fun? A progressive game of famiies that get happier would be rewarding, as would some interaction between the characters. The most mothering I ever saw was "showing baby the garden." After they're out of her arms, they cease to exist to the parents, and become your problem. That's when I realized that this game is a soul-sucker. If I want to decorate I can do it in real life. If I want drama, and sickness and weak people...I can leave my front door. It's strangely addicting and yet, there is NO payoff - only constant care and medicating and watching people get old and exhausted and turn gray headed in their early 50's! I noticed I started dreading turning the game on wondering who else would be "a bit sick," or "weak," and that's when I realized the problem was mine, and I had the solution. Uninstalled!
September 24, 2013
Fairly Boring
I kind of enjoyed the first version of this game (until my computer went down and my carefully nurtured people died without having children, which ended the game in a very frustrating way...but that's beside the point) and I thought the 2nd version might be better. Yeah, well...it's not so great after all. Yes, the house is bigger and there are more upgrades you can buy for it, but it just seems so tedious now. Maybe it was because I was pregnant and stuck at home on bed rest (and was therefore desperate for any kind of entertainment at all) when I was playing the first one, but I'm starting to regret spending one of my free game codes on this game. Unless you're also desperate (and have played every other game on Big Fish) you probably shouldn't bother buying this one.
June 21, 2013
Slow and worse than VF1
I like VF1, so foolish me purchased this without trying a demo, thinking that graphics may be a little better, people may move a little quicker...But no...People move slower than ever, graphics are very similar to VF1, you have to have 3 or more generations in the one house to unlock better furniture, and controls?? omg!! Terrible!! the cursor goes where ever it pleases, while you are trying to move around your screen to see the rest of your house it bounces from top to bottom and gets extremely frustrating. Then your family gets sick....often....too sick to work, to earn money, to heal them.....I wish I had never bought this game, what a waste of money.... :-(
May 18, 2013
Wasn't impress
No speed setting, characters and skills are very S....L...O...W. Has potential, but not right.
April 22, 2013
Slow Game
I found this game to be too slow, you couldn't upgrade until the second generation which i found frustrating. i preferred the format of the visit game, but it needs to speed up a little very disappointing with this game, felt i wasted my money on the game
May 4, 2013
boring
this game was very boring and slow paced. You couldn't speed it up and could be hard to understand,
April 25, 2013
Boring and lifeless
Boring and pointless game needs improving as too confusing about what to do next.
March 3, 2014