The Secret Order: Masked Intent
Exclusive
Sarah receives shocking news from her father. One of the newest members in the Order of the Griffins has turned traitor, murdering one of the Secret Five, the heads of the Order. What's worse is that very traitor is about to join the Secret Five, and he's wearing a mask that gives him supernatural abilities. Sarah has to race back through time and search for the one artifact that can subdue the mask: a magical scepter. Hop aboard the Royal Griffin and help Sarah unmask the traitor before he destroys the Order in The Secret Order: Masked Intent, an exhilarating Hidden Object Puzzle Adventure Game.
Game System Requirements:
OS:

10.8/10.7/10.6

CPU:

1.4 GHz (INTEL ONLY)

RAM:

1024 MB

Hard Drive:

1223 MB
Game Manager System Requirements:
Browser:

Safari 4.0 or later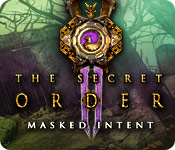 NEW299
The Big Fish Guarantee:
Quality tested and virus free.
No ads, no adware, no spyware.

Reviews at a Glance

The Secret Order: Masked Intent
0
out of
5 (
0
Reviews
Review
)
Customer Reviews
The Secret Order: Masked Intent
38
38
Really great game!
This is a really good one! Although there is suspense, there are no demons, axe murderers or tortured souls. Nice change. The HOS are very believable- everything is size appropriate, most items are rather on the easy side to find. I didn't run across any scenes where the corners were too dark to find an item. If HOS aren't your thing, you can switch to a mah jong game instead, which comes in handy for those difficult to find last items. There is a map to guide you, although you have to move from place to place manually, and a list of tasks to keep you on track- which is handy, because most scenes only had 1-2 items to place, and often you had to travel a good distance to use a recently found item. In truth, the story line was a little dragged out, but I skip the dialogue anyway. The only thing that was kind of weird was the size of the picture on the screen- everything was rather small-ish. Overall, this game is DEFINITELY worth $6.99. Give it a try.
April 20, 2013
Dark Hidden Object Adventure
Based on the Demo The graphics are beautifully done in this game with panoramic views and great special effects. The soundtrack is excellent, the music is haunting, the loud noises designed to scare the players. Voiceovers are excellent also, clear, crisp, easy to understand. The storyline is interesting: good versus evil with your family member immersed in the battle. It was a little too slow moving for me. Nathan, a man your father's friend did not trust was being sworn into the secret order. Nathan steals a mask to give himself power beyond belief and now it is your father's and your job to save the world from him. The hidden object games were standard, with some of the items being really tiny but you can opt to play mah jongg instead. The mini puzzles are a lot of fun, some of them very challenging. There is not reset button but there is a skip button. The player gets a journal with objectives, notes, and a map to assist in gameplay. It was a good hidden obect adventure game.
February 3, 2014
AN ERSTWHILE NEW GRIFFIN
After the newest and youngest member joins the Secret Order of the Griffins, he steals a mask and commences to wreck havoc. You are out to stop him and find a time-travel ship hidden in the Griffins museum for eons. So, of course, you will be traveling a lot and fetching things for the people of the eras. Quite a few cutscenes. Many locations with beautiful graphics. Nicely-put together adventure HOG with 3 different modes of difficulty. Great voice overs. There is a separate volume control for voice overs and you can select aspect correction if needed. Your journal has your notes, objectives and a fast-travel map. Good ratio of HOS to puzzles. Instead of HOS, you can play mah-jong. The HOS are fairly large and uncluttered, but objects are well hidden and many have shadowy areas. Plenty of different types of puzzles, none of which is mind-blowing impossible. The CE has the bonus chapter, music soundtracks, game art, movies, minigames and 21 wallpapers
July 18, 2013
Definite 3.5!
I had tried the CE and was disappointed in that the SG wasn't working well. I see that they fixed that, but didn't see that it was CE worthy. The SE is a very nice game. Grahics and game play are very good, music not too bad either. Games not difficult but take a bit of thought. HOGs were clean, but very difficult to see a lot of the items. Color in HOGs was either very washed out or none existant. The story is nothing new, but the game was fun. Not particularly challenging but enough to keep me interested. Demo was very short (had 18 minutes left to play), so probably a very short game as well. I am going to purchase this game, only because I have already lost one credit this past week and really don't want to waste any more money and lose another this week. We have very few SE games worth purchasing these days, which is extremely frustrating and very maddening. As always, try it for yoursefl and see what you think. We all have different tastes in game and you may not care for this one at all. Thanks for the reviews.
April 21, 2013
Great Value
I was surprised by how long this game was especially for a SE. Previously many SE games I've trialed or purchased did not work correctly on a wide screen monitor, this does. Graphics were superb, not sure about the sound as I normally have it off or very low. As with most HOGs my mind doesn't work quite the same as the programmers so I did find myself using the odd hint to get to the right location.
April 28, 2013
A corker of a story!
This is an older game, with older graphics. Please don't let that turn you away from this game. You (Sarah# have to travel to the past to change your recent past, the loss of your father by a traitor to the Order. This game was a very pleasant way to pass a few hours The story is interesting, the music spot on for atmosphere but don't expect a lot of bells and whistles. My only #mild) complaint was that the puzzles were on the easy side. It is a very linear game, not a lot of back and forth. There is no map, you don't have to carry a lot of things around and the HOS are fairly easy. If I hadn't used a freebie for this game, I may not have purchased it but would have missed a very pleasant, fun game.
April 23, 2014
Excellent graphics that add to the atmosphere
This game was a lot of fun. The graphics and music definitely add to the atmosphere of the game, so don't skip them even if they seem long. This is more adventure game with hidden objects thrown in than a HO game. That is my preference, but if you are interested in HO games, keep that in mine. Although I enjoyed the time travel aspect, it is not emphasized in the game, especially compared to a game like Tesla's Tower, which I loved. It is also far shorter than other games I have played lately. The games are enjoyable, but there is really nothing new.
July 21, 2013
Good Game, Particularly If You Like Realism
BASED ON COMPLETED DEMO & WALKTHROUGH Nothing intrigues me more than a little battle between Good and Evil, or in this case, Peace and Chaos. Add to that some time travelling, ancient gods, and underwater scenes and I?m pretty much content. I guess it?s just me, but I don?t like these pseudo-realistic graphics. They seem so clunky and grainy and pixelated on my big monitor. Give me a swath of hand drawn canvas any day. This business with the graphics aside, I am still not sure this game is all it?s cracked up to be. From the walkthrough it is clearly not very long. There seems to be very little actual movements in time, just get to where you need to go and get on with it, and the overall texture of the game is fairly flat. The HO scenes are not ?alive? with animations. Some do have some interaction, but not all. They visited only once, and there are two per chapter. There are six chapters. The puzzles seem pretty straightforward, and I noticed nothing really eye catching. There doesn?t seem to be a lot of them. What I?ve seen of the game play seems logical, although I did need to use the hint button (it?s a directional hint) in the trial a couple of times. What it comes down to is, this game is okay. There?s nothing going against it as far as I could see, if you like realistic graphics. But it won't be winning awards either. For me, it will stay in my ?fillers? folder til the next time I need that one.. more.. game .. for my punchcard.
April 20, 2013
there are better ones out there
The graphic could have been better. Has voice over but has too much video in the game. I just did not get interested in it. Seemed pretty straight forward with not much of a challenge. The HOS are easy. There is lots to find and going from place to place. Hint button works good and has a map and objects to do screen. There is better games to buy.
April 20, 2013
Just ok for me
The secret order of the masked intent I give this game a 3.5 stars. I felt the music did not set the right mood for the game. The voiceovers were just ok but not the best I have seen. I found the game to be a little on the boring side it wasn?t the worse game I ever played but it was far from even my top 20 games. There was a few things I liked, like being able to play mahjong instead of finding objects in the HO scenes however it got repetitive after a while as all HO scenes were the same as were the mahjong. The puzzles were very well done even some new ones I had never seen before and they were not too easy nor were they to hard. The other good part about this game is that it was fairly long as it took me about 5 hours or so but I also couldn?t get very involved in it due to its boring nature which could be why it took me so long, Altogether I would say it was an ok game but not one I would be running out to get right away nor does it have a reply potential. Although it is a well lengthen game it also was quite boring and really hard to get into. I do recommend but only if there is nothing else to play. I hope this helps to all those BF fans Good luck and Have fun :)
July 16, 2013
The Apple logo is a trademark of Apple Computer, Inc.
The Windows logo is a trademark of Microsoft, Inc.