Northmark: Hour of the Wolf
Experience the thrills of adventure in Northmark: Hour of the Wolf, a card-based RPG. Choose to become a mighty warrior, cunning mage or powerful druid as you fight for glory and survival in arena combat. Explore every corner of the kingdom from fiery deserts to deep forests and cold mountain peaks and journey to the kingdoms of the elves and dwarves. Danger waits at every turn as you investigate the chilling mystery that threatens your homeland. Can you defeat assassins, thieves and hideous monsters?
Original battle system
Fight for honour, glory... and gold!
Become the greatest hero Northmark has ever known!
Game System Requirements:
OS:

Windows XP/Windows Vista/Windows 7/Windows 8

CPU:

1.2 GHz

RAM:

1024 MB

DirectX:

9.0

Hard Drive:

48 MB
Game Manager System Requirements:
Browser:

Internet Explorer 7 or later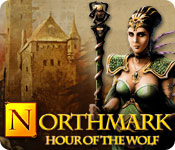 NEW299
The Big Fish Guarantee:
Quality tested and virus free.
No ads, no adware, no spyware.

Reviews at a Glance

Northmark: Hour of the Wolf
0
out of
5 (
0
Reviews
Review
)
Customer Reviews
Northmark: Hour of the Wolf
27
27
Great Game
Once you get the hang of this games card play based battle system it is really fun. Because you need good strategies to win the card battles this is challenging and it has really fun side quests and good storyline. Nice graphics and music give you a good all round experience without being intrusive or letting you down in any way. Definetly worth buying.
April 24, 2013
Fun and Entertaining
This was a fun game. Does require some thought planning wise to play. And dialog between the characters is worth clicking through for the laughs. I highly recommend looking through all the help/info information first -- especially on how the card play goes. Not all of the controlls are 100% intuitive -- but close enough. Stragety tip -- selecting your battle deck. Don't get stuck playing the same cards, you will but and find new ones as you go along and will need them, and the enemies get harder and harder to beat. Anything that takes down the enemies defense is worth it -- War Cry card is probably one of the best in the deck I have found so far for that. Overall -- enjoyed the game well worth the price. I hope the compan creates another game like this one. I can see it in various genre easily from pulp 1930's cops and robbers to space opera.
April 28, 2013
Please make a sequel! (recommendations bellow)
This game is awesome. I didn't grow up with RPG's, so I don't have any nostalgia; I just like the game. I liked . . . . . . the battle system. Once you get the hang of it, it really is pretty straight forward, and it offers a myriad of possible strategies and attacks. It's fun to try out different units and cards to see what works well against what. If you're having trouble, there's an explanation on the forums. . . . the dialogue. It's hilarious. This is impressive because the developers are not native English speakers and subtle sarcastic humor is very difficult to translate. Except that the characters still talk to the female hero as though she's a man, I found few annoyances and lots of little laughs. If you are semi-illiterate or don't like reading through dialogue, this game is not for you. It is where half the fun of the game comes from. . . . the visuals. They were very well done, especially for a small indie developer. . . . the characters. THERE ARE HOBBITS! The one thing that didn't meet my standards was the storyline. It was engaging enough that I wanted to find out what happened next, but it ended too soon and abruptly and left me feeling as though things weren't resolved. As it turns out, the game was supposed to be about twice as long as it is. The developer is fairly small and the game proved to be more expensive to create than anticipated. They released it, hoping that initial sales would provide the additional funds needed and they could provide an update later. No such luck. Further fundraising efforts were unsuccessful. They have since added an ending of sorts that hints at a sequel, but no such game is currently in the works. I'm still holding out hope. Please make a sequel! I want to fight a demon. If you liked this game, you will have trouble finding others like it on BFG. However, the Tradewinds games are somewhat similar, so you might want to try those. Also, Tiny Token Emipres is very similar in spirit, if not in mechanics, and is very long. I've included the link at left.
July 5, 2014
I love this game! Great RPG card game.
This is such a fun little game! Had hours of fun playing it through the first time and going back to play as a diferent character class now. If you aren't familiar with these types of games, give it a try and see how you do! If you have played these games before you will love this one. Funny little twists in dialogue had me smiling as well as references to '42' and The Discworld. I hope and pray to see more like this and maybe even a sequel! Well done BF and Devs! Thanks for the great game!
April 25, 2013
Give this game a chance
I almost didn't try this game after reading 1 really bad review, but I'm glad I read the other reviews. A few minutes into the trial and I knew I have to buy it. It reminds me of Darklands, an old RPG game, but simpler (since it's casual game), and what I adore is the story telling (beautifully written & the unexpected humor). I had a lot of fun doing the quests, and I like the strategic thinking required to get the attack/defense cards that I want, and later on get to upgrade my team with higher skills and hit points. Give this game a chance. I thank the Indie developers for giving me this few hours of adventure & laughter!
July 6, 2013
Love a quirky game?
Loved this game. It has a great feel to it. Lots of dry humour and fun banter. Heaps of references to Sci Fi and fantasy books and pokes fun at itself and its limitations. The only draw back is that it is very short. All in all a very enjoyable game
May 9, 2013
A Refreshingly Different Game
What makes this game great is not only the engrossing storyline but also the refreshingly different style of gameplay. I would highly recommend giving this game a try.
September 30, 2014
Fun Card Battle Game
Greatly enjoyed the variety of battle cards and characters. Found it to be a fun game and was disappointed to finish it. Really wish their was another episode to play!
October 18, 2013
Loved it.
I really hope that more like this will be created, different, fun and just enough like an RPG to please. Worth the time to get into it.
May 13, 2013
Good old-school strategy game
(Based on the demo) I found this card battle game to be an interesting addition to BFG's small library of rpg/strategy games (technically separate from time management games). The gameplay is simple, (though I suspect it will grow more complicated and difficult as the game progresses): you work your way across the map acquiring quests, and these quests in turn open new locations on the map. The quests can be simple 'fetch' quests or they can be battle quests, and occasionally you are given choices which may affect the course of the game. Upon completion of the quests, the player is given experience points, which are necessary to gain new character levels and -- in rpg fashion -- each new level unlocks stat points which can be used to boost the hero's offensive or defensive statistics. Battle is turn-based and consists of playing offensive, defensive, healing, and stat-boosting cards, most of which are randomly generated, and throughout the game new cards are made available for purchase either in the shops or by the completion of quests. Although the gameplay itself is different, fans of the wonderful 'Puzzle Quest' games will recognize several elements in play here, such as repeated visits to locations where new quests are generated as the story, and your participation, dictates. An interesting feature of this game is the occasional chests you stumble upon throughout the game, the contents of which are unlocked by solving an anagram riddle -- old-school gamers may recall this exact same feature from the 1993 Sierra RPG 'Betrayal at Krondor'. All and all, an intriguing and unexpected offering from Big Fish -- my curiosity is piqued and as soon as my monthly credit kicks in, I will be getting this one to do some further exploration.
April 24, 2013
The Apple logo is a trademark of Apple Computer, Inc.