Shiver: Moonlit Grove Collector's Edition
Exclusive
You owe everything to Rene Malot, the man who found you as a child and raised you as his own. So when he goes missing, you're elected by the district to take his place, following in his footsteps as a doctor. On the way to your new job, a wolf attacks your carriage, forcing you to flee for shelter in a nearby village. Something here is very wrong, but the villagers aren't talking. As you discover their secrets, you might discover something about the foster father whom you've loved so dearly. You'll need all of your wits to survive the long night in Shiver: Moonlit Grove, a chilling Hidden Object Puzzle Adventure game.

This is a special Collector's Edition release full of exclusive extras you won't find in the standard version. As a bonus, Collector's Edition purchases count toward three stamps on your Monthly Game Club Punch Card!

The Collector's Edition includes:
Replayable Hidden-Object puzzles
Downloadable wallpapers
Concept art and video gallery
Bonus chapter featuring an exciting epilogue!
Game System Requirements:
OS:

Windows XP/Windows Vista/Windows 7/Windows 8

CPU:

1.2 GHz

RAM:

1024 MB

DirectX:

9.0

Hard Drive:

809 MB
Game Manager System Requirements:
Browser:

Internet Explorer 7 or later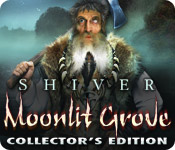 The Big Fish Guarantee:
Quality tested and virus free.
No ads, no adware, no spyware.

Reviews at a Glance

Shiver: Moonlit Grove Collector's Edition
0
out of
5 (
0
Reviews
Review
)
Customer Reviews
Shiver: Moonlit Grove Collector's Edition
81
81
Almost a Great Game
Although the storyline is interesting and the graphics are excellent, this game suffers from illogical puzzles. You will have to use hints because some of the puzzles make absolutely no sense. Also, the collector's "bonus chapter" is actually the final 1/3 of the game. The non-collector's version must be very disappointing.
May 29, 2013
Interesting but confusing interaction
Found this to be interesting however the HOG hidden objects required more than one action to complete and that was confusing at first. Only completed the demo but did not decide to buy it because there are other games that I find more challenging and fun. Did not choose to buy this game.
May 6, 2013
And This Continues The Horror Start To The Month...
I wasn?t a fan of the first to Shiver games, but I gotta say: This is the worst of the lot. You may accuse me of being biased, but I know that sometimes the next game in a series can be a lot better (for example, the Grim Tales series) but this game was just plain bad. For starters, the storyline is very odd and hard to follow. It was very unorganized and just seemed to be all over the place. One moment you crashed your cart, the next you are escaping from some place, and the next you see a bonfire?? To sum it up, this story had me confused from the start. I could never get a grip on what was actually going on, and the cutscenes made it worse. They weren?t needed as far as I could see, and they just confused me even more. The HOS were good though. They were a challenge for me, and included a few extra step objects. The puzzles were very, very confusing, and hard to understand. I ended up having to skip a lot of them, but I didn?t really like them anyway. The graphics were very hazy in the cutscenes, and not much better in the actual game. This was a real disappointment for me, since this is a 2013 game, I expected much better. It was almost as if the developers could not be bothered. The voice-overs were not really present throughout the demo; your character only gets a few lines at the start, and then the only speaking characters after that are your stepfather and another person who is in the story. FEATURES - Diary to keep track of events - Some objects needed to be combined in your inventory - No map. - Hint & Skip. Hint charges very quick, almost too quick, so players can just rely on the hint for everything, and thus, there is no need for a Strategy Guide. - Strategy Guide (CE Exclusive- only the first 2 chapters are in the demo) - Wallpapers (CE Exclusive) - Concept Art (CE Exclusive) - Bonus Chapter (CE Exclusive- unlocked at the end of the game) - Ability to replay the HOS (CE Exclusive- unlocked at the end of the game) Despite the lengthy amount of CE Extras, I can?t say that it is worth the extra money or credits, because to me, it was a rather boring and uninteresting game. Had the story been a little more organized, we might be looking at a winner, but for me it was just one big disappointment.
May 3, 2013
The Shiver series is just getting more shaky...
And not in a good way. The first game was pretty good, the second less so, and this one is the worst of the bunch so far. I went ahead and bought the CE based on the previous games after only playing the demo for a bit, figuring it'd be okay. Unfortunately, I have to say I regret buying the game now that I'm done with it. The graphics are okay, though not fabulous. The animation is a bit stiff and looks worse than the graphics themselves. It also looks rather dated and as if it's made for a much older game. The sound isn't bad, but isn't anything fantastic either - it's just sort of there. It's also a rather darkly-colored game, though that was to be expected and it's not so dark as to be unplayable. The story is a bit confusing and even after finishing the game (and the bonus chapter) I feel as though some things weren't fully clarified. It feels like it jumps around, which really only adds to the confusion. It also loses points for needing the bonus chapter to finish up some parts of the story - to me, a bonus chapter should be a true bonus, not something that without you won't have finished up a main part of the story. And even with that bonus, there still were parts that weren't finished up enough. The hidden object scenes are relatively good, and have some interesting multi-step things to get done to find an object or two in them. That being said, that will be a feature some people won't enjoy. There aren't quite mini-games exactly, more mini actions here and there such as turn the wheel, clean off an object, fill a bucket with stones, etc. They occasionally feel somewhat pointless, and at other times an annoying thing to have to complete. It also features combining items to make new items, which you do in your inventory. I actually like being able to do it in my inventory as opposed to carrying pieces to other pieces elsewhere. The use of some of the objects is occasionally rather odd, though. This game has a diary to help track the story, but no map, which is a bit annoying at times. It otherwise has the typical things for most CEs - a walkthrough/strategy guide, bonus chapter, wall papers, concept art, etc. As I already mentioned though, the bonus chapter isn't exactly a bonus, it's a part needed to even understand some of the story at all. The overall length of the game, even without the bonus, is relatively good though. Ultimately, I don't feel this game is worth it as a CE. And after having played it, I'm not sure if I'd enjoy it even as an SE, though at least I wouldn't feel like I'd wasted quite as much at that point. If you're wanting to continue the Shiver series, I'd say play the SE version of this game, not the CE, but be prepared to be even more confused by the story at that point, since the SE won't have the bonus chapter to conclude some aspects of it. If they continue on with this series in the future, I really hope they make more of an effort next time.
May 26, 2013
Shiver...no longer has a shiver...
I'm going to be honest and I hope I'm not offending anyone or the game makers. However, I have already played through Vanishing Hitchhiker and Poltergeist. I absolutely love both those games and have even bought Vanishing Hitchhiker for my kindle fire. However, Moonlit Grove just didn't fit in with how Shiver games have been in the past. I found myself rather bored after some time with the HO scenes. Sometimes it just had to do with how many items you had to find in order just to get one of the listed items. Repetitive backtracking even, but not all the time. And it happened over and over and over again, one to many times for me. The story was eh, different from most stories about wolves, however, the game just couldn't keep my focus. The extra chapter was also a little...eh? I kept wondering if something more, something different was going to happen...but...it never did. The graphics were beautiful, the artwork wasn't my favorite, again this is my opinion here. All together what I'm basically trying to say is that I wish there were something different to this story.
July 8, 2013
i wish i could buy this game... but...
this game, unfortunately, is a no buy for me. it's WAY less than a 10/10... more like a 4/10. three reasons: *sparkles* in the hardest mode (-2 points) black bar tips in hardest mode (-2 points) tutorial notes even when tutorial is turned down (-2 points) ("when the cursor turns to a spinning thing, that means you can spin something" ARRRRGGGGHHHH!!!) so, in star ratings, i'll give it a two, which is the closest equivalent. seriously, how much sense does it make to take away the hint/skip buttons in the hardest mode and then LEAVE in the sparkles? isn't there something wrong with this logic? at first, i thought the sparkles might be fireflies... or swamp gas... or something other than the dreaded sparkles. but no, my hopes were dashed. the sparkles were on *every* active area in each location. i admit that i bought the other two shiver games long ago (the first one in june '11 and the second, i bought the CE when it came out, march '12) and i don't remember sparkles in the hardest modes of those games, but perhaps i wasn't as picky about them then as i am now? dunno. i enjoyed the intro, i enjoyed the tasks at hand, i enjoyed the weather and especially the spooky music. i liked the HOS's interactivity with multiple tasks to do (but is that REALLY where you place a stamp on a letter? ) i didn't mind the extra stuff in the inventory and liked that you had puzzles/combinations to do there, as well. i didn't mind that there was no map, since i seldom use them. i didn't much care for the fact that the vitruvian man "puzzle" had the answer right there, but at least it was hidden until you clicked on it. still... it WAS in the journal, where it should have stayed! and the lockpick puzzle? that was *the EASIEST* lockpick puzzle i have ever seen. sad. and, TG, there are NO cute, cuddly animals whose bellies "beg for tickling"!! kudos to the dev for that!! i'm certainly glad that they didn't copy THAT unwelcome trend! i really wish i could buy this game, but i know the *sparkles* would drive me BSC by the time i got to the end.
May 3, 2013
Holy Carp, Save Yourselves
I tend to be fairly friendly in my reviews, but I am deeply disappointed in this game. The controls are extremely finicky--if you don't click in exactly the right spot, you get a failure message--and much more importantly, the gameplay is nonsensical. The items that you have to put together, and the various intermediate stages that you have to solve, are completely unintuitive. I wound up having to consult the Guide for most of the second half of the game, and it *still* didn't make any sense. I am extraordinarily annoyed that I paid full price for this game, and will give other games by this vendor a pass.
August 1, 2013
Sorrry folks, I don't agree
I am an avid hidden object game player, and I was sooooo looking forward to this game, based on all the reviews. I found myself interested for the first hour or so, but then, very bored. I found this game to be very dismal, tedious, and I guess I am against the mainstream, because honestly I don't see what all the hype is about. I didn't even finish the bonus chapter. Certainly not worth the money for the CE.
May 10, 2013
Same old format!
The visuals are beautiful--that's what's used to sell the same game over and over: find a crowbar and a wad of chewing gum or something and you're led by the nose through an illogical, ultimately boring experience. It's the same old date tricked out in a flashy outfit--after 5 minutes all you want to do is go home alone.
May 3, 2013
Always play the trial version first!
Yet again I trusted the reviews and was very disappointed. I should have played the trial version. The mini games required no skill at all. Most of them just involved trying to get your cursor in the right spot to make something happen. Seriously, scrubbing a metal pot with a cotton ball is not a mini game! I was frustrated by running around from place to place just to do tasks that had little or no real reason. Some of the tasks were so far fetched, I had to use the hint button to figure out what the heck I was suppose to do. I couldn't hint button my way through this game fast enough to just get it over with.
May 16, 2013
The Apple logo is a trademark of Apple Computer, Inc.