Portal of Evil: Stolen Runes Collector's Edition
Exclusive
The gates to another world will open soon! You can stop the impending disaster - if you track down the stolen runes! Vanessa is the only heiress of Abraham Van Helsinga, a member of the secret order of light guarding world peace. And now she has to find the stolen runes that were sealed inside the gate, behind which lurks an ancient evil.

This is a special Collector's Edition release full of exclusive extras you won't find in the standard version. As a bonus, Collector's Edition purchases count toward three stamps on your Monthly Game Club Punch Card!

The Collector's Edition includes:
An exciting bonus game
An integrated, step-by-step strategy guide
Concept art
Downloadable wallpapers
More than 200 objects to find!
Game System Requirements:
OS:

10.9/10.8/10.7/10.6

CPU:

1.6 GHz (INTEL ONLY)

RAM:

512 MB

Hard Drive:

1024 MB
Game Manager System Requirements:
Browser:

Safari 4.0 or later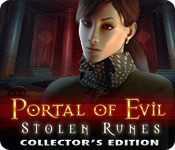 The Big Fish Guarantee:
Quality tested and virus free.
No ads, no adware, no spyware.

Reviews at a Glance

Portal of Evil: Stolen Runes Collector's Edition
0
out of
5 (
0
Reviews
Review
)
Customer Reviews
Portal of Evil: Stolen Runes Collector's Edition
84
84
Great Evil
I love playing these types of games!
May 9, 2013
Good but Not Great
Vanessa is in Italy to find her missing grandfather and save the world from evil. You, as Vanessa, must roam around a very large cathedral to figure out how to save the world and your grandpa. Luckily there is an interactive map or you could be lost for days. LOL. There is a journal. The hint button fills quickly and gives you directional arrows outside of the HOS. I ran across only a few HOS and they were simple. I found the mini games ti be of medium difficulty but very confusing with no real useful directions. I would definitely wait for the SE, as there are no achievements, etc. Just a bonus chapter and a SG that was poorly done. I liked the story line and where the story was going. What I didn't like, and this may just be me, but everything seemed SMALL, even with the nice graphics. This game is a maybe for me, but that is all based on my personal taste. Demo it and you may love it !!!
May 9, 2013
Van Helsing??
Afternoon all. Graphics and game play aren't bad. Games are not simple and do take a bit of thought and time to complete. HOGs are very few and switch between standard HOG and "place the item," which I liked. There needs to be a few more HOGs to break up the constant running back and forth. Hint system is nice and useful, fills fairly quickly. Nice SG as well. There is a jump map, which is extremely helpful in this game. I do like the voice overs (always a plus for me in any game). Other than a few VO and lite music, there isn't a lot of FX, but what there is, is appropriate for the scene. I did not care for the fact that the cursor kept switching between the ugly game cursor and the standard "arrow." I don't like the big bulky cursors so may devs want to use. What's the point? It distracts from the game. Not a bad game, but nothing new or special either. It just seems to lean towards the beginner side. The only extra was finding notes from grandpa, so I don't know that this is CE worthy, but I may get it as an SE. I'm backing off of CE games these days. Need to use up my credits, so unless it is exceptional, I will wait for the SE. As always, try it for yourself and see what you think. We all have different tastes in games and you may not care for this one at all.
May 9, 2013
Kitty's Thought: Sigh... Can't they make a better game when it's about a church.
Sigh, why is it everytime someone does a game about a church, it's always lacking in a lot of perspective. Not to insult the people who go to church or religion, but to be honest.... this game is just lacking luster. However, here is my review. Storyline: You start out as a young woman who traveled to the catholic church. You were summoned to finish what your father has started. The seal of the door keeping evil locked is about to be open, and you got to solve what happened to these runes. I will admit this paper cut out story. It is indeed pretty dull. Not much action pact in the game, but it does add a mystery icon that might pull your interest. Level of Challenge: The challenge in this came is interesting. However, I was pretty vexed that most of the harder puzzles are in the beginning verses in the end. I guess to keep people from beating the game too fast. However, do not be ashamed to use the skip button. I had used the skip button on most tedious types of puzzles due to time. However, I believe this is more towards puzzle lovers that hidden object game lovers. Yes, there are some hidden object scenes, but you also get the ones where you put stuff back which becomes a puzzle in iteself. So, if you are indeed a hidden object lover. I wouldn't touch this game if I were you. Visual Quality and Sound: Seems kinda grudgy and dull. I had to say this, the sound track is definitely not worth the collector edition. There's not one music l liked form this game. The talking seemed to be kinda dull and dragging the game a long by taking up time. I even believe some of the cg scenes are clearly unnecessary, and most are unattractive to watch. Fun Factor: I had to say, I did get some decent fun out of it. However, I believe there are better games I would rather spend my money on. Actually, I am kinda glad this was pretty much my free game. It was definitely not worth buying the collector edition. Heck, I would of been better off with the standard edition of the game. Overall, it's not bad, but it's definitely not a 4-5 star game. A lot of work needs to be done to it. And this game lacked a lot of luster to make it shine as a really fun game to play. Overall, Good for puzzle players, bad for hidden object lovers. - Kitty Out!
September 9, 2013
Okay
Nothing too original, but okay game overall.
January 31, 2014
mediocre at best
This game is something that we have played a couple of times. Just a little different. For me, I found it boring and slow moving. Also, it's a little demonic for me and I quit without finishing the demo. It's not a game that excited me and made me want to buy at all. Apparently, I'm the only one who didn't like this game so I will recommend it.
May 10, 2013
No Surprises Here
There's nothing new to report on this game. It lacks challenge, and is pretty slow. Would like to be able to skip conversations, as they take up too much time. The map is good, as is the graphics. Is anyone else tired of the religious theme? It seems to dominate games. Devils, crosses, priests, churches, etc, are just plain tiresome.
May 10, 2013
EVERYTHING IS SO SMALL (even the pigeons).
This could have been a really good (not great) game. The artwork is colorful and intricately rendered, puzzles are OK, HOs standard, but all areas of interest, inventory items and details in the scenes are SOOOO SMALL. Recommend if player can get around this glaring distraction in an otherwise good game.
May 10, 2013
I Found Elements of This Game Troubling
I was really expecting to like this game. I mean, with that high of a rating, how could I go wrong? I went wrong. For starters, I found this game to be slow and boring. It's just a "by-the-book" HOG. But, I've completed many slow and boring games. This game, however, started going into places I didn't want to go. I don't think anything I'm going to write is a spoiler, but I would like to err on the side of caution and advise you to continue at your own risk. There were a couple of deal-breakers in this game for me. The first one was the overall pervasiveness of the occult. Our protagonist even states how impressed she is at a scientist's library that is "full of books on...the occult" (among a few other subjects). The next issue is what sealed the deal on the ill will the game was building within me. This is also where what I am going to write could possibly be considered a spoiler, so be forewarned. I don't think it is a spoiler. You literally have to remove a dead piglet from a barbecue, then carry it for a while before putting the poor little fellow in a trap as bait. Ok, I know the piglet isn't real. It's just the whole idea of it; throwing a dead piglet ? that's how the game referred to it, as a "piglet" ? into a trap to lure something. It just turned my stomach. You may not be as sensitive as I am about the occult, burning baby animals and then putting them into traps as bait. If so, you might like this game. Heck, look at all of the stars others have given it. However, they do offend my sensibilities, so under these circumstances, I'm afraid I cannot recommend this game.
February 21, 2014
Not Much of a Challenge
There wasn't much I liked about this game in the demo which I played for 22 minutes before deleting it. The voice overs were awful; the lips came nowhere near syncing with the words. The main female character had a pleasant voice and it almost had the sound of being concerned about her missing grandpa, but not quite. The man who was to settle her in gave a flimsy excuse why he couldn't see her to her room and then departed. His lips didn't sync with the dialog, either. The hidden object scenes were fairly decent as far as finding item, but I didn't care for the graphics. Too dark and lots of reddish tones. Additionally, they seemed a bit fuzzy. Also, I don't care for the way the characters were drawn. They were stiff and emotionless. The puzzles (and calling them puzzles is being nice) were way too simple. No challenge at all. Aim this, make that a shape... all done in about 5 steps. The storyline left a lot of questions about what the real mission was, and there was a lot of dialog that didn't address anything. Game progression was very easy in spite of that. Find a needed item, use the needed item. I did't use the hint, strategy guide or map, they simply were not necessary to figure out what to do next. No real excitement, no real challenge, no buy for me.
May 9, 2013
The Apple logo is a trademark of Apple Computer, Inc.
The Windows logo is a trademark of Microsoft, Inc.