Legacy Tales: Mercy of the Gallows Collector's Edition
Strange things happen in and around the dark castle at the Dutch coast. Find out how William van der Decken, famous for his battles against pirates, and his lovely wife Isabelle vanished. What happened to her and why was the captain found dead, dressed as a pirate? Follow the trail of clues to solve this untold story in Legacy Tales: Mercy of the Gallows. Meet the ghost of a sad, young woman who needs your help and start this pirate adventure! Go inside the castle, find your way to the mighty battleship, the Batavia, and unravel the mystery!

This is a special Collector's Edition release full of exclusive extras you won't find in the standard version. As a bonus, Collector's Edition purchases count toward three stamps on your Monthly Game Club Punch Card!

The Collector's Edition includes:
A bonus mystery: "Who is the man behind the mask?"
Beautiful concept art
The original soundtracks
An integrated Strategy Guide
Game System Requirements:
OS:

Windows XP/Windows Vista/Windows 7/Windows 8

CPU:

3.0 GHz

RAM:

1024 MB

DirectX:

9.0

Hard Drive:

882 MB
Game Manager System Requirements:
Browser:

Internet Explorer 7 or later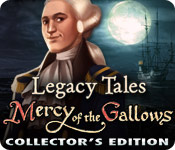 The Big Fish Guarantee:
Quality tested and virus free.
No ads, no adware, no spyware.

Reviews at a Glance

Legacy Tales: Mercy of the Gallows Collector's Edition
0
out of
5 (
0
Reviews
Review
)
Customer Reviews
Legacy Tales: Mercy of the Gallows Collector?s Edition
90
90
Great Pirate Game
Based on the demo, this is a good pirate story, it will be interesting to find out what happened to William van der Decken and his wife Isabelle. The story-line is good and I really liked the voice-over for the narration. The graphics are good. HO Scenes are crowded but manageable, I didn't use hints, and the game is not just one HO scene after another. The puzzles I found were not difficult. There are coins to collect all through this game and coin chests will give you inventory items as well as more info for the story and I did like that. Overall a good game, although i'm not sure it's worth the price of a CE, definitely SE.
May 11, 2013
Not Worth CE Price
BASED ON ENTIRE GAME & Bonus Chapter Play: The story takes place in the 1700s or thereabouts, based on a nobleman sea Captain whose claim to fame was his pursuit, capture and punishment of pirates. We get the clue to his true love/wife's identity early on and several times during the game which really spoils the whole premise of the game, which is WHO IS THE CAPTAIN'S WIFE & why did she die suddenly and no one see her or her funeral? Game play moves from the mansion grounds, to the mansion/castle itself (wait--Russian Devs: there are NO CASTLES IN AMERICA), to the dungeons and the captain's ship. PROS: There is a map early on for quick movement between locations HOS are clear and Puzzles are good Nice human narration CONS: This game only took about 3 hours to play, including the bonus chapter. There were good puzzles and HOS, but the game was ENTIRELY too SHORT for the CE Price! I have come to expect more when paying more for the CE and this game fell way short of the mark. Too easy to figure out who wife was and why she died and why he was found in a pirate costume dead on the beach I wanted to like this game and probably would have had I NOT paid CE price but SE instead.
May 16, 2013
Magnificent graphics, wonderful game however barely a CE
Loved this game and was torn throughout playing as the graphics were pristine and yet the coins were at times very difficult to find because they were so small. The story ending is given away at the beginning, was very disappointed in that. But a good story none the less....I ADORE anything pirate, seas, treasure, creepiness....I'm ALWAYS sold on that story line....never gets old for me. However, it was ridiculously short for a CE hence my being torn. The graphics were so clear and precise that it really made it hard to decide, but in the end it's length that is value for me.....wish the developers did not have to choose between the 2 for a great game. The puzzles were just right and I played the casual version as I don't want it to end too quickly anymore. I waited for a sale which is now becoming standard for me because all CE's have now become so short in length they are not worth the price.....the reason I gave 4 instead of 5 stars. I do recommend this game, just not at the CE price.
May 13, 2013
AHOY THERE, PESKY VARMINTS!
No doubt there will be people who don't like this game because it's too "dark", but - for me - the darker and more dismal the scenery, the better! I'm not 100% sure of what exactly is going on after playing the demo, and I can't be 100% sure that I absolutely, definitely like the game as a whole. LIKED: * Fabulous graphics, clear and very realistic - could be too drab for some, though * A Scottish accent in a game!!! * HOGs nice and clear, if, again, perhaps a little colourless * Interactive/jump map, with 'things to do' in each zone * Good level of challenge - i.e. collecting well-hidden coins * Some puzzles are an interesting variation on the usual * Inventory store is rotational - i.e. you could just keep hitting one arrow button and eventually find the object you needed. DISLIKED: - Some coins were *very* well hidden - Cartoon graphics in the 'storytelling' scenes - Not sure if the storyline is right up my street or not - Hint button seems to take a l-o-n-g time to recharge - used it for last item in HOG, then couldn't use it again for what felt like an eternity - Strategy guide is in a 'pop-out' menu button which also has, underneath it, the 'exit' button, easy to press wrong one! I do *like* this game, especially the crystal-clear, lifelike graphics, but I might wait until a sale, or until I have a couple of GCCs to use.
May 12, 2013
Creative, Different and Worth a Play
I liked this game and do recommend it. Beautiful, mysterious graphics. Quite creatively designed game play and fun. Slow loading, slow graphics and not very helpful hints. Those were the only things preventing me from giving it 5 stars, which it otherwise deserves. Finding the coins was fun and challenging. The visuals look great on my HD screen. Much of the joy I get from these games comes from enjoying beautiful visuals and unique puzzles, which are both found here. A definite YES.
May 20, 2013
Too hard to see items but gorgeous graphics
I truly enjoyed this game but if you are older and have trouble finding REALLY small obscure items, you are not going to have fun with the game. You have to find MANY small coins to progress in the game. I just got frustrated and used the hint. There are 2 play modes. Casual and normal Pros: Gorgeous graphics. They drew me in immediately and I almost bought the game with the sale this weekend. - Navigating from screen to screen was the easiest in any game I have ever played. - The game has a type of scroll for the larger scenes. - The one puzzle I played was unique. I enjoyed it - It was more of an adventure game, which I like. - The HO scene was cute. That had a unique touch also CONS: You can't see the darn coins. You have to trace the cursor over every square 1/4 inch of the screen to wait for the cursor to change to find the coins (if you are older). I spent soo much time trying to find them I lost track of what I was doing and got frustrated. You have to find coins to progress or I would have never tried. There was one object in the HO scene that was also very obscure. I will definitely NOT buy the CE edition of the game and not sure I will get the SE either. The coins were too frustrating. However the rest of the game was outstanding.
May 11, 2013
Not really excited!!!
I played the demo. So far it looks pretty good. I must say other games. excite me more and then some. Judge for your self. I might purchase with, the discount for Mother's Day. Not sure yet. The graphics are somewhat depressing.
May 11, 2013
A little slow
Played the demo in 45 minutes. The story is not absorbing but there some historical trivia which is interesting. It is hard to concentrate on the story while hunting for coins needed to open the next treasure chest so you can move forward in the game. The help button does not reveal the coins, but the map shows the area where there are still coins to be found. The coins are very hard to find sometimes. The HO scenes are not too hard and the graphics are good enough so the articles are fairly easy to find. There are other types of standard puzzles to solve as well. I don't love this, but I enjoyed it.
May 11, 2013
A really well done game with only a few flaws.
This is a beautiful hidden object adventure game that is really well done, despite a few flaws. This one even impressed my husband when he watched me play for a bit, and he doesn't play these sorts of games. It's very likely not one for everyone, as it may play too slowly and have too much storytelling, but I was quite impressed with it. The graphics are very nice, and very well done. The characters and portraits of them are a bit cartoony as opposed to realistic, but not in a way that detracts from the game at all. The images on the game page show you pretty much what the style of the characters is. I rather like the look they have as opposed to trying to make them look exactly like real people. The sound is also very nice and suits the game quite well, and the voiceovers are excellent. It really feels like they made quite a bit of effort in regards to the visual and sound quality of this game. The story is very well done, with lots of detail and effort put into it. It might be too much for some, especially given the storytelling that happens throughout the game, but I thought the method it's presented was quite clever. Whenever there's a story aspect to be shared, a scroll rolls out and inscribes the story for you, with a voiceover reading it. The game has a very well done journal as well as an interactive map, both of which were quite useful in the game. In addition to the hidden object scenes and mini-games, you also collect coins to open chests throughout the game and get necessary items. The coins can be a bit difficult to find at times, but luckily the cursor changes to a hand when you've located one so if you're really stuck you can run your mouse around the screen. Which, given that the coins are necessary to complete the game, makes it easier on those who might have a hard time noticing them. (They're very well hidden in some scenes.) The CE comes with a bonus game, as well as artwork and music. I generally only buy CEs for the bonus game (and sometimes to replay mini-games), so I'm okay without there being much more than that. The bonus game is also a true bonus, meaning that it reveals more of the story, but isn't a necessary continuation of the main game, which is a good thing to me. Despite all of this praise, the game has some flaws and bugs. The way info is presented about the mini-games and such is a neat idea, but takes awhile. When you click on the button for more info, a blue glittery light slowly moves towards the top of the screen, causing blue words of the same hue to slowly blossom across the top of the screen. A neat idea, but it could have been done at a more rapid pace. And they seem to have spent more time on everything else than they did on debugging the game. There are some major issues with the inventory, with items occasionally vanishing from your inventory and items that have been used leaving a text description in an empty box in your inventory. The easiest way to avoid this is to use items as soon as you find them as opposed to waiting to find all of an item, or just waiting in general. However, I will say uninstalling and reinstalling the game does restore items that have disappeared and doesn't cause you to lose your game progress at least, but it shouldn't be something that has to be done. If these issues were fixed, the game really would be a five star game as opposed to only four. Ultimately, even with those issues I'd recommend the game, as they aren't a deal breaker. It really is an extremely well done game and I hope more are put out like it, just next time without the bugs.
July 7, 2013
Great Game
I found that all aspects of this game were very good, and could not pick any faults. Graphics & Visuals excellent. Hits quick. Very good map to get you from place to place. The Dev's did a great job of keeping the interest flowing. This game would appeal to all gamers. Its worth the money.
June 8, 2013
The Apple logo is a trademark of Apple Computer, Inc.