Legacy Tales: Mercy of the Gallows Collector's Edition
Strange things happen in and around the dark castle at the Dutch coast. Find out how William van der Decken, famous for his battles against pirates, and his lovely wife Isabelle vanished. What happened to her and why was the captain found dead, dressed as a pirate? Follow the trail of clues to solve this untold story in Legacy Tales: Mercy of the Gallows. Meet the ghost of a sad, young woman who needs your help and start this pirate adventure! Go inside the castle, find your way to the mighty battleship, the Batavia, and unravel the mystery!

This is a special Collector's Edition release full of exclusive extras you won't find in the standard version. As a bonus, Collector's Edition purchases count toward three stamps on your Monthly Game Club Punch Card!

The Collector's Edition includes:
A bonus mystery: "Who is the man behind the mask?"
Beautiful concept art
The original soundtracks
An integrated Strategy Guide
Game System Requirements:
OS:

Windows XP/Windows Vista/Windows 7/Windows 8

CPU:

3.0 GHz

RAM:

1024 MB

DirectX:

9.0

Hard Drive:

882 MB
Game Manager System Requirements:
Browser:

Internet Explorer 7 or later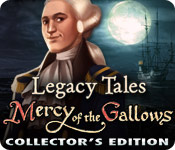 The Big Fish Guarantee:
Quality tested and virus free.
No ads, no adware, no spyware.

Reviews at a Glance

Legacy Tales: Mercy of the Gallows Collector's Edition
0
out of
5 (
0
Reviews
Review
)
Customer Reviews
Legacy Tales: Mercy of the Gallows Collector?s Edition
91
91
Great Game
I found that all aspects of this game were very good, and could not pick any faults. Graphics & Visuals excellent. Hits quick. Very good map to get you from place to place. The Dev's did a great job of keeping the interest flowing. This game would appeal to all gamers. Its worth the money.
June 8, 2013
Demo only
The game was actually well done and found myself liking it more than I expected as I am not into "pirates" much. The visual quality was clear, crisp and very well done. The level of challenge was average, but I did like the quirk of the first hos of the cupboards opening and closing. The story ran a little slow, but it also maybe that I was running a little slow this morning. I totally forgot that I was doing a collector's edition, so didn't even check out the strategy guide. The hint button filled quickly and only used to try out how it worked. Finding the gold coins was fun but not as a collectible as they were needed to open the information chests. The game was fun and I enjoyed it. A definite recommend.
May 26, 2013
BUY THIS GAME!
Great story, fun sound effects, Fantastic "jump"-map. Just finished the Bonus game. This was so much fun I could not stop playing. Love getting the gold coins to open the chests. Am looking forward to more games from these folks: youda Games.
May 16, 2013
I Can Already Hear The Howls Of Disappointment
BASED ON FULL DEMO The EXPERTS & COLLECTORS are both going to be disappointed by this game. Luckily, not all of us are going to feel that way. This is actually (although they don?t call it that) the second Youda Mystery game. Don?t let the connection to the cartoonish games put you off though, The Stanwick Legacy was photo realism, and quite high quality GRAPHICS, and so is this one. It?s also NOT CHILDISH. The reason for the howling is that it is an EASY ADVENTURE game. A HELPFUL HINT & INTERACTIVE JUMP MAP make the INTEGRATED SG unnecessary. And the GAMEPLAY is very STRAIGHTFORWARD. I came across 2 HO SCENES, which were very CLEAR but MONOCHROMATIC, and NOT INTERACTIVE. There were a couple of PUZZLES, but really only one you?d think of that way. And it was VERY EASY. So this is a GREAT BEGINNERS? game, and a pleasant enough afternoon for INTERMEDIATE players. EXPERTS, don?t even bother to download it. Honestly. The other disappointment is that it is NOT CE CALIBRE. There are COINS to COLLECT, but they are needed to progress in the game and by necessity will not be exclusive anyway. They unlock chests holding important items throughout the game. LENGTH looks okay. The first TWO CHAPTERS took me 45 MINUTES, and there are NINE plus THREE BONUS CHAPTERS. BONUS CONTENT REVIEW** STRATEGY GUIDE, helpful enough, but I doubt many will need it. GALLERY OF CONCEPT ART and MUSIC. NO OTHER CE FEATURES. I would probably RECOMMEND the SE version, it does look like a NICE LITTLE GAME. As a CE, I can?t in good conscience recommend it.
May 11, 2013
Like Wading through Treacle
Pirates, ghosts and a mystery to solve is a story that is tempting but unfortunately this game does not deliver in so many ways that as a Collector's Edition, I am left with two choices, to either pass or take advatange of the half price off sale today. I am still undecided. Our story begins with love between a Sea Captain and his wife. As years pass on, our idyllic love story ends in tragedy and we are asked by the spirit of our bride to find out the truth. What put me off at first were the graphics and the lack of any animation. The game looked old and worn out, dreary comes to mind. The voice-overs are few and the music simply lulls you over time. Game mechanics include a journal, a map that will allow you to travel and a chest whereby you need to collect coins. All wonderful ideas but unfortunately poorly executed. Game tends to lag at times, making for frustration. It seems to take forever when you either pick up an inventory item and use it on something. You also can combine items as well. The chest is an iteresting concept and makes way for collecting coins, that is if you can find them. The challenge is trying to locate the coins and thankfully your map will indicate where coins are hidden and the chest does give you a clue when it opens up slightly at a scene. Once you do have these clues, its just a matter of really looking carefully in every nook and cranny. I really didnt mind this but you need to collect enough to open up a chest and move on to a next scene. Hidden object scenes are junk-piled and interactive at times. They are few and the graphics make it difficulty to pick out some items. The mini-games vary and some were interesting, however slow movement of the cursor and game mechanics just them lose their appeal. The game just simple lags too much and even with the coins and the maps, my interest in the story simple waned as I moved along. What a disapointment, a game with so much potential but just does not live up to standards of a CE. I expect many will either take advantage of the sale today or merely wait for the SE version to be release. Too bad, I do so love Pirate stories.
May 11, 2013
Just Average - Might be Fun for Pirate Enthusiasts
Not being a fan of pirate stories or romance novels, perhaps it?s just me, but I did not feel drawn in by the storyline. A couple in love vanishes from their castle on the sea. The sea captain husband washes up on shore in pirate gear. Your quest is to find out what why. A beautiful castle to explore, a mystery to solve. Sounds intriguing. The plot entices but, for me, fails to deliver. This is based solely on the demo. There is little animation and the story unfolds with the unfurling of scrolls upon which the details are written before your eyes. Here, there are voice-overs, and the dialogue can be clicked and skipped. The British accents are not authentic, which always annoys me in any game. The atmosphere, dreary and rainy outside, may be offset inside the castle. I didn't get far enough to find out. I found the gameplay to be slow with sluggish scene changes at times (maybe it's my computer). The music and ambient sound effects evoke more a sense of poignancy than urgency, and I found myself feeling lulled to sleepiness rather than urged on to solve the mystery. Perhaps a good game to relax and de-stress. The gameplay is standard HOPA with HOS (lists), familiar puzzles, notebook, transporter map with task markers, and hint that is both directional and instructional. The graphics are good but a bit dark, with an option to change brightness. Coins must be collected to open chests to obtain needed items, and the transporter map does show whether you have found them all. I do love collectibles! For me, this game fails to appeal. As a CE, it offers little. However, since so much of gaming enjoyment is based on personal taste, I do recommend that you give it a try. You might just love it!
May 11, 2013
Middle Of The Road
*Review of completed game... still working on the bonus chapter. This was not a terrible game (although it's not the best game that I've played either). The storyline is not the greatest and the game seemed a bit on the short side (I played the trial, purchased the game and completed it within a couple of hours... bonus chapter not withstanding). The graphics were ok but nothing to brag about. There seemed to be a HOS in almost every location visited in the game and items that went into the inventory were almost always from HO scenes. Insofar as HO scenes are concerned it was primarily list with a few that were a bit interactive. In addition you are required to find three of this, four of that, and two of this that and the other thing etc. in most every HOS. You are required to find coins along the way (usually four or five in every scene) which can be a bit tedious (some are a bit hard to find). Coins are needed to open treasure chests throughout the game. Yes, it was slightly irritating... but it is a hidden object game after all. The bonus chapter requires that you use a special lens to discover hidden clues... and this is important. I've come across at least one puzzle that can't be completed until you scan it with that special lens. All in all this is not the best game out there... but it's certainly not the worst that I've played either.
May 13, 2013
Not for me
This game just isn't for me. The game was just too slow for my tastes - there seems to be a lag somewhere so that when moving from one screen to the next, the graphics are "jittery". The graphics are absolutely gorgeous, though. Maybe that is cause for the slow/delayed game play? (My computer is gaming computer that is barely 2 months old so....)
May 12, 2013
PREDICTABLE AND VERY EASY CHALLENGES
Hi gamers. I am still playing this game. I figured out the plot within the first 10 minutes, which bothered me. There is no choice of play, whether expert etc. The mini games are very easy. So far, I'm not impressed at all. If you are looking for a challenge this is NOT it.
May 11, 2013
Not my kind of game
This game is just not for me. The music is a spooky rendition of Happy Birthday which is just too weird. It moves slow and gets really mundane going back and forth to find coins (to open chests for clues) or do some small thing. The Hidden object scenes are pretty good and were not too hard but not easy either. The storyline is good but you get to the point of "who cares." You are trying to reunite two lovers who were torn apart and you must put their heart together. It was drawn OK and the voices were good. I suggest you do the "try me" and see if it is your kind of game. It certainly is not mine.
May 11, 2013