Stones of Rome
Curious James wanders away from his tour group as they explore the catacombs below Rome. At first, it seems like he's on his own special adventure, but then he realizes that he's lost and alone. Just when his detour couldn't get any worse, it does! A pesky monkey rips up his map and leads him ever deeper into the depths of the caverns. James has to puzzle his way through 30 levels to recover and reassemble all 30 pieces of the map. But that's not all – once he reaches the surface, he discovers that his tour group is missing. Using the sketch on the back of the map, he has to puzzle through more exciting levels set in the ruins aboveground to get back to his group. Lucky for you, and James, the unique match-3 game system means the solution is always waiting for you!
Beautiful graphics
Catchy music
Unique match-3 game system
Game System Requirements:
OS:

Windows XP/Windows Vista/Windows 7/Windows 8

CPU:

1.0 GHz

RAM:

512 MB

DirectX:

9.0

Hard Drive:

56 MB
Game Manager System Requirements:
Browser:

Internet Explorer 7 or later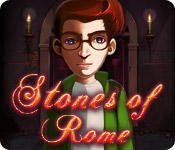 NEW299
The Big Fish Guarantee:
Quality tested and virus free.
No ads, no adware, no spyware.

Reviews at a Glance

Stones of Rome
0
out of
5 (
0
Reviews
Review
)
Customer Reviews
A Hidden Gem
Every once in a while BFG slips a hidden gem of a game into the mix. Although the game is sort of a match 3 game, it really is more of a puzzle. It seems that since finding this game yesterday, I have spent hours trying to solve the puzzle of how to make those danged tiles go away. The great thing about this game is that it gets progressively more difficult and one has to think of the best next move. The game has colorful stones to remove from the board and it also has very calming and lovely background music. I ended up playing this game until 1am because I couldn't tear myself away from solving the mystery of my current level. If you like match 3 and puzzle type games, I would highly recommend that you give this one a try. What seems deceptively easy for the first levels gets so much better.
April 26, 2013
Outstanding Puzzle Game!!!
There are a total of 60 levels in this game with level 46 being the hardest. This game is basically a clone of the game Brickshooter Egypt, one of my favorite games of all time. Stones of Rome does add obstacles but doesn't have the variety of layouts that Brickshooter has nor the challenge. If you like this game, please give Brickshooter Egypt a try. It is an older game and is no longer listed in the Big Fish games list. You can find this game by Googling Brickshooter Egypt and look for the Big Fish site. All games that Big Fish has offered in the past and no longer list can be found in this way. I'm not sure why they don't advertise this fact. Enjoy!
May 17, 2013
Unexpectedly good!
I like it. I bought it. It is different from the usual M3 game but close enough for my comfort zone. Some strategy is definitely required but so far it hasn't taxed my poor brain. Three of a kind is required but the pieces are added from the four sides of the board. It becomes progressively more challenging as extra colors are added but there is no timer (yay!) and the music is soothing, what I think of as "medieval string music," so I don't feel like I'm clenching my jaw while playing. As always, it is best to try it and see if it is for you.
April 25, 2013
STRATEGIC MATCH 3!
I don't remember playing a game like this before, a match 3 that you had to strategically plan where to place the tile in order to make a match of at least 3 vertically or horizontally. There are tiles on all 4 sides of the square and you use these tiles to try and remove the game tiles that are in the middle of the board. You must match alike color tiles and a tile can only be used if it stopped by the tile on the board, and the tile color may not be available for play until you match up other tiles in front of the one you need. I know this doesn't make sense until you actually play the game. It isn't hard to play, you just need to plan out which tiles to use first for example you might use a tile from the top and bottom of one color to get to the color you need to clear the board. Each level has a few more tiles that need to be removed as well as another color added. I think this is a game you could play over and over again. Enjoy!
April 25, 2013
stones of rome
this is a very different match 3 game.more challenging than most match3 games.great visual quality and alot of fun.you have to think about your next move.love it!!
April 25, 2013
I would love this game if I could figure it out completely
It is really hard to figure it out for the price. I have never seen this before but couldn't get it at my old age. someone 18 years old could be able to show me how to master it. I think it could be a winner.
April 25, 2013
good challenge
Makes you think ahead, keeps the brain active. Only problem I am having is when I need to quit it makes me restart back to level ten which is very frustrating when I'm up to level 16. Humm?
June 21, 2013
Imposter
This isn't a match 3 by any stretch of the imagination. There is no gem/tile swapping whatsoever, but instead you slide pieces across the game board vertically or horizontally to match 3 pieces of the same type. This a straight up old school puzzle game. The graphics are pleasant and the sounds are nice but the music is kind of uninspired. As you complete levels you reveal portions of a map, which was a nice little touch. Other than that the game is pretty basic and definitely lacking in depth. There are no extra features and the gameplay does become rather repetitive. I might come back to this one at some other time, but I don't feel any real urge to play it much right now. The game is very polished so I'd say it's still a good game if you don't mind repetitive puzzles.
April 25, 2013
Not for me but maybe for you
I love match 3 games and was excited to see a new one. That excitement quickly disappeared! Game is boring yet challenging. I think if I was it to this puzzle style of game , I would appreciate it. However, puzzle lovers give the game a try.
April 27, 2013
Ultimately not for me
Pros: Untimed, interesting concept Cons: Clunky interface, graphics, gets crazy hard This is an interesting fusion of match 3 and puzzle gaming. There is no real storyline to the game, just game boards to focus on. You have to clear out the pieces in the center of the board by placing like colored pieces from any of the four sides so that groups of 3 match up. All the pieces in the center, including those that the player places, must be cleared out to win. Pieces on the sides can only be placed in the center if they have somewhere to stop (you cannot fire a piece all the way across the middle section). Levels get more challenging by the addition of more colors, uneven color distribution on the four sides, and stone pots blocking off spaces. No timer, and it pays to take your time planning out moves. Cascades can help greatly or be a pain. In the first 30 boards you are trying to rebuild a torn up map to find your way out of the museum. Don't worry, that's not the end of the game. Once the map is completed there is at least one more pathway on the back of the map you have to get through. The graphics are simplistic and so is the soundtrack, which I decided to turn off after a few boards. The game interface could have been better designed. I noticed that switching to windowed mode caused an entirely new game/player profile to be created, and the music couldn't be turned off without turning off *all* the sound. There is a choice to restart the board should you wish to, but it will then ask you if you want to "quit", which is confusing. You cannot pause the game or save a board in progress for later...exiting out of a board just causes it to reset to the beginning layout. There appears to be a skip board button in the menu options, but I did not try that out. M3s don't usually overwhelm me, but this one is an exception. This started out fun and challenging, but by the time I got to the back of the map, the levels were so difficult that it took 3-4 hours to solve just one board, and I'm going to move on to something else and chalk this one up to a "live and learn" thing. Would definitely caution players to try this before you buy.
May 10, 2013