Grimm Reaper: Hidden Tales
One of the famed Brothers Grimm finds a way to cheat Death and the Reaper himself responds by placing a terrible curse on the fairytale world and its inhabitants. The Brothers Grimm are counting on you! Save the fairytales and create a haven where everyone can truly live happily ever after in Grimm Reaper: Hidden Tales!

Play this game for free and enhance your experience by purchasing additional gameplay, virtual items, powerups, or other fun extras within the game!
Play absolutely free
Explore brilliant Brothers Grimm fairytales
Enjoy beautifully painted scenes
Five unique game modes
Game System Requirements:
OS:

Windows XP/Windows Vista/Windows 7/Windows 8

CPU:

1.0 GHz

RAM:

1024 MB

DirectX:

9.0

Hard Drive:

259 MB
Game Manager System Requirements:
Browser:

Internet Explorer 7 or later
Please note that items you purchase in Facebook, Mac, or mobile versions of this game will not be available in the PC version.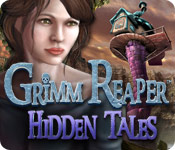 Top In-Game Purchases
1.

Pinch of Rubies (280)

$ 1.99

2.

Handful of Rubies (700)

$ 4.99

3.

Sack of Rubies (1470)

$ 9.99

4.

Box of Rubies (2975)

$ 19.99

5.

Chest of Rubies (8400)

$ 49.99
Game Club members
SAVE 30% on
in-game items.
The Big Fish Guarantee:
Quality tested and virus free.
No ads, no adware, no spyware.

Reviews at a Glance

Grimm Reaper: Hidden Tales
0
out of
5 (
0
Reviews
Review
)
Customer Reviews
Grimm Reaper: Hidden Tales
22
22
Grim Reaper
I actually liked this game. I don't see where some say that you have to pay for everything ... You don't... theres a time limit to finish all projects so you don't have to pay for anything (if you have the patience to wait, which I do# then you don't have to spend all your rubies on building things up so quickly. I was a bit put off about trying this game when I saw the reviews but Im glad I did try it myself. Theres a few things that are a bit annoying like when you click to fast you get that screen that pops up that says they will come after you, #that's a bit annoying), buying space so you can fit everything you need to buy in 1 shot is a bit annoying because the spaces are so small and some of the objects can get pretty big and you have no place to put anything, but other than that I actually enjoyed this game. To pay for it, no I don't think I would but to see that it is for free I am enjoying playing this one.
May 21, 2013
Once upon a time...
... there was a game. It was a good game. Well, to be honest it isn't perfect. It has weird little kinks like Halloween themed muzak, a zoom that limps and not telling you that even though you already agreed to buying a lamp for 1000 coins, pressing the placement button a second time would immediately cost you another 1000 coins. But these are forgivable flaws when you see that the game does what it is supposed to do. From this kind of game I expect a sizable number of scenes. Check! I expect a good variation in the search lists. Check! I expect a story that adds a bit of life to it. Check! I expect an effort to be made by whoever draws the game. Check! Everything else is just a cherry on top. I really like that you can set up your own little fairy tale village and I've always been a huge fan of the Grimms. While I don't plan to spend any money on gems yet, this might change when I see some of the content they have planned for the future. I just love Little Red Riding Hood and I might find myself spending some cash to see the story illustrated. To summarize it in short: It's free, go play it. There are better games, but not many. And if you try it, you might just find that you like it.
May 31, 2013
Different enough to be enjoyable!
I really liked this game!!! I've been told I'm "different" so - anyway, it wasn't like all the other hidden objects games, and that made it just refreshing enough for me. Plus, it had all of the mix of the H.O. games!! It ran kind of slow on my computer, and sometimes, it didn't want to download my scores, or add what I just bought as far as rubies, or coins. But, it never cheated me out of them. My totals always came up right, eventually. I would, and will recommend this game to my friends and family who want just a little something different in their gaming experiences. Thanks for this one. I wouldn't like a TON of them. Just a few to add spice to my life!!!!
June 4, 2013
Fun....... but not much of a challenge
you don't have to pay for anything.....you just have to wait.
July 14, 2013
NOT awful, but NOT good either
Played for just a little bit. HOS part is okay, different ways to play kind of neat, not thrilled with the "wheel of fortune". The building up of the town is fun if you like that type of thing. It was okay until I discovered there's really no way to move an object in your Haven, once it's set, it seems it's there for good. Don't like that Big Fish is getting these types of games, where you have to pay for the extras. Then the ever present Facebook "share" button. :(
May 22, 2013
Quite fun for a free game
To set the record straight, you don't HAVE to pay for anything, if you let the game run in the background for a while. The time bar refills and you can get back into gameplay when you have a minimum of 10 Energy units. This will take around 30 minutes. You can buy rubies if you like - using real money, not in-game money - but you can get more for free with a lucky spin on the Wheel of Challenge and when you level up. Plus you CAN move units in Haven but only after they finish building - the time needed for that varies from item to item. I liked it, very casual (watch a bit TV while it 'recharges') and nice to look at. Have a go - what can you lose :o)?
September 11, 2013
casual relaxing play
This is not normally the type of hidden object game that I like to play. I prefer the likes or Dire Grove and Ravenhurst etc. This was ok, not like the other ones, perhaps for the junior players,.
May 21, 2013
Grim Reaper:Hidden Fiary Tales
Game itself is good, except when I wanted to purchase more rubies the computer acted funny and wouldn't let me. I tried uninstalling and reinstalling, but Im still cant purchase my rubies. It is so frustrating to wait for the game to either give you, orre-energize. If itwasnt for the frustration of not being permitted to buy, I would give this game a thumbs up, but I give it a thumbs down instead because of the frustration.
July 3, 2013
grim reaper:hidden tales
it was ok, not hugely challenging but ok to fill in a little time
June 18, 2013
I Gave This Game A Solid Try, I Really Did...
I appreciate professionally written reviews. Reviews, trashing anything, do nothing but confuse people and make people feel the need to "see it for themselves." This is exactly what I did, due to some of the reviews, I read. This game didn't play smoothly. The storyline was confusing (I wasn't real clear on what the goal was) and the wheel spin game was moot. This game wasn't for me...taxing to the point of not being fun, no clear goal and disjointed, if all you're looking for is a simple Hidden Object, spot the difference , etc game, then you might like this. If you're expecting a game along the great lines of Found (also free to play on Big Fish) then I'm afraid you'll be disappointed.
June 12, 2013