PuppetShow: Destiny Undone
Exclusive
In the calm and peaceful town of Joyville the evil revisits the same family – Master and Felicia's. Little Felicia should now live happily, but she needs help again. Her father, Master of Puppets, has gone missing and Cricks is there too! Cricks is in town for revenge! Felicia begs to help save her father from the death of his old friend but is it possible to change destiny? What has to be done will be done and you will believe in miracles!
Game System Requirements:
OS:

10.8/10.7/10.6/10.5

CPU:

1.4 GHz (INTEL ONLY)

RAM:

1024 MB

Hard Drive:

595 MB
Game Manager System Requirements:
Browser:

Safari 4.0 or later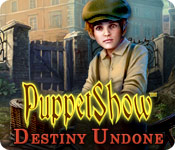 NEW299
The Big Fish Guarantee:
Quality tested and virus free.
No ads, no adware, no spyware.

Reviews at a Glance

PuppetShow: Destiny Undone
0
out of
5 (
0
Reviews
Review
)
Customer Reviews
PuppetShow: Destiny Undone
32
32
PuppetShow: Destiny Undone
Highly recommend:).....Loved the storyline, graphics, sound and plenty of puzzles to do. P.s you'll like the little helper you'll get not long into the game. Thanks Bigfish.
January 9, 2014
Loved it!
This game was one of the best games I've played In some time. I'm anxious to play the rest of the puppet games.
May 8, 2014
yup
enjoyed playing this so much:)
January 13, 2015
More Creepy Puppets
This is a great sequel to the PuppetShow series, someone has kidnapped the puppet master and it's up to you to investigate and solve this mystery! The graphics are beautiful and it has a good storyline as well. The HOS are interactive and I will admit some of the items are very well hidden. Mini games are fun and you won't become frustrated trying to solve them, or you can always skip them. You will also receive your own creepy mechanical robot to help you with those hard to reach areas, and you get to name him as well. If you have played the other PuppetShow games you will certainly want to buy this one as well, if you haven't played them you should definatly go back to the beginning and play them all!
April 26, 2013
Nice way to end PuppetShow series - HOS errors, though
This is the fifth and final game of the PuppetShow series, and I'm glad to say it's come to an end. Not because I don't like them. On the contrary, I love the PS games, but after a while you just have to say it's time to end it. Here's what I loved best and where I felt the game fell short. GOOD: - The graphics were nice, very clear and visually appealing. - Our little friend the nasty spider robot is back, wreaking havoc along the way. - We get a cute helper spider robot of our own to go places we can't reach. And we get to name him! He looked like a Simon to me. - The game felt rather long, which is nice. I'm always disappointed when you feel like you blow through a game so fast that you don't get to enjoy it. - The map is helpful for those times when you need to go back to another area to complete a task. - You can lock your inventory on the screen, so it's faster to access and you can easily see what you have at any time. NOT SO GOOD - Same PuppetShow music as all the previous games in the series. I just turn the music volume down as it gets very repetitive. - There are several errors in the hidden object scenes where objects are mislabeled. The "scar" is really a handprint, the "curtains" are tassles and a "lamp" is actually a lantern. The latter posed a problem when there was an actual lamp also there in the HOS. A "sand glass" is really an hourglass, but that one was easier to figure out. There were also multiples of the same object such as a bow, but you could only pick one. It was a little frustrating. - Sometimes you can pick when to skip dialogue, and sometimes you can't and you have to listen to the whole thing. - The moral of the story expressed at the end was a little hokey. Overall it's a fun game to play, with a mix of challenging and easy puzzles. I've always loved all of the creepy mechanical puppets for some reason and how creative the developers get with the design. It makes for an engaging game, one that anyone, from beginners to experts, would enjoy.
June 22, 2013
Easy Challenge
I enjoyed this sequel very much. I found the story to be compelling and the game play was easy going. The HOS and puzzles were not too hard . There is not too much backtracking as that can be frustrating. I like a game like this one every now and then as they are more relaxing. This is not a overly long game I played on casual as I did not buy the CE version. It took about 4 hours. This story series is one of my favorites.
April 19, 2014
ANOTHER DELIGHT
This continuation of the Puppetshow games follows the same format with lots to do. Puzzles make sense. Voiceovers are well done, except for Felicia (the voice just doesn?t sound like an authentic child). This time, Felicia?s dad has disappeared but it?s too early for the police but not for you to investigate. We?ve met some of the characters previously (my favorite is the spider puppet ? he amuses me greatly and I?m glad he?s back). The artistry isn?t as good as the prior games and leaves an overall impression of flatness in the scenery (deduction 1 star). Entertaining environment; well executed details. I find the Puppetshow games a delight to play.
June 1, 2013
The Good, The Bad, The Unusual
The good: Nice graphics, music, puzzles, and game play. The graphics were colorful and pretty; in the style of the previous PuppetShow games. The music was soft background-style and was appropriate to the game. The puzzles were challenging enough to be interesting but not so hard as to frustrate. The game play was fairly logical and not hard to figure out what to do next. The bad: Awful voice-overs and the item list. The voice-overs were among the worst I've ever had the misfortune to hear. The opening scene when Felicia tells you what has happened was like hearing fingernails on a chalkboard. Arrgh! The actor who did her voice was most definitely not a child and the falsetto, squeaky tone was too phony to be believable. The actor who who did the newspaper boy's voice didn't sound much better. The item list unfolding like a fan is a royal pain. Yes, you can lock it now, but then you lose a big chunk of the scene. I much prefer the list to be either at the top, or better still, the bottom of the screen. The unusual: The puppet helper. After you acquire the puppet helper you have to name him. What??? Okay, so since he yelled "Geronimo" each time you sent him on a task, guess what his name was? I can see the advantage of having the puppet helper. When things are out of reach, you don't have to hunt for a broken ladder to repair. That was a nice change. All in all, the game is good, in my opinion, and if you can get past the voice-overs, it is quite entertaining. I do feel like many of the other reviewers that this series is getting old and needs to be put to rest.
May 1, 2013
Not as good as expected
I Have played all the puppet show games & they are among my favorite games. Unfortunately this game missed the mark. I didn't find it that challenging, in fact my 5.5yr old daughter completed this game with very little assistance from me. The HOG scenes were a bit difficult, only since the actual items weren't very clear, although i did enjoy the twist in these with the matching/mini games. It does offer 3 levels of game play, although i think even the novice player will find the toughest level manageable. Thought the game could have been longer, seemed to end quite fast, and more though could have been put into the ending. Overall a good game, hopefully there will be some improvements on this if they release another.
May 9, 2013
Strange HOPs
Overall it was a fun game. There were many times I wasn't sure what they expected me to do, but I eventually figured it out. The only real problem for this game were the Hidden Object Puzzles (HOPs). It was often a wild guess to determine what it was I was expected to find. For example, one of the clues was "curtains." After looking for curtains for quite a while, unsuccessfully, I randomly clicked on the tassels, and the "curtains" were crossed off my list. Huh? I have enjoyed this series, and I wouldn't let this ruin the game for anyone, but be prepared that some things just won't make sense. The graphics and visuals were comparable to the other games in this series, and other ERS games. I don't use sound, so cannot comment on that. I liked the story, and it has a satisfying, if abrupt, ending.
June 17, 2013
The Apple logo is a trademark of Apple Computer, Inc.
The Windows logo is a trademark of Microsoft, Inc.