Phenomenon: Meteorite
Exclusive
Discover the extraordinary truth about your family's past in Phenomenon: Meteorite! Twenty years ago, your parents left you on the doorstep of a kind family and fled for their lives into the pouring rain. Now you've been given a clue to their whereabouts – an uncharted island, where a strange meteorite landed centuries ago. What secrets does the island hold about you and your family? Find out in this stunning Hidden Object Adventure game!
Game System Requirements:
OS:

Windows XP/Windows Vista/Windows 7/Windows 8

CPU:

600 Mhz

RAM:

512 MB

DirectX:

9.0

Hard Drive:

428 MB
Game Manager System Requirements:
Browser:

Internet Explorer 7 or later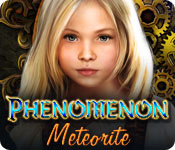 NEW299
The Big Fish Guarantee:
Quality tested and virus free.
No ads, no adware, no spyware.

Reviews at a Glance

Phenomenon: Meteorite
0
out of
5 (
0
Reviews
Review
)
Customer Reviews
Phenomenon: Meteorite
47
47
SEEKING SPECIAL ABILITIES!
I actually bought this game in the CE, mostly because I needed to find out the rest of the story after the demo. Although their are no morphing objects, this is still a really good game to play. You will notice right away that the graphics are lifelike, the characters look real and the surroundings are beautiful. One of the best things about this game is the association finder you get to use if you can't find something during a HOS. You simply click on the word of the item you can't find and a machine appears with a picture and scrambled letters. When you unscramble the letters it will find the item for you. When you find all but the last item you will travel to an earlier time but the same place to find more items, when you find those items you go back to the original time and the last item is uncovered. The story is good, a young man was told at the age of 25 that he was hidden by his real parents for fear that he would be killed because his parents were from two different tribes or sectors. He is given a map to his birth island where he meets a cute girl who is also a child of two different tribes and being hidden by the watchmaker. There is something to do in every scene so you just can't get bored. The only complaint I have is with the map which seems more time consuming than actually walking to the area you want. Enjoy!
April 28, 2013
METEORITE Fizzles at the End/Possible Spoilers
I must say that this was a fun, inventive little puzzle HOG, with nice graphics, good sound, and fairly challenging. The writing fizzled out at the end of the game, which is not altogether uncommon. First of all, I am a handsome guy and I look like one of the brothers from Supernatural and I am going to an island to find my 'RENTS. I meet two people on the island, a little girl who looks like the little girl from Les Miz and a clockmaker, and I never find Mom and Pop. In fact they are not mentioned again after the prologue. And they blow up the island, so forget about finding them in METEORITE 2. If there was a continuity person on this creative team they need a good flogging. It's a shame all this creativity was wasted on a story with no resolution.
May 19, 2013
Good game with nice graphics!
This is a good relaxing game. The storyline is good, the graphics are crisp. There are 2 game modes. - The HOS are clear and actually you get two at the same place because you travel through time. - The mini-games are very easy but nicely done. - You have a task list and a very good map, allowing you to jump to a location and showing you active locations. - The hint system is good. - The ending makes me hope that there will be a sequel. The game is not very long, for me about 2 1/2 hours, but I really enjoyed it. I don't give 5 stars because I found it too easy, even in Expert mode.
May 5, 2013
Its worth a buy for some relaxation
So I must say first this game has a great new way of hidden objects that I found enjoyable. The game itself has great voice overs, ok music and great story line however I felt that the ending left many unanswered questions for me and ended quite abruptly. That being said I still found the game to be quite enjoyable and the length was good. Although I did not keep track of the time I spent on the game I know it was over 4 hours with a few small breaks in between playing and I played on casual. Altogether I would say the game is worth the purchase however there are quite a few hidden object scenes so if that?s not your thing you might want to pass but it?s still fun and interesting regardless.
May 24, 2013
Tranquil
This game has tremendous graphics - they were a real pleasure to look at. I usually like grey matter workout games, but, for some reason I really enjoyed playing Meteorite despite it not being difficult, and despite the following criticisms. There were too many HOS, especially towards the end of the game, but there is no penalty for clicking all over instead of searching diligently. If you like HOS, you will be impressed by the time switch. There were too many similar objectives ? lots of find the key or the object to open something. The end of the game was abrupt, with no closure to the story being followed. I suspect there might be a sequel in the works? If the puzzles and the gameplay were more varied and harder (at least on the hardest level), if there were about 4 less HOS, and if there was some reference to the beginning of the story at the end of the game, I would have given this game five stars. This is an ideal game for a beginner, or any player for that matter, wanting a peaceful, makes sense most of the time linear type of game.
January 19, 2014
nice
Had pretty graphics. nothing dark, evil or depressing. Did have to move around here and there but I used hint a lot to make certain i was going in the right direction & I didn't have to go back & forth too much. I don't know about the audio 'cause I don't listen to any game audios. I just play to play.
June 19, 2013
Phenomenon Metiorite
The new games sometimes makes you use the hint button if you want to know what to next. I'm not sure I like that.
May 11, 2013
The not quite a sequel sequel!
This is similar to the previous ?Phenomenon? game in that you have been disposed from your home surroundings for in suspicious circumstances but now 20 years later you are back to the ?scene of the crime?. The game whilst not a full on sequel to the last, given that the main protagonist is now male and this time it is not ?plasma? but a meteorite that is at the central cause of your ?special abilities?. The game though follows the first in that in the puzzles you have to find pieces of the amulet this then allows access to other areas. The other puzzles follow the same vain and you have to find items that then need to be fixed or placed into other objects that then give you other objects, thus the game continues. The HO areas are the usual junk-piles although to add a bit of variety there is some interaction in that you may have to ?paint a picture? or ?add numbers? etc. in order to cross off one on the list. Like the first game this also included VO and lip-syncs was good considering this was a SE game. The story was ok given that I find it slightly odd why the number ?20? featured in both games as the time the main character had been away and was now coming back to save not only themselves but also their parents, thus the storyline whilst good, certainly something from the norm with regards to this genre, it still seemed a little strange and slightly far-fetched. Saying that the little girl who drives the story along makes the storyline strong and tries to add slight elements of comedy into the script, but again in the time I played, this review is based on the demo, some of the dialogue was a tad strange, with regards to timeframe and how she (given the fact she only seemed around 10) knew about his past. The controls were good but like the first in the series, the difficulty level was as such that even on the ?hard? setting you still had access to hints and skips, therefore like I suggested in my other ?phenomenon? review I would suggest this game is for first-timers, newbies to this genre or just someone who wants an ?easy? game. This game is not going to ?set the world alight? with regards to game-play, innovation or storyline, but for what it is then it may be worth a free credit or as a purchase when there is a sale. It certainly worthy of a download, but for me as the game whilst storyline wise is different from the last one, there are too many elements that are the same when you consider that this is not really a sequel just kind of like a sequel that is not a sequel.
December 31, 2013
Exciting!
The game was pretty exciting and I enjoyed playing this game. Really love the graphics for this game! Worth the money!
September 26, 2013
4 1/2 STAR GAME
You find out that people born on the island get special abilities after 25 years. A mysterious girl tells you that your parents weren?t of the same order and, as a result, monks will kill you because you are the product of an unlawful union. Good ratio of HOS and puzzles. HOS are very nicely done. Within the HOS, your cursor may change to a clock (which is actually a time portal to the past and present, through which you find another HOS in a time capsule with new objects). So you get double the fun. You might also get a small device which has jumbled letters to unscramble, which will point to a HO. I did not find the puzzles very difficult. Good music, voice overs, graphics and story. Your journal includes island history and a task list. Game automatically adjusts to wide screen; 2 modes of play. Very nice production values.CE has 5 music tracks, 50 word games, collection of artifacts (meteorites) and bonus game. I opted for the SE because I just don?t think the CE extras warrant a premium price. I'd give it a 4 1/2 stars if I could. Since I can't, I rounded down because it didn't quite have the oomph needed for a 5.
July 22, 2013