TV Farm 2
TV Farm 2 not only takes you into the world of reality television, but allows you to control it too! Become the hero of a smash hit reality TV show as you learn new skills in the challenging world of farming. Grow plants, sell products and upgrade your farm in this exciting Time Management game.
Become a reality TV hero
Sell products and improve your farm
Game System Requirements:
OS:

Windows XP/Windows Vista/Windows 7/Windows 8

CPU:

1.0 GHz

RAM:

512 MB

DirectX:

9.0

Hard Drive:

183 MB
Game Manager System Requirements:
Browser:

Internet Explorer 7 or later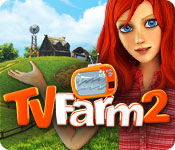 NEW299
The Big Fish Guarantee:
Quality tested and virus free.
No ads, no adware, no spyware.

Reviews at a Glance

TV Farm 2
0
out of
5 (
0
Reviews
Review
)
Customer Reviews
The farmer's in his (her) den, the farmers in his (her) den
This is my first foray into the casual farming sim games, I have played others off-line, such as Harvest moon and PC games that had elements of farming in them such as industrial giant, but have never played 'casual', for some reason I thought they would be very basic and almost char like. Yes the graphics are like most TM games (no matter what the 'sub-genre'), 'quirky', almost cartoonesque, but not quite, but really fitting in with the whole 'casual' style game-play. The game reminded me of similar cookery sim games such as Top Chef or the 'Cake Mania Lights, Camera Action games, in that you were in a competition to win a prize, just that the setting this time is 'down on the farm'. The game play starts with a 'front story' which is like the aforementioned just farm based instead of food based. You are then taken to the game proper and the first few levels are as always tutorials which ease you in to the mechanics of the game. I like the fact that in this game from level 2 onwards you have to think strategically, in that you have to sell things in order to fund to purchase seeds. This is good as it makes you think what will yield the most profit and what to upgrade in order to fulfil the level criteria. This therefore got the grey matter thinking early on, but as the goals were 'fairly' easy then it eased you gently into the game. Another good thing was that if the goal criteria was to make a certain amount of money then you had to be careful what upgrades and purchases you made in order to make the money and fall within the 'golden time' (expert score), even as early on as level 3 I had to restart the level as I didn't hit the 'golden time'. You can't therefore go in 'all guns ablazing' you have to assess (fairly quickly as the clock is ticking), as to what seeds to purchase, what buildings to build etc to fulfil all criteria. One good thing (of the many good things), is that the game registers that you have produced something even if you then sell it. For example you have to make popcorn, but need to sell this in order to fulfil the overall criteria, in some TM games I have played if you have used some of the item in order to fulfil that games particular goal it comes 'off' the total so to speak thus you have to ultimately produce more, this game recognises that you have produced the item and doesn't penalise you if you then sell it, I like this. Graphics, sound etc are usual standard for this game and don't annoy, just a few short sound-tracks that repeat, but nothing 'offensive' as it were. No VO but then it is unusual in this type of game to get them, graphics as mentioned were usual of the genre. The only slight negative (and this is only because I am basing this review on the hour is that there was a 'technology' room, that you went to after every level, that certaninly for the time I played didn't mean anything. You earned 'technology point's based on how quickly you completed the level and these could be used to purchase upgrades. I suppose further in the game this room would have had more use (guess I am going to spend moolah (which I will do) to purchase the game. Overall this is good and game and a fine example of the genre. I would highly recommend this game.
April 29, 2013
a lovely little time management game
it's fun, graphics are great. different from other farm story time management games, you really have to think what to buy, grow or sell first. I have both TV farm and TV farm 2 and had hours of fun
May 1, 2013
Lots of fun!
Didn't actually look for the first edition to this game, but I might... I really like this game! Some levels have really challenged me - playing them over and over to achieve a 'gold medal' time. This game takes me back to a food theme (where I started with time management games). Start easy and plant the right seeds to fufill orders in a limited time (to complete the level), then build 'factories' to change seeds into ingredients, to combine ingredients etc. E.g. to create a sandwich, you need cheese, meat, bread, and lettuce - some of those are easy, some require multiple steps before all can be combined into a sandwich! And of course, you can upgrade your equipment etc. (Ed: looks like there is the original TV Farm, TV Farm 2, and TV Farm Up so far in the series)
November 4, 2013
finally
So happy to see a fun TM game. Finally something different than the boring usual.
April 30, 2013
A break in the TM drought.
Finally a quality farm based TM. While there have been a few "running style" TM/strategy games that past muster recently, overall the TM/strategy pickings have been slim. TV Farm 2 offers a solid gaming experience for TM fans. The controls are particularly refined with a nice drag innovation for harvesting. Tutorial and in game help tells you all you need to know without being obtrusive or clunky. The picture quality and overall look fine but nothing spectacular. One criticism is that the levels are not very challenging. In the one hour demo I got a third of the way through the second of five sections (approximately 10 levels per section from memory) getting gold of everyone one on the first attempt. The game promises to get harder with each section but I did not see much evidence of such scaling so far. Note: I always play games muted so never offer an opinion on sound/music.
April 29, 2013
HI HO THE MERRIO...
This is a TM/Strategy game based upon a reality tv show. You start with a farm that you have to purchase a plot of land to plant seeds. You need to figure out how much garden space you can afford and how many seeds you can plant, you also have to pay employee's and upgrade production plants. When your products are finished you load up your truck and they take your product to sell thus bringing you back more funds. There are awards achieved and you earn points to spend on upgrades to make your farming easier, faster etc. There is a good tutorial that explains how to play and the graphics are better than most TM games. You will move on to different parts of the world to try your hand at farming in snowy regions, desert region, rocky regions and more. This is a good game I just thought it was a little slow paced.
April 29, 2013
Lights, Camera, Farming??
I had played TV Farm 1 way back and I didn't care for it. The developers have fine tuned the sequel dramatically. The characters are much more likable. You are able to harvest by dragging your mouse. You are also able to plant seeds the same way. The premise here is that you need to have to best farm to win the farming competition. Similar to Farm frenzy games in that you take your vegetables and make them into other products. Then send the truck off to make a profit. You will need to think a bit to figure out what will make you the most money. The tutorial was excellent. Game play was smooth. For avid TM players, I would recommend :))))
April 29, 2013
A Nice Change of Pace
I enjoyed this game. It was a nice break from the usual gathering materials and building style time management games. However, it was not very challenging and I like my games to be fast and furious. There may have been three levels out of the 50 that I had to repeat to get gold, and that is only because I didn't use sound strategy to begin with. For the most part, this game is a nice no brainer game to play to pass the time. The only part I didn't like was an annoying bird (cawing) sound that would at times startle me and my dogs.
May 3, 2013
I liked the first one, the second one is even better
I love this game. It's fun, challenging and bright. The concept is somewhat similar to the Farm Frenzy games, but it's visually completely different. It's good fun, and that's getting to be rare in TM games.
April 29, 2013
Fun, but not fantastic.
Colorful, entertaining, not too challenging and levels do move a bit slowly. The game plays smoothly. Enjoyed making hot sauce and popcorn with harvested produce. Think I might purchase this when I tire of my current time management/strategy game. Try the demo, you may be pleasantly surprised.
April 29, 2013
The Apple logo is a trademark of Apple Computer, Inc.